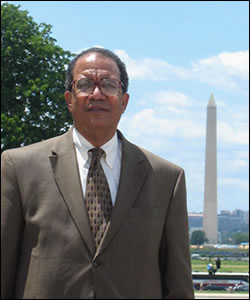 "Sonny's Corner" is a regular column in Prairie Fire [1], featuring commentary on civil rights and justice issues. Our friend and Omaha colleague, Joseph P. "Sonny" Foster, died suddenly at age 54 in August 2005. He left an uncompleted agenda, as did many of our civil rights and justice mentors and heroes. We shall attempt to move forward on that unfinished agenda through this column.
I'm a friend of Bill W, and the number 12 has special weight for me. I associate 12 with the 12 principles of the Anonymous brand. Groups like AA and NA and Alanon and others are mental health collectives. Meetings are on the hour 14 hours a day in most large cities, and any phone or computer will get you an address. You can identify yourself or not; most attendees will follow the formula, "I am Joe, I'm an alcoholic or adult child or methamphetamine addict." They have free coffee, and many meetings let you smoke. You can take what you need of wisdom, good sense, instructive biography, the kindness of strangers—and much, much more—from these meetings, and leave the rest.
Since mid-April, talking heads have discussed, mostly in passing, the plan of Rev. Al Sharpton to create a 12-step plan for black American leadership. This makes me wonder if there's a connection, if the influence of the friends of Bill W may have prevailed at last. Maybe black American leadership reached a kind of tipping point and finally enough of these leaders see American society for what it is: the world's largest alcoholic family. Statistically, enough of the best and brightest black leaders are in recovery and are planning an intervention.
Astrology, another system of widespread devotion, is built on a scaffold of the sacred 12. But I just can't wrap my mind around Rev. Sharpton pressing the brothers and sisters to go out and get their charts done.
E. R. Shipp's April 18, 2010 posting on The ROOT examines Sharpton's event in the historic context of the various souls who have had "the chutzpah to try to define and articulate a 'black agenda'." I go to a lot of conferences, so I, like Shipp, naively expected a plan in the form of a document prepared ahead of time that would be discussed, modified and endorsed. Shipp gave the moderator, Roland Martin, props for pinning each panelist to an action she or he would do in the next 12 months. Answers ranged from "Buy black" to starting the Cocoa Party—counter to the Tea Party—to focus on children's issues, to the creation of black financial institutions, with a mandate that government at all levels deposit some of their funds in these institutions. Some pressed for mentoring projects and for programs to reintegrate felons post incarceration.
Among the pledges, according to Shipp:
Sharpton said that his National Action Network will launch a voter registration drive in key states with a goal of a 5 percent increase turnout in mid-term elections in November.
Marc Morial of the National Urban League said his organization will help 10,000 people find jobs over the next 12 months.
Debra Toney of the National Black Nurses Association said her organization would identify, train or retrain 10,000 people for the nursing field.
Dr. Lezli Baskerville, who represents Historically Black Colleges and Universities, said the network of campuses would provide 500,000 students for voter registration and get-out-the-vote efforts and that more campuses will make their facilities available to young people for afterschool activities, including recreation.
Today, unemployment is at 17 percent for blacks nationally, though if you figure in the underemployed and those too discouraged to look for work at all, the real number is about 25 percent. One in four black Americans. For working-class white folks, 2009–2010 has been the Great Recession, but black Americans are living in the Great Depression today.
Humbly, as a person of chutzpah may, I submit the cooperative model as a road to greater prosperity and well-being for blacks and especially black families, and, well, the rest of us too. According to a USDA pamphlet for cooperative educators, there were 12 features/principles in the original Rochdale cooperative—an economic invention of the working poor in the early Industrial Revolution. However, the International Cooperative Association has determined that some redundancy and transitory issues allowed the principles to be reduced to seven.
Cooperative principles are open membership, democratic control, dividend on purchase, limited interest on capital, political and religious neutrality, cash trading and promotion of education.
All over the world, cooperatives offset the worst features of capitalism, which at bottom is a trembling tower of Ponzi schemes, stacked sky high, one upon another. Credit unions are cooperatives, and in this country ethanol production is the only sector of the agriculture industry that is becoming less concentrated, because many are farmer-owned. People organize co-ops to provide about any service you can name: grocery stores, hospitals, agricultural co-ops that serve farmers and market ag commodities, housing co-ops, co-op college dorms, parent-owned cooperative schools, rural and municipal electric co-ops, co-op mortuaries. There is very little that a co-op can't do better than an ordinary business because there is no pressure to produce profits for a few individuals. The priority is service to co-op clients who are also co-op owners.
Black America, and the entire nation, would benefit by large-, medium- and small-scale cooperative development. There's no point pretending that neither black people nor black leadership alone can heal this, our nation's oldest, greatest wound (I include the genocide of native people when I speak of this wound, when people became commodities). America's greatest writer of the 20th century, William Faulkner, wrote of the blood that cried out from the land, the blood and suffering that not only should and must but will be paid for. He didn't say how many generations it was going to take.
For sure it will take people of good will, whoever they are, to create a humanist agenda, much less to solve the problems of black America. (I'd like to point out, incidentally, that each succeeding generation's racial divide becomes a bit more of a moot point, as young love turns America ever more caramel-colored.)
Of course, 12, seven, the numbers only signify in matters of faith and being: 10 fingers, one for each commandment; seven sisters in the sky, seven brothers in countless myths, seven days in the week; seven directions in Native American cosmology; the sacred triangle of Father, Son, Holy Ghost and thesis, antithesis, synthesis or mommy, daddy, baby. On the principle of Keeping It Simple, Stupid, I'm thinking there's only really room for one item of the agenda, so old it's turned to gold, too true to be trite: do not unto others what you would not have others do unto you.