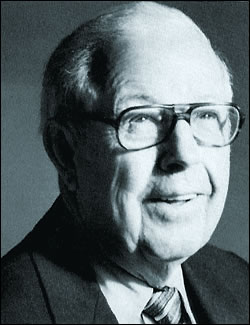 The Polk Progress was a Nebraska treasure that ceased publication in late 1989 after 82 years as a weekly newspaper. From 1955 until its last issue, the editor and publisher was the late Norris Alfred. In its last few months, the Progress had 900 subscribers in 45 states. Alfred was a remarkable Nebraskan with an uncanny eye for connecting the present with the future. Prairie Fire [1] has collaborated with the Alfred family, the University of Nebraska School of Journalism and the Nebraska State Historical Society to locate and archive many of Norris's writings. We are capitalizing on our good fortune to present many of the Norris Alfred writings to our readership. We believe that his observations are as fresh and relevant to today's world as they were when originally written.
"Polking Around"
Feb. 17, 1972
We were intrigued with Labor Secretary Hodge's claim of progress in solving the unemployment problem even though the number of unemployed has increased. His reasoning had to do with the rate of unemployment, if we remember correctly—the number of employed was increasing and the number of unemployed was decreasing while increasing. If this sounds confusing, it can perhaps be simplified by using Secretary Hodge's figure of speech—look at the doughnut and not the hole. The doughnut being the employed and the hole being the unemployed. The doughnut has grown larger—so has the hole, but not at the same rate.
We have never had to worry about being unemployed since buying a weekly newspaper, though there have been times when we have thought how nice it would be not to work. We remember once being down to our last 10 dollars which caused us to become a working man in a hurry. But our unemployment was self-imposed, and we never had the sensation of being the hole in the doughnut. We can remember some jobs where we knew we were a square peg in a round hole, but the thought of being the hole never occurred.
That many of the unemployed are "in the hole" we have no doubt. The Secretary is claiming the unemployed are the hole which says something about his attitude toward the unemployed.