Growing a More Sustainable Food Culture
An empty two-acre lot near the corner of 40th and Old Cheney in Lincoln, Nebraska, is transforming. A gift of Southern Heights Presbyterian Church, this previously farmed land will go back to its roots and feed the Lincoln community—both figuratively and literally.
The space—Southern Heights Food Forest—will include over fifty Community Crops gardens, an urban agriculture plot, a Nature Explore outdoor classroom, and Nebraska's first food forest. The organizers believe the SHFF will become much more than the sum of its parts; they aim to create a space in which families gather together to build relationships, where children can play freely while learning about nature, and where individuals teach each other about growing, harvesting, and celebrating food.
What is a food forest? Also referred to as "forest gardening," this practice exercises the concepts of permaculture to produce a more sustainable, productive, and diverse supply of food. Plant material in a food forest is not only based on the production of food but also on mimicking natural relationships in nature that create more diverse ecosystems. Permaculture is organized around the idea that each plant and element serves multiple functions. The biodiversity found within these spaces makes them more resilient and self-sustaining, which ultimately make the harvests more diverse, productive, and less labor intensive.
Following new trends in global urban agriculture, the Southern Heights Food Forest will be the first space of its kind in the state of Nebraska. While one of the immediate benefits of this element is food production, there is also the opportunity to educate the public on the value of whole foods and eating locally.
"The Southern Heights Food Forest will be a showcase for Lincoln and a model for innovative food-growing projects globally," said Ingrid Kirst, executive director of Community CROPS. "As an organization that has established itself on the mission to help people work together and live sustainably, the role of CROPS in the Southern Heights Food Forest is a perfect fit."
Community CROPS is one of several organizations and local businesses with a shared passion for food and community working together to create a sustainable future for families here in Nebraska. The physical space became a viable option in the spring of 2012 when Amy Rose Brt, community builder and former CROPS garden manager, shared her vision with the executive committee at Southern Heights Presbyterian Church. From the church's faith-based perspective, getting involved in the food forest was a spiritual calling.
"The community of Southern Heights Presbyterian Church believes in this," Reverend Leanne Masters said. "We believe that we are called by God to care for the great creation that God has given us. As a result, we are active and proactive in our conservation efforts. We also believe that we are called, through the teachings of Christ, to care for people in a number of ways, one of which is to feed those who are hungry. And so, when we were given the chance to engage these two callings in one project, it seemed the perfect opportunity to live out what we feel called to."
Brt was excited for this project for several reasons, one of which was her desire to create a place for children like her own daughter to be surrounded by plants and the people who honor and care for the earth. She said, " I see it as the ability to connect children in a playful way, teaching children and even adults about the basics—food and where it comes from."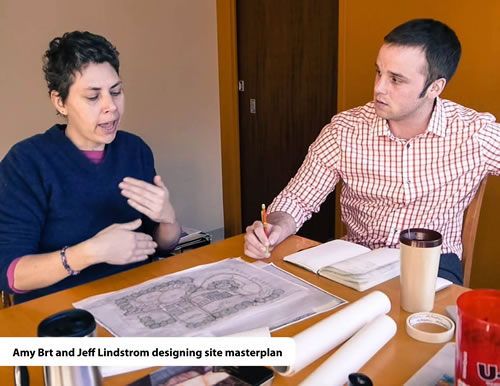 Brt was familiar with Nature Explore classrooms, and knowing the Lincoln-based organization's collaborative way of creating spaces for children, she found a kindred spirit in Nature Explore Landscape Designer Jeff Lindstrom. They began to apply outdoor classroom and permaculture principles to design the space.
"Seeing the community come together around a common vision has been an uplifting experience," said Nature Explore Educational Specialist Heather Fox. "Amy saw the potential in people and knew that collaboration was the way to build something new, the way to educate and empower. Before she passed away in May 2013, she had assembled a strong team ready to till the soil, nurture growth, and share the harvest."
This team—the SHFF steering committee—launched a fundraising campaign through an online crowd-funding website, Indiegogo. The initial campaign raised more than $11,000. Garnering support via local benefit concerts, public presentations, and social media, the committee is working to make this a true community-powered project in labor, donations, and volunteer efforts.
To learn more about the Southern Heights Food Forest, visit www.southernheightsff.org [2]. To become involved, contact southernheightsfoodforest[at]gmail[dot]com.