Book Review: "The Ogallala Road: A Memoir of Love and Reckoning" by Julene Bair
Title: "The Ogallala Road: A Memoir of Love and Reckoning"
Author: Julene Bair
Publisher: Viking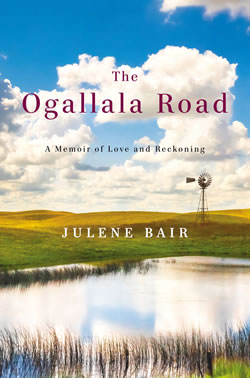 In "Ogallala Road," Julene Bair asks herself if "The Kansas farm girl who, with all her worldly experience, had never quite left home" could love anyone from Kansas. The answer to that question and her affection for water form the foundation of the book.
Bair grew up on an irrigated wheat farm in northwest Kansas, so water and the land are central images in her book—images that merge with Bair's attention to the relationships in her life. Some readers of this splendid book will revel in Bair's able descriptions of landscapes, such as Kansas wheat country, the Kansas of her imagination (unfarmed grassland), the Wyoming mountains, the Mojave Desert and Death Valley (from experiences she had while living in California). Other readers will find themselves compelled by the descriptions of relationships Bair had with men along the way. All readers will be enthralled by Bair's descriptions of her relationships with her two brothers and of her love for her son, Jake—from birth through his teenage years. In all this time, Jake yearns for a father who cares about him, and Bair longs to give him one. She also includes details of her love-hate relationship with her own father "who thought that rearing children was women's work, so any woman could do it" and who warned his family, "Hang on to the land."
Bair's politics, including her concerns for the environment, often conflict with her family's values "rooted in production and finance." She points out the connection between using water and making a living from the land. The iconoclastic Bair challenges the use of farm chemicals and the heavy use of water to grow corn. Yet she recognizes that federal farm policy encourages these so-called "inputs" by paying farmers to grow corn. Bair also explores the use of the terms "planned depletion" and "zero depletion"—terms often bandied about by water policymakers when they talk about the Ogallala Aquifer.
Bair convincingly describes her loathing of farm chemicals and her fear that Kansas farmers used Ogallala water with no concern for future generations. Any tinge of self-righteousness disappears, however, when Bair describes what she calls her own "divided selves." For example, as her father's daughter, she makes money from the use of water and chemicals on the family's farmland and yet toys with the idea of dryland, organic farming.
"Ogallala Road" demonstrates Bair's formidable skill in creating suspense. For example, she teases readers into wanting to know what happened when, left alone to cultivate, she turned a corner in the field without raising the cultivator shanks. Yes, she was cultivating—in a world where every family expects a son to carry on with farming. Will the family sell the farm? Or will they hold on to the land, as Julene's father warned. But the thread of suspense that runs through most of the book lies in Julene Bair's relationship with Ward, the Kansas cowboy: Will he stay? Will he go? How will she react to either event? Thus the subtitle of this book.
While she's finishing writing "Ogallala Road," an acquaintance asks Bair what her book is about. She responds, "At first it was about the Ogallala Aquifer, the water under the Great Plains. But it turned out it was about much more than that. My family. And this man I fell in love with who lived back there." Indeed, Julene Bair travels the "Ogallala Road" to environmental advocacy by reconciling herself to her love for that man "who lived back there."
Anyone who lives in a farming state like Nebraska should be grateful for Bair's unflinching look at what happens to people who make their living on the land and the water that lies beneath it.
Julene Bair is a graduate of the Iowa Writers' Workshop and the Iowa Nonfiction Writing Program. Her essay collection, "One Degree West," won several regional awards and was a finalist for the Mountains and Plains Booksellers Award. She has taught at the University of Wyoming and the University of Iowa and currently lives in Longmont, Colo. Bair has written editorials on the Ogallala Aquifer, most notably in USA Today and The New York Times. To hear a recent interview with Bair about the Ogallala Aquifer, visit the Living On Earth website [2]. For more information, visit www.julenebair.com [3].
Bair will give a reading at the University of Nebraska-Lincoln student union on April 21 at 7 p.m. as part of UNL Earth Day activities. Her national book tour includes stops in Omaha; Denver; Iowa City; Wichita; Fort Collins, Colo.; Portland, Ore.; Seattle and San Francisco.