Great American Comedy Festival: Six Years and Thriving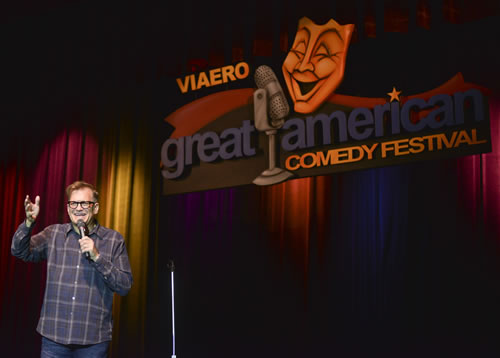 By Kandra Hahn [1]
Driving west to Divots event center in Norfolk at 9 p.m., the sun was still lighting up the horizon. It had been a stormy late afternoon with a patchwork of Watches and Warnings—flash floods, thunderstorms and tornadoes—that had now mostly moved east.
It was Friday, June 14, 2013, building toward the end of the sixth Great American Comedy Festival in this north-central Nebraska town. The sky often puts on a spectacular show for the comedians who compete to come here from all over the nation. Away from Omaha and Lincoln, there is a wide horizon and the sky seems prone to show off in June, in colors of gray, green and pink. In return, the comedians put on a spectacular show.
I have lived on these wild plains my whole life, and I have been looking up warily all evening, checking to see if tails are trailing down from the banks of clouds above. At dinner I kept glancing out the window as I read about the "Future Stars" of comedy and those returning after a year of polishing their credentials to host and support the show.
Pete Lee was back, last year's big winner, and Tom Cotter, a runner-up last year on "America's Got Talent," and a 2009 alum of this festival. I thought about another comedy festival alum, Ross Bennett, whom I wrote about in a Prairie Fire [2] interview in 2011 [2], and who appeared on "Late Show with Dave Letterman" April 5 this year (with a May 31 rerun) to extraordinary audience laughter and applause. After six years maybe Norfolk helps build comedy careers.
With the weather calm, I went ahead to the Friday late night show. It is in a Las Vegas-sized room at Nebraska prices ($20) for an adults-only show. I was early since the festival semifinals were still wrapping up at the Johnny Carson Theater across town. Four comedians are selected as tops on Thursday and Friday nights, after which everyone comes over to Divots for a chance to deliver their less-filtered material.
The eight semifinalists will go on to the Saturday night finale back at the Johnny Carson Theater with a comedian of national reputation and a direct link to Carson hosting. This year it is Drew Carey. At the finale, the semifinalists perform in front of an audience of 1,200 and a panel of judges rates them to select a winner and two runners up. Each year during the show, an established comedian receives the Johnny Carson Comedy Legend Award. This year it will be Steven Wright.
At Divots, the tables with seats for around 300 were filling up. A little after 10 p.m., Norfolk Daily News Editor Kent Warneke stood in the door of the room. Without him, there would not be a comedy festival. He is said to be the guy who thought the whole thing up and remains the Norfolk anchor. If he was in the room, the semifinals were over and the show would begin soon.
The first comedian up was Joe Machi from New York City. He was just chosen as a semifinalist. He said he was amazed that his shoes were made by a 10-year-old in Asia. He suggested that this was something we should think about teaching American 10-year-olds because they could not do anything like that now. Machi, delivering his set in a slow, almost childlike voice, will place third in the entire festival at the finale Saturday night.
Comic Michael Isaac, also a semifinalist, told the room he drove to Norfolk because he's from the south side of Chicago and he does not trust anyone. Not even people from Norfolk? Why should he, he asks. Every scary movie he has ever seen looks like it was filmed in Norfolk. Saturday night he will be the best-dressed performer on the finale stage in a sharp summer suit with delivery to match. The audience will respond warmly to him, but he will not place in this festival.
Executive producer and comedian Eddie Brill takes a turn at the mike. He is the other one. Without him there would not be a comedy festival. From New York City, he saw the potential in Kent Warneke's idea of an event in the city that gave Johnny Carson roots. In his other life, Brill warms up the audience for "Late Show with David Letterman," and he seems to know everyone in the world of comedy.
Brill will be there to hold the finale together Saturday night where Drew Carey will be the host and star act. Johnny Carson Theater has sold out in advance, as are most, if not all, of Norfolk's lodgings.
Saturday night Carey bounded on stage in skinny jeans and a big plaid shirt, untucked, with trendy athletic shoes. He was half the size he was when first seen on Johnny Carson in 1991, barely recognizable in person. Good for him, but I missed the original. The disparity is all the more glaring since we had just watched a video of Carey's first appearance on the Carson show. He was wonderful. The act still worked.
Carey said the suit he was wearing then was purchased the day before at a second-hand store where he filled a paper bag with clothes for $20. His trademark glasses were Marine issue "BCG" ("birth control glasses" because no one would go out with you if you wore them) and a barber cut his hair too short.
His honesty broke the audience up. He mocked the producers of "The Price Is Right," his current employers, for taking a survey to find out what people like. "Guess what they found out?" he asked, "People like winning money, trips and cars." He said they could have watched the show to find that out. But sometimes people win refrigerators or backyard spas. And, he said, they smile, but they really wanted money, trips or cars.
And, he added, "The Price Is Right" doesn't care whether the refrigerator fits in your kitchen and it does not install the swimming pool. Perhaps exaggerating for comic effect, Carey said the whole pool just arrives in a big cardboard box. The rest is up to the contestant. He said winners probably have to remodel their kitchens or hire a landscaper to dig up their yards. The producers of "The Price Is Right" just don't give a … darn.