A Different Kind of Water Group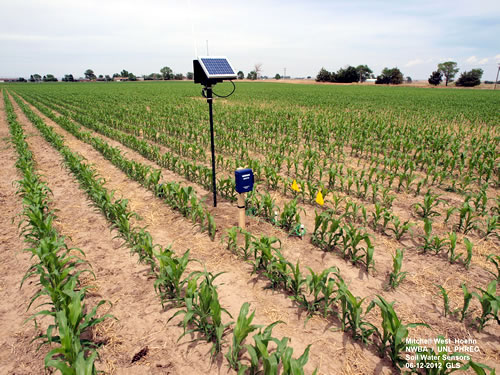 As you look around the table at a Nebraska Water Balance Alliance meeting, you see an interesting group of people. Each has a slightly different reason for being there, but they hope that by working together they can achieve a common goal: finding sustainable and practical ways to improve water management long term.
"NEWBA is a nonprofit organization with no vested water interests. We promote solutions that safeguard our economy and quality of life," explains Lorre McKeone, the group's executive director. "We know that long-term solutions can only come through better understanding and cooperation. NEWBA provides a place where constructive conversations can occur and promising strategies can be advanced."
The conversations at NEWBA meetings encompass different perspectives. There are ag producers who take a grassroots approach to saving water on their individual farms and adapting practices to cope with restrictions on water use. Researchers and academics share technical data from studies across the state. Natural Resource District employees explain the rules they are required to follow and the assistance they offer to landowners. Agricultural technology providers offer tools that provide the site-specific data that producers need in their decision-making process. Electric utilities are concerned about rural economies and the customers they serve. With such a diverse group, you might expect conflict, but instead you see a strong interest in working together for a common goal.
NEWBA's chairman, Roric Paulman, agrees. "This organization fulfills a vital role. It can be the time and the place to express ideas and concepts that will continue to keep Nebraska in the forefront of sustainability."
"We invite people with practical ideas and strategies to join in a collaborative effort to find the best solutions for everyone. This positive, proactive, 'win-win' approach is attracting many solution-minded leaders with good ideas," McKeone explains.
The solutions that the Nebraska Water Balance Alliance seeks are comprehensive and practical. They need to meet a variety of needs across the state. This is a challenge because of the diversity in the state. Precipitation amounts vary from 14 inches per year in the Panhandle to over 30 inches per year in the southeast corner of the state. Water resources must meet the needs for domestic, agricultural, environmental and industrial use. In addition to these requirements, plans also need to be in place for dealing with normal years as well as floods and drought conditions. Solutions also need to be practical to implement and sustainable for years to come
Sustainable solutions pertain to not only the environmental and agricultural impact, but also to the local economy.
"NEWBA is important to electric utilities because of economics," explains Larry Umberger, general manager of Midwest Electric Cooperative Corporation in Grant, Neb. "We need to find ways to keep our rural communities viable. All the businesses in our service area are ag related."
Umberger believes that helping farmers save input costs through better water management will help them maximize profits and preserve resources for future generations.
Listening to Ag Producers, Giving Them a Forum to Share Information
A component of these solutions will most likely come from ag producers as they improve the efficiency of their practices.
"Irrigators are common-sense people, innovative and hardworking; many of the innovations in irrigation systems and farm equipment have come from Nebraska growers. As they are faced with ever-increasing regulations, they have an opportunity in NEWBA to put forward different and perhaps better solutions to their common problem," explains Don Kraus, general manager of Central Nebraska Public Power and Irrigation District. "The alliance's strength is in their approach, where growers work collaboratively to determine water management strategies to reduce on-farm water use."
In 2012 NEWBA coordinated a research project to study irrigation water use on crops in the western part of the state. The study was designed to compare irrigation practices on fields farmed in a traditional manner with fields farmed using water data monitors. Twelve growers participated in the study, growing corn, soybeans and sugar beets. As the growing season progressed, irrigation became vital in the test fields. In addition to the water-use data gathered, information about the nitrogen levels in the soil was collected.
This year, the group is conducting another study aimed at maximizing the efficiency of water use while protecting the environment and the economy. In the 2013 study, farmers will have access to real-time information about their crop's water use and soil probe tests that indicate the location of nitrogen and other nutrients.
"By measuring water use, application and precipitation in real time, we can better manage operations," explains Ted Tietjen of Grant, who oversees the research projects. "We are also using satellite imagery to help us develop watershed management strategies that will help growers and regulatory
agencies."
Support
"Over time, NEWBA has been refined with a better focus on what it believes is important and what the group is likely to accomplish," offers Frank Kwapnioski, an advisor from H2Options Engineering. "NEWBA can't be all things to all people, so we have to focus on the best use of time and resources."
He says the group's goals have evolved from trying to change dialogue about water management to a more grassroots approach, encouraging more efficient water-management practices.
"This message has generated financial support from forward-thinking leaders in banking, co-ops, ag businesses, producers, power districts and concerned citizens. Our Water for Generations projects have been cooperative efforts between growers, vendors, natural resource districts, crop consultants, rural electric utilities, the University of Nebraska Extension and the USDA Natural Resources Conservation Service. These varied interests provide not only in-kind and financial support but also wide-ranging perspectives and expertise that help us move to a new level," says McKeone.
McKeone emphasizes that monthly meetings are open and the public is invited to attend to learn more about NEWBA. NEWBA's supporters can donate to the group's 501(c)(6) fund, which is dedicated to promoting solutions. Water Balance Alliance contributors are invited to attend semiannual Water Summit meetings that showcase strategies and facilitate discussions. A second entity, the Water Balance Foundation, has been established as a 501(c)(3) organization for tax-deductible contributions. The foundation funds are used for research and education.