Farmers' Markets and the Local Economy
By Megan Jackson [1]
On a recent Sunday at the Old Cheney Road Farmers' Market in Lincoln, Neb., a couple strolls through with their dog and a large, empty shopping bag. Stopping to chat with long-time farmers and market vendors, Bob and Ruth Johnson from Johnsons Farm, they take their time making a loop around the market, sipping coffee and filling their bag.
A young family stops to enjoy the banjo playing of a local musician.
The kids from Chisolm Family Farm greet customers as they walk by and offer up samples of their aged pepper jack cheese.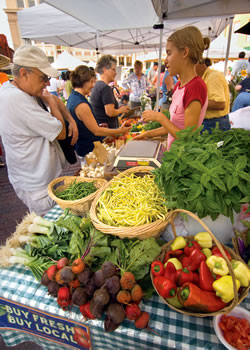 Farmers' markets are the quintessential picture of vibrant community spaces. Families, foodies and casual shoppers alike come seeking fresh, local and in-season produce, artisan cheeses, pastured meats, farm fresh eggs and home-baked goods. Customers and vendors create relationships, seeking to support the integrity and livelihood of building a local food economy.
In the last decade the number of farmers' markets here in Nebraska has grown rapidly—and not only in the urban areas of Lincoln and Omaha. Rural towns throughout Nebraska are holding more than 80 farmers' markets this season. It's a trend that can be seen across the country. According to the 2012 USDA National Farmers Market Directory, the number of farmers' markets has grown over 170 percent since 2000, from 2,863 markets in 2000 to more than 7,800 in 2012. These are hopeful numbers for the future of local and regional food systems that support employment, incomes and output in rural communities.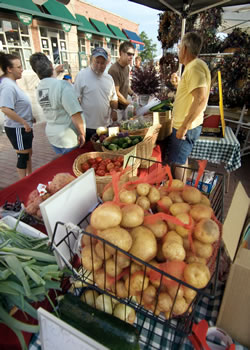 Direct marketing opportunities such as farmers' markets, roadside stands and CSAs (community-supported agriculture shares) stimulate the local economy as a greater share of the sales revenue is kept local. Where farmers earn 15–19 cents per food dollar spent through conventional food systems like retail grocery stores, they can earn upwards of 90–95 cents per dollar received through direct markets. Studies have also suggested that greater consumption of fresh fruits and vegetables on the local market could lead to thousands more jobs in the Midwest alone. With the increased opportunities for local food systems and direct markets, hundreds of farmers choose to stay in agriculture. As the number of markets grows, so does the number of farmers. The latest reports from the Census of Agriculture found that direct sales at farmers markets exceeded $1 billion nationwide. The majority of that money spent at markets, and the jobs that come with it, will stay in the community where the markets are located.
As we move toward strengthening our local economy and becoming more food secure, consider making your local farmers' market not only a destination place but part of your weekly grocery stop. Visit some of our state's farmers' markets and find out for yourself the local freshness, craft and bounty that is produced right here at home. To find a listing of farmers' markets, visit the Nebraska Department of Agriculture or Buy Fresh Buy Local – Nebraska at www.ourbesttoyou.nebraska.gov [2] or food.unl.edu/web/localfoods/home/ [3].
Many farmers' markets run through early to mid-October. For readers outside of Nebraska, www.simplesteps.org/eat-local/farmers-markets [4] has a national map for farmers' markets. Enter your city and state and a map and listing of area farmers' markets appears. A similar search function can be found at search.ams.usda.gov/farmersmarkets/ [5].
Image Credits: Michael Forsberg (1) &  R. Neibel (2 & 3).