Book Review: "Abraham Lincoln: Vampire Hunter" by Seth Grahame-Smith
Review by Kimberly Downing Robinson [1]
"Abraham Lincoln: Vampire Hunter"
Author: Seth Grahame-Smith
Publisher: Grand Central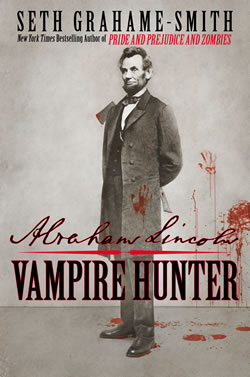 Some people, Abraham, are just too interesting to kill."1
Grahame-Smith's handling of Civil War history is remarkably well contextualized in "Abraham Lincoln: Vampire Hunter." Indeed, much should be expected from a novelist who thinks himself well advised to use Abraham Lincoln as a protagonist in a novel about vampires, especially when the backdrop of the story runs the gamut of the historical events that shaped Westward expansion and bipartisan politics. "Abraham Lincoln: Vampire Hunter" probes American cultural and historical insecurities through an uneasy transformation of the historical novel, a genre developed by Sir Walter Scott to provide cultural commentary on behalf of the disenfranchised and to promote social activism for the reinstatement of Scottish values and traditions, some 60 years after the Battle of Culloden (1746).2
Grahame-Smith practices revisionist history bordering on fantasy in "Abraham Lincoln: Vampire Hunter," using discreet historical facts to build an ideological sketch of the clash between Union and Confederate forces, a presentation readers might find palatable were they presented in a comic book or graphic novel. His use of the "vampire" as an archetype for battling good versus evil is disturbing but compelling. Entering into "evidence" Lincoln's private journals as historical documents lends credibility to the underlying tensions that built pre-Civil War politics, as does the use of Civil War figures, battles and Lincoln biography. Edgar (Allan) Poe's cameos superimpose Romantic ideologies onto the novel's ongoing conversation, which weighs the material benefits within a newly formed democracy against the inherent freedoms that might be exercised "without fear of reprisal" (Grahame-Smith 241). Poe tangibly represents the darkest of British Romantic sensibilities at a time when the American Transcendentalists voiced concerns of equality for all, and in this novel he speaks to Lincoln about the superior nature of the vampire, thus complicating Lincoln's understanding of life and practical experience with death (124). When Poe explains to Lincoln that "America was a paradise where vampires could exist without fierce competition over blood," he is defining the forces that will in time be played out on Civil War battlefields staged to serve the best interest of vampires (241).
Grahame-Smith's novel is sensational, violent and profane; however, "Abraham Lincoln: Vampire Hunter" offers a fresh platform for discussions of Civil War history, the Romantic and Transcendentalist writers and American civil liberties.
Endnotes
1. Henry Sturges to Abraham Lincoln, end of chapter four.
2. Walter Scott, "Waverley or 'Tis Sixty Years Since," (New York: Oxford, 1998). "Waverley" begins the series, which contains some 27 novels, of which the better-known titles include "Ivanhoe" and "Rob Roy."