Exploring Conservation Success in Africa
By Eric Schacht [1]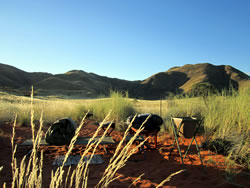 In today's economic climate, many beef cattle ranches find it tough to survive. In order to remain successful, grassland management models have been adapting.
In Nebraska, a multiple-enterprise ranch, where nature-based activities like birding, hunting and hospitality are integrated into the traditional beef cattle ranch, is rare, though it has started to pop up here and there around the state. However, internationally, in South America and Africa, landowners have for quite some time now have developed hospitality and tourism businesses that complement their cattle operations.
I have often wondered why similar operations have not developed more rapidly in the Nebraska Sandhills. Here, the Sandhills are one of the last great, largely undisturbed grassland areas left on the planet and contain a diversity of wildlife. Why does nature-based tourism not play a larger role in ranch management here?
These were just a few of the questions that ran through my mind as I boarded my international flight in Chicago last May. I was headed to the Southern African nation of Namibia as a Fellow for the Grassland Foundation, a nonprofit conservation group based in my hometown of Lincoln.
A few weeks earlier, when I found out the Grassland Foundation was looking for someone to pioneer internship opportunities for University of Nebraska-Lincoln (UNL) students in Namibia, I jumped at the opportunity. I am a 2006 graduate of the UNL Fisheries and Wildlife program and had spent two years in the United States Peace Corps doing rural development work in the North African country of Mali. I also worked on one of the bison ranches owned by Ted Turner in the Nebraska Sandhills. I did not know a lot about Namibia back then, but I did know that the official language is English, it is arid and sparsely populated and it is rich in wildlife, with high-quality nature-based tourism operations.
The main objective for my work was to develop relationships for future UNL students to learn about nature-based tourism on private lands and to develop research projects for them.
By the time I left I also knew I would spend most of my time at NamibRand Nature Reserve (NRNR), which is located in southwestern Namibia. It is a private, nonprofit nature reserve established to help protect and conserve the unique ecology and wildlife of the Namib Desert (www.namibrand.com [2]). Unlike most privately owned ranches in Namibia, which have both cattle and wildlife tourism operations, NamibRand is dedicated exclusively to wildlife. Because it is privately owned, it must be economically sustainable, so it provides high-quality, low-impact tourism to generate income.
NRNR is the innovation of Albi Bruckner, a Namibian of German decent. He is an entrepreneurial and conservation visionary from Windhoek, the country's capitol. Albi and his son, Stephan, are largely responsible for turning NRNR into a high-quality conservation and tourism destination.
NRNR covers 172,000 hectares (425,500 acres). It has removed all interior fences to facilitate seasonal wildlife migration routes. The NRNR property is actually made up of a number of different ranches, with different ownership, which all belong to the reserve. The landowners signed agreements to set aside their land for conservation, now and into the future, and allow NRNR to manage it. The reserve is financially self-sustaining because the tourism operators, or concessionaires, pay fees to NRNR for the right to have tourism camps on the property. The funds NRNR receives from the concessionaires then go to manage the land for wildlife. The camps provide employment for villagers who otherwise mostly live as subsistence livestock herders.
After an hour flight in a small, single-engine plane from Windhoek to the reserve, we touched down on a dirt landing strip. My first perception of the reserve was the resemblance to the northern Great Plains. Apart from the mountains, NRNR conjured thoughts of what Nebraska looked like 200 years ago. The northern Great Plains once supported a diversity of animal life that would rival what I encountered during my time at NRNR.
I spent my first week on the reserve assisting reserve staff with preparing and carrying out the annual game count. A game counts is a method of collecting and analyzing wildlife populations and is a conservation practice that is used all over the world to assist land managers in understanding, and therefore helping them manage, their natural resources.
The first tourism operation that I visited on the reserve was Tok Tokkie Trails (www.toktokkietrails.com [3]). It is a backpacking experience in the Horseshoe Wilderness area of the reserve complete with amenities. I went on the three-day, two-night and 24-kilometer trail with a Swiss couple and indigenous guide Domingo. As we hiked through mountains and sand dunes, Domingo told us about the natural history of the area and also identified plants and animals, giving us the different medicinal and cultural importance. At the end of our day we were served a four-course meal, with the main course being some sort of game meat (i.e., oryx, springbok), and went to bed lying underneath some of the darkest sky and brightest stars in the world.
After my time on the hiking trail, I traveled to the central part of the reserve to spend time with the safari guides at Wolwedans (word meaning "dancing wolves" in Afrikaans). The Wolwedan's collection is the largest concession on the reserve. It has several high-end camps, beautiful tent chalets that are set in the secluded red sand dunes (www.wolwedans-namibia.com [4]). The food and accommodations were all incredible. Stephan Bruckner started a culinary institute in Windhoek to train chefs for the camps on the reserve and other high-end tourism operators around the country (www.nice.com.na [5]), Wolwedan's also operates a training academy on the reserve for hospitality workers. These types of entrepreneurial ventures assure a steady supply of trained staff and a very high-quality experience for guests.
The main activity that guests participate in during their stay is the game drive. These are opportunities to cover a lot of ground by four-wheel drive and to see plentiful plains game like zebra, oryx, springbok and ostrich. Lions were eliminated from this part of Namibia some time ago, but cheetahs are being brought back, hyena and leopard are around, along with a number of other smaller predators.
What amazed me most was how knowledgeable the naturalist guides were. Most of them have had formal training at technical schools in hospitality, guiding and the natural history of the Namib Desert and its associated flora and fauna.
Guiding is considered a profession there. I contrast that with Nebraska, where to my knowledge we have no training system for guides. It struck me how important good guiding was to the whole experience. You can look at the scenery, but the only way to really appreciate it is through the interpretation of a local person who is well trained.
My last stop on the reserve was the Namib Desert Environmental Education Trust (NADEET, www .nadeet.org). NADEET is a small nongovernmental organization that empowers and educates Namibians to live sustainably. I witnessed a group of sixth graders experience sustainable living theory and practice. The students left NADEET with a greater awareness of their relationship within the environment and consequences of their actions. The program there is somewhat similar to what the Audubon Nebraska education programs do here.
After being immersed at NRNR for five weeks, I noticed that our areas share an inherent bond. Both ecosystems contain some of the last unsettled, wide-open landscapes on the earth. But there tourism has provided Namibia with a revenue stream to reinvigorate grassland ecosystems while promoting conservation, rural development and responsible land stewardship. And it can do the same for Nebraska. But to make it work, we need to do more to train naturalist guides, chefs and others to work in the high-end tourism sector. And our wildlife management programs need to do more to encourage entrepreneurship on ranches.
In conclusion, I learned a great deal from my experience and I know other UNL students would too. The Grassland Foundation is working with the University of Nebraska Foundation and faculty at UNL School of Natural Resources to establish a fund that can be used to make grants to other students who want to learn about natural resource management and ecotourism in Namibia. Nebraska will benefit from such a program.