Norfolk by the Light of the Comedy Moon
By Kandra Hahn [1]
It's Norfolk, Nebraska. Saturday, June 18, 2011.
Cloris Leachman, 85, Oscar and Emmy winner, beautifully dressed in a cocktail ensemble, has just accepted the Johnny Carson Comedy Legend trophy. As the show closes, she stands, pulls down her pants and moons the crowd of 1,200.
There's a gasp, then laughter and applause. It's the fourth annual Great American Comedy Festival.
Earlier Louie Anderson, boosted into a national comedy career by Carson in 1984, opened the gala finale and comedy competition. Now a Las Vegas regular, Anderson moves slower on stage, but he's still hilarious.
"Wasn't it a beautiful day?" he asks. "I almost took a walk."
He's smooth warming us up for the young comedians who are the heart of the festival. By Saturday night, only eight remain of the 20 who've come from all over America to compete for cash prizes and credentials. They auditioned to get here, vetted by Eddie Brill, comedy booker for the "Late Show with David Letterman," and the agents and comedy club owners he asks to assist.
Brill teaches, performs and emcees at the festival, much of it free, open to the public and reported in the pages of the Norfolk Daily News. If you live in Norfolk and don't know that comedians must display three characteristics: honesty, vulnerability and funniness, then you just haven't been paying attention to Eddie.
Every year the festival evolves under the care of a dedicated cadre of promoters too numerous to name, but continuing visibly from the beginning are Kent Warneke, editor of the Daily News, and local attorney and funnyman Dennis Collins. Lora Young, who was crucial to the festival as director of the local Convention and Visitors Bureau is now executive director of the festival itself. A youth comedy camp, a "Laugh and a Half" marathon, a River Float through town and other activities supplement the weeklong competition.
It's Carson nostalgia, closely guarded by the Carson family and skillfully showcased by Brill, that brings the big comedy names to Norfolk. The headlining hosts before have been Robert Klein, David Brenner and Larry Miller, each with a direct link to Carson.
The Comedy Legend award has previously gone to Dick Cavett, Bill Dana and Ed Asner.
Cloris Leachman, who appeared in eight movies last year, is a whoop-de-doo. When the moment for the award comes, she bounces onto the stage, limited only by laryngitis that keeps her from telling the stories Eddie Brill, now playing celebrity wrangler, would love to get out of her.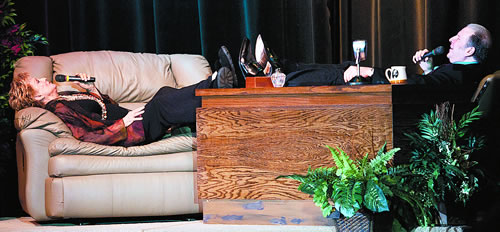 At J's Steakhouse
Earlier Saturday, I sat under an umbrella on the patio of J's Steakhouse and Wine Bar downtown and talked to a couple of finalist comics. J's, like so many other Norfolk businesses, supported the festival. They invited everybody in for free hot dogs, sodas and a little spontaneous comedy.
Among those who stopped by were host families who chauffeured the comics around throughout the festival.
Comedian Tom Shillue, from Boston and New York City, was entertaining as we walked in. I had seen him at the adults-only After Hours show the previous evening. He told us he was afraid he was becoming his father. He found himself doing the "full tuck" in public recently. Then, continuing to talk about his father, he unbuckled his pants and mimicked his dad ordering at a fast-food counter while simultaneously tucking his shirt in and adjusting himself.
I grabbed my lunch and found a place to sit at Tom's table as comic Ross Bennett took over.
He was dressed in a Hawaiian shirt and slacks, with neat, brushed-back hair and black-rimmed glasses. A good look. He said very few comedians tell jokes these days, but he'd tell a classic Catskills joke: A man is kneeling beside a grave, crying and wailing, "Why did you die? Why did you die?" Another man walks by and stops to comfort him. "Your wife?" he asks. "No," the mourner says, "her first husband."
When Ross finished, I chatted with Tom Shillue about the comedy journey that brought him to Norfolk.
"Well, first of all, there's Eddie Brill," said Tom, "He's a good comic, good people, a good hang. And this is the heartland of America."
Not a "road warrior," Shillue said he takes the train in to Manhattan from the home he shares with his wife and two daughters to do voiceover work and commercials. Have we heard him? Very likely. He's a voice of Time Warner Cable, Staples and K-Y Jelly. "Yes, I'm very big in personal lubricants," he said.
Between assignments, Shillue writes at Starbucks. When the day's done, he goes home and at night may drive back in to perform in clubs.
Even though he grew up on the humor of Bob Newhart and Bill Cosby, he followed the comedy imperative of the '80s, donned a black leather jacket and tried to be edgy and angry. Then one night he said something unplanned about his life that he didn't think would get a laugh and the audience loved it. He realized that he was funniest when he was talking about his own life.
"The material works in New York City and Norfolk—family stuff," he said.
Ross Bennett, veteran among the competitors, told me he'd been in the laugh business 33 years but complained he felt "out of the loop." He was happy he'd been selected to come to Norfolk.
He said he felt linked to Nebraska since he was from rural New York , an agricultural area. He said he was trying to establish his brand as "New York Country." This made Norfolk a natural place for him to be, even though he works a lot of cruise ships, country clubs and corporate events.
He said his recorded work is on Sirius Radio in the category with the Blue Collar Comedy guys.
Bennett was excited to be in Johnny Carson's hometown. He auditioned for "The Tonight Show" in 1983 and recited the verdict, "I didn't see anything funny and I definitely didn't see anything that Johnny would think was funny." Tough business.
Tom Shillue and Ross Bennett would both be introduced by Louie Anderson at the finale that night and get laughs and applause before a full house. But neither would place in this competition. Know that they are somewhere right now seeing the funny in things and writing, polishing, trying material and, if you're lucky, you'll see them some time.
Something Ross Bennett told me put the whole festival in a frame. He said he remembered Johnny Carson's last show. He was performing in Dallas that night, watching the show backstage, and he cried because he knew he was never going to be on the show. That was a dream comedians of the day kept alive, whether they knew it or not. Until that night.
To some extent, David Letterman and his comedy booker, Eddie Brill, have filled in. And now Norfolk has a role in that dream again.
Photos credits: Norfolk Daily News [2]