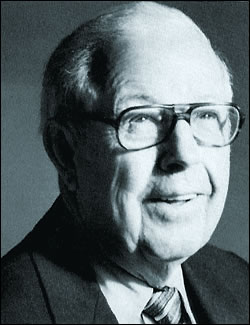 The Polk Progress was a Nebraska treasure that ceased publication in late 1989 after 82 years as a weekly newspaper. From 1955 until its last issue, the editor and publisher was the late Norris Alfred. In its last few months, the Progress had 900 subscribers in 45 states. Alfred was a remarkable Nebraskan with an uncanny eye for connecting the present with the future. Prairie Fire has collaborated with the Alfred family, the University of Nebraska School of Journalism and the Nebraska State Historical Society to locate and archive many of Norris's writings. We are capitalizing on our good fortune to present many of the Norris Alfred writings to our readership. We believe that his observations are as fresh and relevant to today's world as they were when originally written.
"Polking Around"
May 9, 1974
By Norris Alfred
Lawrence Ackerman died at the Central City hospital Thursday and was buried in the Stromsburg cemetery Saturday. He was 79. Lawrence was a loner who had become a familiar figure on Polk's Main Street after moving into the hotel many years ago. During the past year we could see he wasn't well. He had grown thin and would walk into the Food Shop in the morning with his hands in his pockets, not for warmth nor from nonchalance, but to help hold his trousers up.
Once this winter we asked him, "Lawrence, why don't you go into the vets' hospital in Grand Island?" He said he didn't want to. He had had enough of hospitals. "I'm ready to call it quits," he added. There was nothing to do except sympathize and watch the steady deterioration.
He continued to ride his bicycle. We suspect a doctor had once told him to take up bike riding for exercise. He faithfully kept at it, though the amount of exercise he obtained was questionable. He could remain upright on a bicycle while moving at a crawl pace. When not on a bicycle he would be driving his old Chevy of pre-World War II vintage at a sedate pace on Main Street, or on the highway west to Central City and Grand Island or heading east to York. We had seen him several times, between Central City and Grand Island, leading a parade of irritated drivers along the two-lane highway at 25 mph.
Lawrence was a compulsive eater. During healthier days he seemed to be constantly eating. What he didn't eat he fed to the cats and dogs on Main Street. Ordering a restaurant meal, he would eat part of it, wrap the remains in a paper napkin and take it outside where some of the Main Street animals were waiting. We've seen him buy a hamburger, take it outside and feed it to a dog. This was not criticism of the cooking, but an inner compulsion to feed animals for fear they might be hungry. As a longer, he probably gained purpose knowing there was some life dependent on him.
He owned 80 acres east of town which a renter farmed. Legally, it is described as unimproved. He bought one of the rural schoolhouses, when the district was consolidated, and had it moved near the road at the east edge of the 80. He stuffed bricks under it as a makeshift foundation and started to paint it. We can't recall whether or not he finished the paint job. For years the sides visible from the road showed new paint on about half the surface.
The first "improvement" was a garage which housed a stripped down car Lawrence occasionally started up and drove, sometimes on the roadbed and sometimes in the ditch, until it heated up. That didn't take long because it didn't have a radiator. The garage appears, from the road, to consist mostly of tree limbs leaned upright against a horizontal timber, although back of that unpretentious entrance must be a more conventional building. These improvements did not improve the 80, either legally or aesthetically, but seemed to satisfy Lawrence.