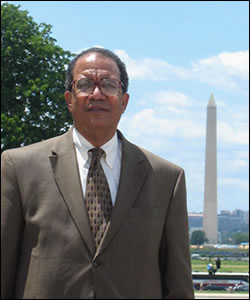 "Sonny's Corner" is a regular column in Prairie Fire, featuring commentary on civil rights and justice issues. Our friend and Omaha colleague, Joseph P. "Sonny" Foster, died suddenly at age 54 in August 2005. He left an uncompleted agenda, as did many of our civil rights and justice mentors and heroes. We shall attempt to move forward on that unfinished agenda through this column.
Last month Leonard Pitts Jr. spoke powerfully about the intersections of class and race at the Twenty-ninth Peacemaking Workshop in Lincoln. He advocated connecting these facets of social reality and emphasized the importance of economic analysis. Two of the strongest populist movements of the last five years, Occupy Wall Street and Black Lives Matter, have both resisted exploitative material practices. Racial capitalism continues to perpetrate violence against us.
Back in 2011, when I marched with Occupy Lincoln down O Street and around the Capitol, several passersby shouted distracting and divisive comments like "What do we want? We don't know!" and "We are 99 percent of nobody!" These hecklers were not part of the 1 percent. They had internalized ruling-class interests and completely misunderstood how protests work. Direct action movements do not have staying power. Their purpose is to raise awareness tactically before fading into the inevitable narrative shift of the media. They stand up and speak out before police evict them from public space as LPD did in May of 2012.1
In 2014, when I marched through the Haymarket and died-in remembering Michael Brown with Black Lives Matter, restaurant patrons averted their eyes and passing drivers threw derision our way, chattering about indignant white liberals and the "sanctity" of police authority. In Bloomington, Minnesota, police in riot gear evicted several thousand protesters from the Mall of America, arresting twenty-five on trespassing charges in December of 2014.2 These critics spoke from ignorance in bad faith. We were a multiracial alliance who could not breathe. We could only sing.
We who believe in freedom cannot rest until it comes.
Today, forty-five million Americans live below the poverty line, and many more live near it. The violence of hunger and closed circles of opportunity feels the same on black and white bodies. The violence of hunger and closed circles of opportunity abrades and hampers black souls as much as it does white souls. We cannot let race divide peoples' movements. We will have to hold two contrary ideas in mind: White people have undeniable social privileges, and at the same time, they are targets and victims of exploitative material practices.
We who believe in freedom cannot rest until it comes.
I am an English teacher and writer finishing a PhD at the University of Nebraska-Lincoln, a job for which I gratefully earn a very modest stipend, tuition reimbursement, and eligibility for student loans. Next year I take my CV and degree in hand to enter a market ruled by short-term labor contracts and increasingly less pay.3 My situation is completely unpitiable, and at the same time, completely undesirable. I am not alone in this predicament as an academic, nor am I alone as an American worker. But enough about me and my class position. It is important to say who I am here, but only enough to focus this speaking stone in a mosaic of millions outclassed and underrepresented in this country's plutocratic politics. We are in this together. We are not asking for the gratuitous wealth of suburbia with its five-bedroom brick houses and cul-de-sacs. We seek freedom from the constant fear of loss and the gaining of a semblance of a future.
We who believe in freedom cannot rest until it comes.
At the Peacemaking Workshop, Pitts spoke to Lincoln's Interfaith Coalition. In his presentation, "Eating (Jim) Crow: Divisions Created by Race and Divisions Created by Poverty," he explained this country's so-called "Southern strategy," a treacherous use of race consciousness against the working poor. He is the first black man I have heard call race an invention. He is the first person I have heard re-sound, in a place as public as First United Methodist Church, the generative and dangerous-to-the-status-quo wisdom of Dr. Martin Luther King Jr.:
If it may be said of the slavery era that the white man took the world and gave the Negro Jesus, then it may be said of the Reconstruction era that the southern aristocracy took the world and gave the poor white man Jim Crow. He gave him Jim Crow, and when his wrinkled stomach cried out for the food that his empty pockets could not provide, he ate Jim Crow.4
Pitts compared the false nourishment of Jim Crow to a dinner of cotton candy while the moneyed interests eat steak. In the freedom struggles of poor American people, race has been and too easily becomes empty calories diverting resistance into reductive talk about culture.5 Many are finding it palliative at best and distracting at worst to merely confront the privileges granted and denied by cultural capital.
According to my memory, Pitts is actually the second person I have heard make this argument. A long-time socialist activist named Joe S. told this history to a small group this February at the Black Cat House on B Street. Northern and Southern aristocrats exploited racial tensions in order to drive wage competition to dehumanizing levels. They sold poverty with the treacherous fiction of white supremacy. Whatever I have learned researching American history and literature pales in comparison to the lessons I have received in the Near South. Like America's working peoples—her debt-burdened wage earners and small-time opportunity seekers—this neighborhood is a crazy salad of peoples. We shop at Russ's Market, each of us colored in ten kinds of contrary hues. Although we compose a crazy salad, we are not crazy. We are converging and finding the bonds we hold in common. We are remembering how to resist oppression and claim our freedom.
The university's English Department and Institute for Ethnic Studies have taught me our history and helped me understand its figuration in novels, short stories, and poetry. Jews, Irish, Italians, and other light-skinned immigrant communities only became white some time after World War II. This is the story Karen Brodkin tells of my people in How Jews Became White Folks, arguing that xenophobia towards "southern and eastern European immigrants … changed radically after World War II."6 These formerly marginalized peoples became eligible for white middle-class status because of affirmative action policies, which, at the time, favored men. The early postwar era effectively "reconfigured [the] category of whiteness to include European immigrants." Brodkin writes specifically about one ethnic group that became white, yet in doing so, she tells the national story of so many. Dynamics of class, gender, and race work in complicated chains that change over time.
This Sunday at the Methodist church, Pitts argued, "Scientifically, race doesn't exist. It's a con game played against the poor by moneyed interests. It's a lie with more holes than a six-year-old's grin."
It is a lie, but we must hold two contrary ideas in mind simultaneously. Race matters. Black Lives Matter. We cannot forget the lived reality of social constructs. However, at the same time, we kill ourselves forgetting or silencing what we have in common. Of the forty-five million Americans in hunger, thirty million are white. Pitts has shown this side of economic inequality writing about rural Kentucky.7 East of Lexington near the Daniel Boone National Forest, Owsley County is a rough place. When Lyndon Johnson initiated the War on Poverty, he was thinking of Owsley. When Robert Kennedy visited in 1968, he found "no real hope for the future amongst many of these people who worked hard in the coal mines." Forty-six years later, Pitts found that "the situation is much the same. The only difference is, nobody talks about it now." Owsley County's median income is twenty thousand dollars, the unemployment rate is 10.5 percent, and nearly the entire population, 98.5 percent, identifies as white. According to many measures, this is the poorest place in America.
In 2011 Occupy Wall Street resisted the violence of racial capitalism, chanting, "We are the 99 percent." In 2014 Black Lives Matter resisted the violence of racial capitalism, singing, "We cannot rest until freedom comes." The 1 percent tries divert progressive movements like OWS and BLM by selling us treacherous cultural capital. We cannot buy it. We cannot rest until freedom comes.
References
1. Deena Winter, "Occupy Lincoln Cleared Out in Early-Morning Police Raid," NebraskaWatchdog.org, May 12, 2012, http://watchdog.org/44458/ne-occupy-lincoln-cleared-out-in-early-morning-police-raid/.
2. James Walsh, "Mall of America Protest Attracts Thousands on Busy Shopping Day," StarTribune, December 20, 2014, http://www.startribune.com/local/west/286443781.html.
3. Carmen Maria Machado, "O Adjunct! My Adjunct!" The New Yorker, March 25, 2015, http://www.newyorker.com/books/page-turner/o-adjunct-my-adjunct.
4. Martin Luther King Jr., "Address at the Conclusion of the Selma to Montgomery March," in A Call to Conscience: The Landmark Speeches of Dr. Martin Luther King, Jr., ed. by Clayborne Carson and Kris Shepard (New York: Warner Books, 2001), 119–132.
5. Phoebe Maltz Bovy, "We're Checking the Wrong 'Privilege,'" The New Republic, April 15, 2015, http://www.newrepublic.com/article/121540/privilege-checking-debate-often-overlooks-income-inequality.
6. Karen Brodkin, How Jews Became White Folks and What That Says About Race in America, (New Jersey: Rutgers University Press, 1998), 26–27.
7. Leonard Pitts Jr., "White Poverty Exists, Ignored," Miami Herald, October 5, 2014, http://www.miamiherald.com/opinion/opn-columns-blogs/leonard-pitts-jr/article2518087.html.
Award-winning commentator, journalist, and novelist Leonard Pitts Jr. provided the keynote address—titled "Eating (Jim) Crow: Divisions Created by Race and Divisions Created by Poverty"—for the Interfaith Peacemaking Coalition's twenty-ninth annual Peacemaking Workshop on April 12 in Lincoln, Nebraska.