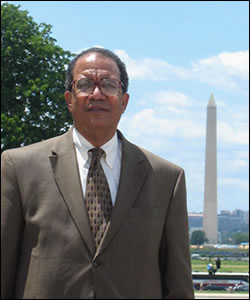 "Sonny's Corner" is a regular column in Prairie Fire, featuring commentary on civil rights and justice issues. Our friend and Omaha colleague, Joseph P. "Sonny" Foster, died suddenly at age 54 in August 2005. He left an uncompleted agenda, as did many of our civil rights and justice mentors and heroes. We shall attempt to move forward on that unfinished agenda through this column.
As a native Cornhusker and field organizer for the Human Rights Campaign in Nebraska, I was pleased to announce our Equality is Our Business Program in March. It is designed to celebrate lesbian, gay, bisexual, and transgender diversity in the workplace; advance protections in employment, housing, and public accommodations; and create more inclusive business practices.
I have been telling people across the state that the new HRC Nebraska pledge aims to engage businesses and organizations of all sizes to sign the pledge, place stickers at their front door or cash register, and participate in a series of social networking and educational programs designed to highlight why equality is good for business. One hundred and thirteen businesses have already signed on to the pledge.
There are clear financial benefits for businesses that enthusiastically commit to LGBT diversity in the workplace. That's why hundreds of Fortune 500 companies have equality protections in place for their LGBT workers. The business community understands that in order to attract and retain top talent, managers must have workplace policies that treat everyone fairly.
According to a 2014 HRC survey LGBT Nebraskans are productive, contributing members of their respective communities. Fifty-seven percent of respondents have lived in the Cornhusker State for more than twenty years; 59 percent have volunteered in their communities; and 7 percent of LGBT Nebraskans are currently serving, or have served, in the Armed Forces. However, LGBT people in the Cornhusker State face challenging hurdles. More than one in five have experienced employment discrimination; 57 percent have experienced harassment on the street; and 41 percent have experienced harassment at work.
I will continue to work across the state to realize a future where everyone is treated fairly by changing hearts, minds, and laws.