Title: Transcendental Meditation in America: How a New Age Movement Remade a Small Town in Iowa
Author: Joseph Weber
Publisher: The University of Iowa Press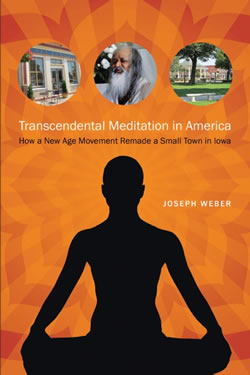 With this book, Joe Weber has made an important contribution to the University of Iowa Press's series entitled "Iowa and the Midwest Experience." True to its main title, this accessible book tells the history of transcendental meditation in the US. True to its subtitle, the book also details the history and the current situation of TM in Fairfield, Iowa, the home of the Maharishi University of Management, or MUM, where would-be meditators once tried to levitate by jumping on what Weber calls mattresses in the hallways.
This practice, alone, generated skepticism among outsiders to the movement, but TM itself and its founder, the Maharishi Mahesh Yogi, had plenty of celebrity adherents to the practices of TM. These adherents included, famously, members of The Beatles rock band, members of The Jefferson Airplane, and members of The Beach Boys; actors Clint Eastwood and Mary Tyler Moore; and movie director David Lynch. The David Lynch Foundation for Consciousness-Based Education and World Peace continues to support TM today.
Weber stresses heavily the fading of transcendental meditation in America and, through discussion of the history of such movements in America, doesn't see much of a future for TM, especially because so many of its adherents are themselves graying. TM is failing to attract youth to its causes, despite the fact that the causes include such worthy goals as world peace.
A journalist for nearly forty years, according to information provided by the publisher, Weber certainly understands balance in journalism. He details the history of TM in America and in Fairfield, Iowa, through dozens of interviews with important critics and adherents. He also includes impressive references to books and articles from magazines and newspapers. These readings are thoroughly described in the bibliography and notes at the end of the book as well as smoothly identified in the text.
In the chapter on successful entrepreneurs among members of the movement, Weber also demonstrates a keen knowledge of business processes and of where to gather source material, such as in court records. This knowledge comes as no surprise, since Weber, now a professor at the University of Nebraska-Lincoln College of Journalism, was once the bureau chief for BusinessWeek in Chicago.
Weber's wife, Donna Shear, is director of the University of Nebraska Press, so it's appropriate that Weber's book was published by the University of Iowa Press. For the sake of further objectivity, Weber writes that he didn't indulge in transcendental meditation, although he made many trips to Fairfield, Iowa. For the sake of full disclosure, Joe Weber's office was next to this reviewer's at the UNL College of Journalism. He often stopped by to chat, although never about this book.