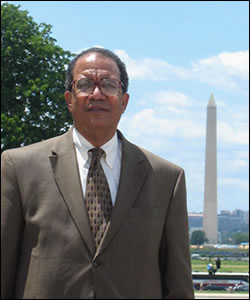 "Sonny's Corner" is a regular column in Prairie Fire, featuring commentary on civil rights and justice issues. Our friend and Omaha colleague, Joseph P. "Sonny" Foster, died suddenly at age 54 in August 2005. He left an uncompleted agenda, as did many of our civil rights and justice mentors and heroes. We shall attempt to move forward on that unfinished agenda through this column.
By Heath Mello, Kathy Campbell, Annette Dubas, and Jeremy Nordquist
Over the past few years, the Obama administration has undertaken efforts to transform our nation's immigration enforcement system into one that primarily focuses on public safety, border security, and the integrity of the immigration system.
Because it is critical that the Department of Homeland Security prioritizes its enforcement resources on the removal of individuals who pose a danger to national security or a risk to public safety, DHS has stated that they will "exercise prosecutorial discretion as appropriate to ensure that enforcement resources are not expended on low priority cases, such as individuals who came to the United States as children and meet other key guidelines."
As a result, the administration determined that individuals who meet certain guidelines may request consideration of deferred action for childhood arrivals (DACA) for a period of two years, subject to renewal, and may also be eligible for employment authorization.
The issue in Nebraska today is we have young, talented people in Nebraska with DACA temporary relief who are allowed to stay here and obtain work permits, but our state is refusing to allow them to apply for a driver's license. In Nebraska, it can be hard or nearly impossible to get to work without a car. Why would we want to limit their abilities to work and contribute?
Many of these young individuals have come forward and shared their personal stories and backgrounds, some of which include a high school honors student who is now a senior at the University of Nebraska at Omaha and majoring in architectural engineering and a graduate of Bellevue College with a degree in biology who wants to pursue a master's in chemistry. One of the commonalities with these promising individuals is that they were all brought to the United States at a young age; this country is the only home they know, and they share with us the American dream of prospering.
One DACA recipient, eighteen-year-old Adriana, was brought to the United States at the age of three. She was granted deferred action under DACA and received an official work permit as well as a Social Security number. While she was in high school she was taking honors courses, including several medicine courses at the University of Nebraska Medical Center because she would like to pursue a career as a pediatrician; she currently is enrolled in a program at the University of Nebraska at Omaha. Denying her a driver's license creates significant barriers for her to get to college classes, be involved in extracurricular activities, and to help her parents with her younger brother's activities.
Nebraska is now the only state that refuses to allow its own aspiring citizens to apply for driver's licenses; that is a policy that needs to change. Allowing all Nebraskans to apply for driver's licenses will help them fully contribute to our communities by more easily pursuing educational and job opportunities.
As Nebraska taxpayers, we have invested thousands of dollars in K-12 and higher education of nearly 2,300 DACA recipients. Without action on driver's licenses, these promising individuals will take their education that we have invested in to one of the forty-nine other states with fewer barriers to their success.
Furthermore, this issue simply highlights the overall need for a new, commonsense federal immigration law with a clear process for citizenship.
Nebraska should have sound public policy consistent with a vision of Nebraska as a state that welcomes the talent and energy that immigrants bring to our community.
For too long, policy makers at the state and local level have been piecing together ineffective immigration policies in the absence of a commonsense solution that we desperately need from our federal government.
The problem that we face as a nation is not due to immigration; the problem is our broken immigration system. The current immigration system tears families and communities apart, forces millions of people to live in the shadows, pits workers against each other, puts honest and responsible businesses at a disadvantage, and leaves billions of tax dollars uncollected.
In our time as state legislators, we have witnessed firsthand the damage that our broken system has done to families in our communities and in our state. We have seen the divisiveness and fear that have developed as a result of current policy, which has broken down our sense of community.
We have also worked with employers who have unsuccessfully tried to keep highly skilled workers in the country and employed in our state. The status quo is failing our communities, our families, and our economy.
Immigrants already make important contributions to Nebraska's economy. Over 7 percent of Nebraska's labor force is foreign-born. According to Regional Economic Models, Inc., a set of reforms like the one proposed in the Senate would boost Nebraska's economic output by $169 million and create about two thousand new jobs. By 2045, the boost to Nebraska's economic output would be around $1.5 billion.
And commonsense immigration reform wouldn't just benefit our state, it would benefit the nation by reducing the federal deficit and strengthening Social Security. The Congressional Budget Office found that enacting the Senate immigration reform bill will reduce the federal budget deficit by nearly $850 billion over the next twenty years and would reduce the federal debt as a share of the economy by 3 percent over the next decade. The CBO also stated that additional taxes paid by newly legalized immigrants would improve the federal budget outlook in both the short and long term.
We are a country founded by and made up of immigrants. Our nation and economy are only made stronger by the diversity of our population.
The support for comprehensive reform is significant. It is backed by business, labor, agriculture groups, and faith groups, and also passed the Senate by a wide bipartisan margin. Now, Nebraska's congressional delegation should immediately support a solution that will modernize our immigration system.
In the meantime, our state needs to recognize the positive roles that immigrants play in our local communities. In a state where our rural population is declining and we are in desperate need of attracting doctors, health-care workers, entrepreneurs, and young families, we have to ask ourselves if it makes economic sense to invest our dollars educating these young, talented individuals only to deny them their full potential and have them leave our state. We need to implement policies in the state that allow these youth to contribute and help move Nebraska forward to provide a good life for all.
Heath Mello, Kathy Campbell, Annette Dubas, and Jeremy Nordquist are senators in the Nebraska legislature.