Title: Deep Map Country: Literary Cartography of the Great Plains
Authors: Susan Naramore Maher
Publisher: University of Nebraska Press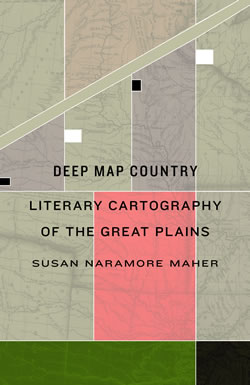 Deep Map Country was written by a scholar for scholars, and yet, it offers something for the nonscholarly reader, as well.
Susan Naramore Maher, formerly of the University of Nebraska at Omaha, is currently the dean of the College of Liberal Arts at the University of Minnesota-Duluth. In what Maher often refers to as this "study," it's clear that she admires many writers—both scholars like John Janovy and nonscholar writers like Wallace Stegner, Jolene Bair, and Linda Hasselstrom. Maher calls Loren Eiseley "a monumental figure among modern essayists." Eiseley has a large following, however, because, in addition to poetry, he wrote what is commonly referred to as "creative nonfiction"—a genre of writing that makes often arcane information available to all readers.
After quoting John McPhee, a fine practitioner of creative nonfiction, Maher writes, "The modern western American landscape makes no sense without the long view that geology gives us." The term "deep map"—created by scholar-writer William Least Heat-Moon—is akin to "deep time." They are both vertical and horizontal, including biography, memories, and science, as well as geology, as in the writers whose work Maher offers in this book, including Wes Jackson of the Kansas Land Institute. Of his work, she writes, "Lives organized around ideas like renewability and sustainability [such as Jackson suggests] would produce a radically different community." (Parenthetical insertion mine.)
Far from being a writer of creative nonfiction, Maher writes in dense, abstract prose, except when she quotes the above authors and others, which she often does—a bonus for nonscholar readers. In her own writing, however, Maher frequently uses words such as "somatic," "exphrasis," and "chronotope" without defining them; these are, however, words that literary scholars may know.
This book is dense with analysis and with quotes from analysts other than Maher. The author would have done well for all readers if she had more closely identified people she quotes in the text of her book rather than expecting readers to refer to the numerous notes at the end of her text or to look back in the text to find Maher's reference to the author she quotes.
At one point Maher refers to "scholars and writers." Perhaps that distinction (her writing being scholarly and the work she analyzes being that of writers who publish their work for every reader) is what makes the book difficult for a writer to read.
And yet, in tightly focused writing, Maher defines "deep map" for all readers who stick with her. Also, she skillfully uses metaphor, writing "By reembracing the ancient narratives, Indigenous peoples have maps to guide them into renewed traditions." Of Janovy's work, she writes, "Dunwoody Pond provides a peephole into life itself."
No reader should overlook what Maher calls the "coda," which includes her lament concerning extractive practices—a theme that she presents elsewhere in the book, as well. For example, in a chapter called "Deep Mapping the Biome," she writes, "Too often modern science … has followed the pressures of markets and money." In addition to scientists, Maher blames many others for extractive practices used from Texas in the South to the Canadian provinces in the North; farmers, for example, grow monoculture crops like corn and soybeans on land never meant to be tilled, and developers pull natural gas, gold, coal, and water from the earth everywhere on the Great Plains.
Deep Map Country succeeds if it turns readers to the authors that Susan Maher analyzes in the book—such as Wallace Stegner, John Janovy, Loren Eiseley, Linda Hasselstrom, and others referred to in this study—and read them for themselves.
As for me, as a result of reading this book, I've acquired Sharon Butala's Wild Stone Heart for the first time and intend to reread several other authors' works.