Passenger rail has been a valuable option in Nebraska. In the 1800s and well into the 1970s electric streetcars and passenger trains were part of public transportation for Nebraskans. Since electric streetcars were discontinued in the 1950s and commuter rail service was abandoned in the 1970s, there has been talk about whether to bring them back. The electric streetcar system helped grow our two major metro areas into monocentric cities, defined as having a single central business district, usually the downtown area (Moore, Thorsne, Appleyard, 2007). Examples of Lincoln and Omaha monocentric patterns can be seen in figures one and two.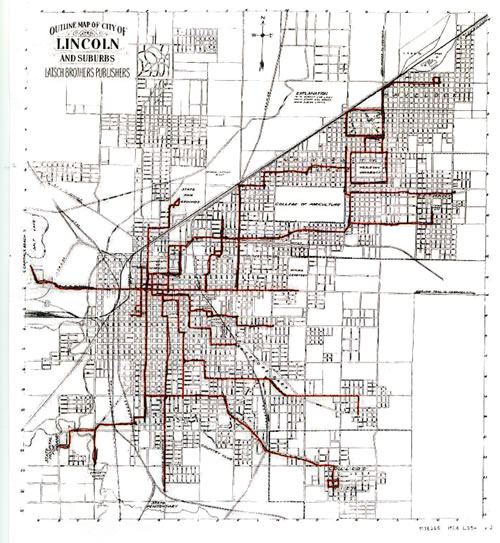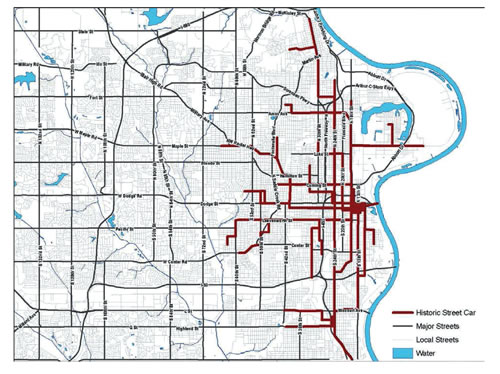 From the late 1940s to the early 1970s there were five major railroad companies that offered passenger services throughout the state. To encourage attendance at UNL home football games in the 1960s and 1970s there was a train that hauled passengers to and from Omaha. Today the only passenger train that goes through Nebraska is Amtrak, running once a day east and west (Wilbur Smith Associates & HWS Consulting Group, 2003, p. 23). Nebraska's previous passenger rail routes can be seen in figure three.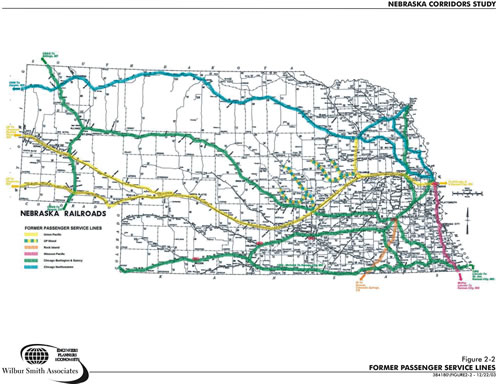 Times changed, technology advanced, and people could afford their own vehicles with freedom to travel. This led to expansion of Lincoln and Omaha. Now they have become polycentric cities with many business centers (Moore et al, 2007). Examples of Lincoln and Omaha can be seen in figures four and five.
Growth and changes in the economy have encouraged us to revisit the need for reliable public transportation. Lincoln and Omaha have struggled with schedules, convenience, and costs, all of which greatly influence ridership numbers. Public opinion on the need for more public transportation and less dependence on automobiles is changing, with a surge of interest in the millennial generation as well as the retiring baby boomer generation. Population growth in eastern Nebraska swells congestion on our roads. Nearly thirty thousand commuters travel between Lincoln and Omaha for employment, and their vehicles must return to their hometown each night, with total of sixty thousand trips on Interstate 80 every day (Hansen, 2011). In a study by the Metropolitan Area Planning Agency on the 2035 Long Range Transportation Plan, roads and alternative transportation for the public were major concerns. In the report MAPA showed that five counties covered in Nebraska and two in Iowa that make up the Omaha-Council Bluffs metroplex had an estimated population of 742,000, projected to grow to 950,000 by 2035.
In Lincoln the Metropolitan Planning Organization developed a 2040 Long Range Transportation Plan and concluded that total population for Lancaster and Seward counties will grow from 302,000 people today to 412,000 by 2040. The majority will be living in Lincoln, with concerns for worsening traffic conditions (LMPO 2040).
With two major cities only fifty-eight miles apart and projected population growth to nearly 1.3 million by 2035, there is cause for concern for mobility and sustainability.
Many reasons have been posed for why Nebraska could not sustain passenger rail and electric streetcar systems, including our population being too small to support it, financial instability, and suggestions that it's not wanted. Today as we look at the other cities with a successful running passenger rail and electric streetcars, we see that many have population sizes somewhat similar to Lincoln. In 2011 Salt Lake City and surroundings had a population of nearly 399,000, and today they have a thriving light rail system.
Can Nebraska afford to build a passenger rail and electric streetcar system? Milo Mumgaard, senior policy aide for sustainability with Mayor Chris Beutler, stated that it cost $400 million for the new six-lane Interstate 80 expansion built to relieve traffic congestion problems, but as our population keeps growing, we will see these congestion problems again by 2030.
Support from the general public is growing, as the millennial generation would prefer to live in areas within walking distance or close to easily accessible public transportation that makes it convenient to go to stores, restaurants, and activities in cities (Doherty and Leinberger, 2010). As for baby boomers, currently 10 percent of our metro population is in the retirement age range, and this will grow to 16 percent by 2035. Many "boomers" are now finding their suburban home living and mobility more of a struggle. Public transportation will become a necessity for them to stay mobile (Lplan 2040, MAPA 2034).
It is time to seriously begin planning for better public transportation because we have a growing population base and we are able to financially sustain it. The state is planning on expanding the entire Interstate 80 to six lanes, but why not direct these resources to building a passenger rail service similar to initiatives in Iowa and other surrounding states? What we lack is political support. A regional system is being planned with Chicago as the hub. If we delay serious thinking about future plans for a high-speed rail system, it may go through Kansas instead of Nebraska, which could hurt our economy.
How we can start getting the people of eastern Nebraska at state and local levels to think about a passenger rail system? Clyde Anderson, a retired Union Pacific employee and a Pro Rail Nebraska board member, believes the first step would be to start off small, using a well-planned commuter bus system. This bus system would use park and ride areas for stations to pick up passengers then have assigned stops for each bus. W. Cecil Steward, president and founder of the Joslyn Institute for Sustainable Communities, believes a well-planned bus route could be designed to lead the way for a light rail system to follow, with the aim of getting people thinking about using public transportation. A rail system that eventually replaced the bus route would be familiar. Any successful bus system would have to run all the time, not just selected times and days like the current system. We need commuter buses between Omaha and Lincoln at least four times per day to help carry a portion of the thirty thousand people in commuter autos daily. Buses would have to be well maintained, safe, and comfortable for passengers. This would be a slow but productive way of introducing people to the benefits of riding a public transportation system. As population grows and more people see the advantages, support and demand for a passenger rail system would grow. It would be crucial that any bus system follows closely the eventual route of the rail system, so that when a rail system is implemented, there would be no passenger hesitations changing over.
Until Nebraska residents and politician realize we need to start investing in passenger rail, we can start the momentum by encouraging the use of current buses so more people will enjoy the benefits, such as less expense than owning a car, safety, and reduced environmental impacts.
This article was developed from a class project in AGRO489, Urbanization of Rural Landscapes, taught at UNL each spring on Wednesday evenings.
Coauthors are Bob Kuzelka, a natural resource professor emeritus at UNL, and Chuck Francis, professor of agronomy and horticulture.