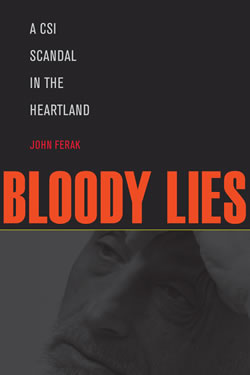 The middle-aged felon in the nice dark suit was just sentenced to prison and court was now adjourned in Plattsmouth, Nebraska.
Ordinarily, high-profile felons being carted off to prison know the drill. You stand still. Put your hands at your side. The courthouse sheriff's deputy rushes in and firmly slaps the steel handcuffs on your wrists and escorts you, arm in arm, back to the jail.
That afternoon, Nebraska's photojournalists and television trucks were ready. The news media camped out inside the Cass County Courthouse in Plattsmouth. Their quest was to capture a gripping image of Dave Kofoed, the evidence-planting Douglas County Sheriff's Office CSI chief, as he was supposed to be hauled away in handcuffs. But that was never going to happen. Although Kofoed was just sentenced to prison, a uniformed Cass County Sheriff's guard casually approached Kofoed and just let the new prisoner strut out of the courtroom without any handcuffs, before hopping on a courthouse elevator together. The folks at the Cass County Sheriff's Office afforded the villain Kofoed special treatment. They went to bat for their old law enforcement friend even though he had disgraced the entire Nebraska law enforcement profession.
And that's the Cass County Sheriff's Office for you.
Looking back on things, nobody could have suspected that the 2006 gruesome farmhouse murders near a sleepy western Cass County town would snowball into one of the most egregious modern-day law enforcement scandals. This case is rife with gross police incompetence, unethical Nebraska cops, cold-hearted investigators, and a blood-planting CSI sleuth, who worked out of Omaha.
My new book, Bloody Lies: A CSI Scandal in the Heartland, published by The Kent State University Press in Ohio, was written because, frankly, somebody needed to connect all the dots and piece together all the uncomfortable facts in proper form.
The whole Murdock case reminds me of a large, broken mirror. There are plenty of shards of glass with jagged edges left buried in the carpet.
I knew the case inside and out. From 2006 through 2012, I produced 147 news articles for the Omaha newspaper, before returning to Wisconsin to oversee a statewide investigative team, based in Appleton. My reporting on the Murdock debacle helped expose the erroneous arrests of two innocent cousins, Matt Livers and Nick Sampson. Later on, my stories helped trigger the downfall of the once-mighty Douglas County CSI manager Dave Kofoed, whose shameful actions landed him in prison.
And despite what Nebraska Attorney General Jon Bruning wants you to believe, Kofoed wasn't the only bad apple involved with the travesty of justice in Murdock.
The others mentioned in my book include Cass County Sheriff investigator Earl D. Schenck Jr., Cass County Sheriff's Sergeant Sandy Weyers, and Nebraska State Patrol investigators Bill Lambert and Charlie O'Callaghan. O'Callaghan was the self-proclaimed polygraph expert who, based on his job performance in Murdock, did not seem to know the difference between a polygraph machine and a typewriter.
Sadly, Kofoed's disgraceful exit from Nebraska's CSI community isn't the first time that a high-profile crime lab leader was exposed for being a fraud. Other high-profile scandals have occurred in Chicago, Montana, Oklahoma, and West Virginia.
Cases associated with forensic fraud tend to have a common theme: overzealous crime-lab officials eager to play god in the courtroom against some poor, uneducated, desperate soul who is deemed disposable to society. As a result, people like Matt Livers and Nick Sampson become easy prey and easy pickings for jaded, incompetent police investigators who tend to rely upon their own superiority complex instead of just following the facts, analyzing the evidence, and using logical judgment.
Livers and Sampson turned out to be unintended victims in my book.
Bloody Lies is a dark and dreary reminder to Nebraskans from Gretna to Grand Island to Gering that unfortunately, gross police misconduct and dereliction of duty is not just a Chicago or New York City or Los Angeles problem. This sort of barbarous law enforcement behavior happens in real life, smack dab in the middle of America's Heartland in places like Murdock, Plattsmouth, and Omaha, where police officials wield an incredible amount of influence, power, and lack of accountability.
Last October the tenacious and diligent civil lawyers representing Nick Sampson and Matt Livers (Maren Chaloupka of Scottsbluff and Locke Bowman of Chicago) reached a $2.65 million out-of-court settlement on the eve of jury trial in US District Court to resolve their long-standing federal civil rights cases.
Rightfully so, the Cass County Sheriff's Office, under the long-time leadership of Sheriff Bill Brueggemann, wound up with the lion's share of culpability. Cass County's tab to redress the wrongs suffered by Livers and Sampson was $1.5 million.
The Nebraska State Patrol's settlement tab toward Livers and Sampson was $975,000. The Douglas County Sheriff's Office's share was $125,000.
Besides the Nebraska taxpayers, the third-party reinsurer used by the Nebraska Intergovernmental Risk Management Association (NIRMA)—the public insurance pool used by eighty Nebraska counties that handles county liability claims—also got stuck with a large chunk of that $2.65 million settlement bill.
But there was more.
The taxpayers from across the state who fund NIRMA also shelled out another $500,000 in legal fees to the Lincoln-based Boucher Law Firm, the Omaha World-Herald reported late last year. The Boucher Law firm represented the Cass County Sheriff's Office related to the bungled double-murder probe in Murdock.
It's no wonder that the double-murder case turned out the way that it did. This stuff happens when you employ, elevate, and retain police investigators who simply lack the proper training tools and ethics to do the jobs that residents expect of them.
During the sworn depositions prior to the seven-figure settlement, Cass County Sheriff's Sergeant Sandy Weyers was asked why she selected Earl Schenck Jr. to lead the Murdock investigation.
Weyers testified: "Well, it's not going to sound like a very professional decision because that night that it was decided that we were going to interview the Drake family, we had several investigators, and they were all busy. And Earl was standing there. And I said, 'Come on, Earl, let's go.'
"That was it," Weyers added.
Of course, Schenck's prior on-the-job disciplinary problems could have gotten him fired or demoted from a more professional agency than the Cass County Sheriff's Office. The full details are documented in Bloody Lies on pages twenty-one to twenty-two.
Also during his sworn testimony, Schenck's other supervisor, Cass County Sheriff's Lieutenant Larry Burke, was asked by one of the civil attorneys for Livers and Sampson if Burke found any fault with Schenck's overall job performance in the Murdock double-murder investigation.
"No," Burke testified.
Burke's sworn testimony comes in spite of the fact that Schenck arrested the wrong two people as the killers, absent of any hard facts, any eyewitnesses, or any DNA evidence that pointed to Livers and Nick Sampson as even being viable suspects.
About the last time anybody has seen or heard from Bill Brueggemann on the case, the proud Cass County sheriff was staging a 2006 press conference on his courthouse lawn to celebrate the arrests of Matt Livers and Nick Sampson, the two innocent cousins who were put in his jail and immediately denied bail thanks to his department's gaffe. Brueggemann subsequently steered clear of holding any more press conferences on the case. (The small-town detectives in Dodge County, Wisconsin, were responsible for tracking down the real Murdock killers.)
In Bloody Lies one high-ranking Cass County elected official did prove to be righteous and honorable and acted with the utmost integrity: veteran Cass County prosecutor Nathan Cox. Cox released Livers and Nick Sampson on the verge of their respective jury trials rather than risk the possibility of securing a double-murder conviction against two innocent cousins.
But as for those Barney Fifes, it's hardly a surprise that all of the key law enforcement officials and direct supervisors whose performance ultimately cost Nebraska taxpayers a seven-figure police liability settlement avoided being disciplined.
In the case of Cass County Sergeant Sandy Weyers, she was promoted. She heads Cass County's emergency management office.
Apparently, there is a great lesson here. You can make a great living on the public trough in Nebraska as a high-ranking Cass County law enforcement official or Nebraska State Patrol investigator if you're incompetent, arrogant, and void of any compassion.
It's very fitting that the residents of Cass County will continue to be saddled with Sheriff Bill Brueggemann and his Keystone Cops investigative crew.
This November the long-time Republican sheriff is running unopposed for another four-year term of office—on the heels of Cass County's $2.65 million settlement, plus another $500,000 in legal fees to defend his agency's shoddy performance.
As for the two Nebraska State Patrol investigators whose foolish actions contributed to the state patrol's $965,0000 payout, they're both continuing to do well, remaining in their high-level, well-paid positions.
No house cleanings. No sincere and public apologies. No outside consultants used for any top-to-bottom public audits of police policies and procedures to avoid another catastrophe at Cass County, the state patrol, and notably at the Douglas County crime lab.
Ah, the Good Life in Nebraska.
Good if you're an inept law enforcement investigator. Not so good if you're pegged by some jaded high-ranking police investigator as a disposable human being like Matt Livers and Nick Sampson ended up being treated.
Not so good if you're a Nebraska taxpayer.
OK, how about Nebraska Nice?
Not so nice if you work as a public-sector liability insurance risk manager. And not so nice if you're that insurance carrier tasked with cutting the seven-figure check to resolve a nightmarish police liability claim such as the botched double-murder case near Murdock.
Here's the bottom line:
If the Cass County Sheriff's Office and Nebraska State Patrol had had properly trained, competent, and ethical investigators assigned to the Murdock farmhouse killings on day one, there would never have been a seven-figure settlement with Livers and Nick Sampson.
There would never have been any reason to saddle the Nebraska taxpayers with an additional $500,000 in billable hours to the Boucher Law firm to defend the Cass County Sheriff's Office's actions over a pair of embarrassing civil rights police misconduct lawsuits.
And lastly, there would be no reason for me to collect all kinds of assorted facts, thousands of court documents, transcripts and police reports, memos and crime-scene photos to write a full-length book.
But that's what really happened, so that's why I pieced together all of these sordid details as a grim, present-day history lesson for others in law enforcement, forensic sciences, the legal profession, university scholars, college students, elected officials, the risk management profession, and the taxpaying general public in Nebraska and elsewhere.