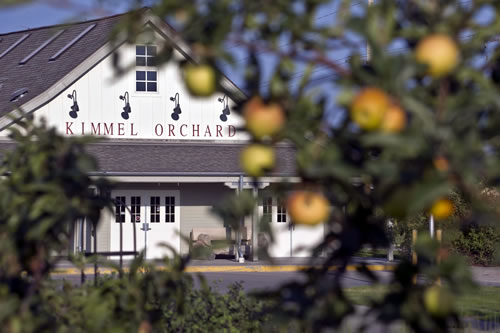 With Nebraska's knack for growing things, it's no surprise that you can find some of the tastiest farm-fresh produce here. Nebraska's lush soil cultivates a variety of delicious produce including apples, berries, grapes, asparagus, squash, melons, sweet corn, peaches, potatoes, cherries, and more.
Nothing sweetens the joy of a good harvest like sharing the bounty, and several farms across the state allow you to pick your own produce right from the fields. For example, Kimmel Orchard & Vineyard in Nebraska City offers forty acres of U-Pick crops with everything from apples to zucchinis. U-Pick is available from early strawberry crops to pumpkins in late fall. Pickers will find educational markers for many of the crops along the trail explaining what there is to see and what is in bloom. Each market will tell a little about that variety's origins, qualities, and uses. Kids have fun plucking ripe fruits from the rows of branches, and parents leave with fresh, healthy food to enjoy at home. Or, check out Martin's Hillside Orchard in Ceresco to pick pumpkins, apples, peaches, and raspberries. Harvest begins in late August.
If you'd rather not do the picking, you can buy fresh produce from one of the many seasonal farmers' markets that run May through October across the state. All summer long you'll find in-season fruits and vegetables, meats, and baked goods. With more than eighty markets throughout the state, you won't have to go far to enjoy the taste of Nebraska's fresh produce.
One of the most popular markets is the Lincoln Haymarket Farmers' Market, which takes place 8:00 a.m. to noon on Saturdays from May to October. You'll find kolache, croissants, pies, breads, cookies, cakes, baklava, homemade root beer, innovative arts and crafts, and weekly entertainment, along with the full gamut of produce typical to the area.
Celebrating its twenty-first season, the Omaha Farmers' Market in the historic Old Market offers more than one hundred vendors. It's open 8:00 a.m. to 12:30 p.m. on Saturdays from May through October. In 2011 the Omaha Farmers Market created the opportunity for an underserved community to purchase fresh, local produce by opening a third market at the Charles Drew Health Center in north Omaha. This market was the first in Omaha where customers could use WIC coupons obtained through the Charles Drew Health Center. Additionally, all Omaha Farmers Market locations participate in the Supplemental Nutrition Assistance Program (SNAP). Omaha Farmers Market was the first in the state to offer this convenient benefit to shoppers.
On Sundays Omaha residents and visitors can check out the historic Florence Mill Farmers' Market from 10:00 a.m. to 3:00 p.m. through the end of September and the Aksarben Village Farmers' Market. The Aksarben Village Farmer's market has grown to over ninety-five vendors and is open from 9:00 a.m. to 1:00 p.m.
The farm-to-table trend is also thriving in Nebraska. In Omaha, the chefs of The Grey Plume and The Boiler Room create seasonally driven, contemporary cuisine from locally grown produce and livestock. In Lincoln, the bounty of each week's farmers' market serves as culinary inspiration for Bread & Cup's market meals. In Nebraska City, fruits and vegetables straight from the orchard and fields inspire the kitchen of the Lied Lodge and Conference Center.
South Sioux City is home to a recently named Best Burger in America by Restaurant Hospitality Magazine. Kahil's Steak, Fish & Chophouse at the Marina Inn created the "Farm to Table Burger," the famous burger that is topping the chart. What makes the Best Burger in America? For this winner, it is topped with sarsaparilla, seared pork belly, and a farm fresh egg, served on a homemade brioche bun. It is paired with matchstick fries in a pool of veal demi-glaze.
In rural Nebraska, local fare thrives as a new crop of farmers, bakers, cheese makers, and food artisans are producing locally grown meats, vegetables, and fruit alongside handmade jams, sauces, pickles, baked goods, and cheeses. The Gering Bakery in western Nebraska has been baking goodies from scratch since 1950. The bakery is owned and managed by master baker Ron Ahlers.
One of the unique aspects of the business is its use of all fresh ingredients—no premade mixes are used. Ahlers strives to buy as many local ingredients as possible, and that includes Robinson Honey from the honey farm in Scottsbluff.
Hastings' Back Alley Bakery creates natural, unprocessed "artisan breads" baked fresh every day using mostly all certified organic ingredients. The bread-making process begins by grinding grain obtained from local organic growers. Their famous sourdough breads take several days between the initial mixing of the "sponge" to the artful glide into the brick oven.
In Raymond, Branched Oak Farm is dedicated to the practice of producing farmstead cheeses using milk from their own animals. Because the grass the cows eat is chemical-free, the milk has a unique flavor. Customer favorites include Quark, Camembert, and Gouda. You can experience U-Pick farms all across the state, and another popular choice is WindHarvest Farm outside of Morrill. The Morrill location is a bit remote, but it's worth the trip, especially if you can make it to one of their annual strawberry or raspberry festivals.
To sample a wide variety of Nebraska-made food products from multiple vendors, visit a Grow Nebraska store in Kearney, Grand Island, or Omaha.
As fall approaches, many people begin thinking of pumpkins. Since 1980, thousands of fun-seekers journey to the Roca Berry Farm and Pumpkin Patch near Roca, Nebraska, to pick their own pumpkins, go on hayrack rides, experience the thrill of a haunted house, and explore the surrounding haunted woods. What started as a small pumpkin and berry farm has grown to a local tourist attraction. Through the years, as the success of the farm grew, the farm evolved to feature Roca Scary Farm at night, building a following among teens and adults who enjoy Halloween season thrills. Roca Berry Farm is open September 21 through October 31 from 9:00 a.m. to 7:00 p.m. daily.