Title: Farthest House
Author: Margaret Lukas
Publisher: WriteLife Publishing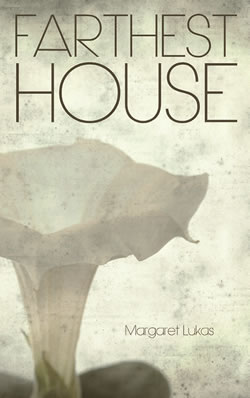 On the third of May, 1960, a girl child is born in a home delivery filled with complications and questions. As she is miraculously "harvested," her mother dies. In the opening chapter of Margaret Lukas's debut novel, Farthest House, readers are transported to a tragic, moving, and suspenseful world of family secrets. The narrative, complex and lyrical from the start, becomes spine chilling the moment we know that it is told by none other than the spirit of Amelie-Anais, dead nineteen years. From the opening, the novel is a roller-coaster ride of powerful, unsettling emotions as the ghost narrates the account of the baby's birth, connecting the story to her own life in eastern France and the Plains of Nebraska. The girl, named Willow, born with a minor physical handicap, instantly becomes the narrator's focus, and the story moves forward from there in layers, recounting Willow's transition from a helpless baby to a bewildered young woman and a passionate painter.
As the novel proceeds, it becomes an elegy of love and the deprivation of an orphaned young girl. Lukas narrates a tale of four generations of Nebraskans with an amazing fluidity and grace in a narrative that compels the reader to finish the chapters with no excuses. The author's intriguing tapestry of betrayal, loss, jealousy, and ultimately, healing attained by self-forgiveness is woven through with rich threads of mysticism. Added to this is the scintillating appeal of mystery and suspense.
The craftsmanship, the brilliant lyricism, and the dramatic prose of the narrative comes from an author who has been on the faculty of the Writer's Workshop program at the University of Nebraska at Omaha for eight years. An alumni of the BFA program at UNO, Lukas went on to earn her MFA from Rainier Writers Workshop in Tacoma, Washington. She has published in a broad spectrum of literary platforms and also has the distinction of winning a Nebraska Arts Council Individual Artist Fellowship Award. She is an editor and contributor to the quarterly journal Fine Lines, a contributor to NEBRASKAland Magazine, and her writing appears in the 2012 anthology On Becoming. Her short story "The Yellow Bird" has been made into a short film and premiered at the Cannes Film Festival in France.
The elements of mystery and suspense in the plot of Farthest House are woven dexterously, within the narrative from the very beginning. The benevolent spirit of Amelie-Anais, the deceased aunt, buried on the Nebraska hilltop where the family home resides, gradually reveals the family's secret that reaches now to the fourth generation. In a passionate, beautifully eerie narrative, the ghost follows the heroine, Willow, as she grows up with a handicap on her shoulder "like the bud of a wing," lives with her father, who is plagued with secrets himself, and witnesses her grandmother's death. The ghost of Amelie-Anais never leaves Willow's side and depicts her loneliness, her insecurities, and her incredible passion for painting in a haunting, classical narrative style.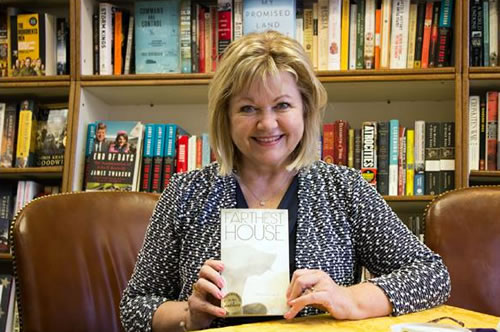 "The first few drafts were not narrated by Amelie, the deceased aunt," Lukas says of the novel. "The further I got into the project, the more I liked her voice, and it became clear she was the only one who knew everything. There are quite a few characters and to unify it all, to have one voice, I decided on giving all the narration to her."
The ghost, who unfolds this engaging story, is powerful and intriguing. Though Lukas tells the story in this unconventional way, she acknowledges that there are other novels with ghosts as characters. Beloved, for example, My Lovely Bones, and The Ghost and Mrs. Muir. "The writer's challenge is to shake up perceptions," Lukas says, and adds: "but there is always a danger of going too far. If you are going to introduce something fantastical, I think only one or two elements work best in a piece of fiction."
In Farthest House the mystery is heightened by two principal factors; first, the ghost narrator and second, the psychic ability of Willow, who hears her father's thoughts.
It is only through exploration of Farthest House and its inhabitants that Willow comes face to face with the tortured past of her family. In this gradual exploration of events, the author does some hypnotic storytelling, full of beautiful, lyrical images as well as shocking vignettes that penetrate the readers' hearts and sweep them away. Anna Monardo, author of The Courtyard of Dreams and Falling in Love with Natassia, wrote of the novel, "Farthest House is the story of Willow, a bewildered little girl who grows into a passionate painter. I can't remember the last time I rooted so enthusiastically for a heroine."
Considering Willow's physical deformity, it appears Lukas intended to use it as a subtle, delicate metaphor of Willow's life and of those closely associated with her. "Willow is born with a couple of strikes against her," Lukas said, "which I reveal in the first few pages. The death of her mother is one. She's also born with a minor birth defect. Her right shoulder blade has a burl of bone and her right hand is slightly smaller than the left. These are not severe; they are strictly cosmetic, and that was a conscious choice on my part."
In her early years, her grandmother, a mystery writer, supports and appreciates Willow's art. And as the years go by, and Willow is introduced to the darker past of her family, her pursuit of painting grows and gives her a wider perspective that shields her from her perceived "otherness." "As she grows and so much else happens to her," Lukas explains, "Willow sees her shoulder is of no real consequence." Lukas adds that giving Willow the deformity as a child makes her more identifiable and susceptible to abuse. The abuse here is two-fold, one that is inflicted on her and the other that she imposes on herself. The physical deformity is the challenge that in the end gives her faith and fortitude, and the dysfunctional nature of her family, once revealed, bestows her with greater power and insight.
In her childhood, she blames her mother for dying and has no desire to know what her deceased mother was like. When she grows older, life forces her to recognize her loss, and she begins to see her mother in a new light. Farthest House, thus, is not only an odyssey of one woman's birth and another's death but of the mystery that hangs between generations and the journey of healing.
Also, it is worth mentioning that Willow's journey from an orphaned child to a young woman is accompanied by an exquisitely rendered landscape of Nebraska from Omaha to the quaint, fictional college town of Greenburr. In the very opening section of the book, Lukas begins with a photographic narrative journey depicted by the ghost, which itself is a treat for the readers. Later, as the story progresses, an eerily beautiful narrative unfolds that intertwines both Nebraska settings and that of eastern France.
Born and raised in Nebraska outside a small town that resembles the imaginary town of Greenburr, the author paints a picture that is rich with vivid images from her own childhood.
[T]he plunge of wild and unfarmable land ended at a field of green shoots of corn breaking ground. Beyond that ran the same band of trees I remembered with the shiny belt of the Elkhorn River running through them. Still farther was the squat settlement of Greenburr: one street of businesses, skirted by a grid of square blocks holding both small homes and one-hundred-year old stately mansions."
The description, Lukas says, "is 100 percent the view I saw standing on the hill where my parents lived, looking down on the Cedar River and the village of Cedar Rapids, Nebraska. It's a place I know and still love."
The sense of belonging and returning to the landscape is heightened in the narrative as Willow moves out of Farthest House and returns years later to rediscover herself and her spiritual connection to the land. Standing over the hill, she realizes she is as "fitted there as reeds in a basket." She realizes too, that all the years she had been away, she'd lived "with bends and empty kinks, never fitting as well as she had at Farthest House." Lukas says this transition in Willow was inspired by her own returning to the landscape of her childhood. "Maybe only in moving away could I retain the magic… In many ways, distance opens a window for the imagination." In that light, the novel Farthest House becomes a haunting reverie of the magical time of childhood, the unrequited desires of Willow and how she comes to terms with them.
The initial response to the novel, not only in Nebraska, but also nationally, has been extremely positive. "When I'm writing," Lukas said, "I try to stay true to myself, my beliefs, and to my characters. But a writer never knows how her work is going to be received. It's such a gift when readers reward your efforts." Readers and reviewers of the book have commented that her narrative voice reminds them of Alice Hoffman and Isabelle Allende. For a debut novelist, this in itself is a remarkable accomplishment. In the coming days, we hope Lukas comes out with more groundbreaking novels.