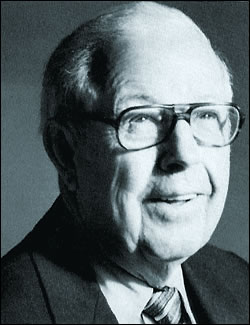 The Polk Progress was a Nebraska treasure that ceased publication in late 1989 after 82 years as a weekly newspaper. From 1955 until its last issue, the editor and publisher was the late Norris Alfred. In its last few months, the Progress had 900 subscribers in 45 states. Alfred was a remarkable Nebraskan with an uncanny eye for connecting the present with the future. Prairie Fire has collaborated with the Alfred family, the University of Nebraska School of Journalism and the Nebraska State Historical Society to locate and archive many of Norris's writings. We are capitalizing on our good fortune to present many of the Norris Alfred writings to our readership. We believe that his observations are as fresh and relevant to today's world as they were when originally written.
Unpublished Journal
June 29, 1992
Tomorrow morning at six o'clock I crawl onto a Northwest Airlines plane in Omaha and, after changing planes twice—Minneapolis and Detroit—will arrive in Traverse City, Michigan, about one p.m. for a ten-day visit with my brother Ted and his wife, Cathy, at their summer home on Elk Lake. Either my planning wasn't adequate or what happens is beyond planning (higher institutions of learning have courses in "planning") because first—Richard Lindeberg, a first cousin and wife, Joanie; also Cora Jean, his sister, planned to be in Polk July 10 for a visit and meal at Coach's Corner, and I had to write and tell him I wouldn't be home until the 11th.
While visiting Ed and Jane Dadey yesterday, Ed said Jake Thompson was coming to Nebraska the weekend of July 4 (Jake and wife, Kathy, and child live in Kensington, Maryland) and told Ed over the phone that he would like to visit with me, also. Damn! I wish there had been a college course in planning when I spent five years trying to learn what had happened, what was happening, and what will happen; all connected with a course in planning. Those five years of higher altitude learning were wasted because there wasn't a course in planning. So, what else could I expect? I'll be in the wrong place at the right time.
Before his marriage Jake Thompson was a reporter for the Lincoln Journal. I learned later that he kept a stack of Polk Progresses on his desk. A copy of the Progress was mailed to the Journal each week. His girlfriend was Katherine Porter, director of the Nebraska Arts Council.
She had to travel to Stromsburg one time on some duty connected with her work, and Jake told her: "If you have the opportunity, go to Polk, a dozen miles from Stromsburg, and visit the Polk Progress editor." Kathy did drive to Polk, and we did have a visit. When she left, remarking, "I'll be back," I didn't think she would. Kathy didn't return.
Months later, maybe more than a year, I had a call from Atlanta, Georgia. The caller said he was calling in the interests of the Today show, indicating a possible five-minute segment about the Polk Progress on the show.
I confused the Today show with a local morning show out of Lincoln on CBS. My caller needed a couple more minutes of talking before I understood this was the national Today show on NBC. Finally, recognition dawned. "Oh!" I exclaimed, "the Today show!"
The result of that call was two appearances of the Polk Progress on NBC television—the Today show and Tom Brokaw's Evening News. The producer had first called Katherine Porter, who had suggested the Polk Progress as a possible five-minute segment on the Today show.