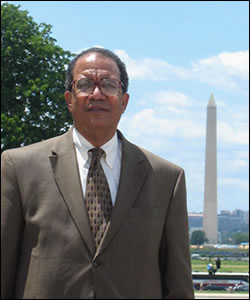 "Sonny's Corner" is a regular column in Prairie Fire, featuring commentary on civil rights and justice issues. Our friend and Omaha colleague, Joseph P. "Sonny" Foster, died suddenly at age 54 in August 2005. He left an uncompleted agenda, as did many of our civil rights and justice mentors and heroes. We shall attempt to move forward on that unfinished agenda through this column.
But if I say, "I will not mention him or speak any more in his name," his word is in my heart like a burning fire, shut up in my bones, I am weary of holding it in: Indeed I cannot.
—Jeremiah 20: 9
I became a feminist when I was ten years old. I was in fifth grade at St. Jude Catholic School in Grand Rapids, Michigan, and one of the parish priests gave a presentation persuading the boys to become altar servers. He was more successful than intended; after he spoke, I wanted to be a server. I asked my teacher why girls couldn't be altar servers, and she said, "Monsignor Brophy would never allow it." I was ten, but I wasn't stupid. I knew that wasn't a real reason.
When I went home that day, I told my parents what happened, and my dad said, "Why don't you start a petition? We could bring it to the bishop." I remember liking that idea, although ten-year-old me never followed through.
This marked the first time I recall being told I could not do something because of my gender. I was a serious child who embraced my Catholic faith. The people around me modeled that to be a good Catholic, one must, above all, be a loving person. Catholicism stood on the side of justice. Because of this, I was convinced that one day the rule about female altar servers would change. My parents agreed.
We were right. Mostly. In every diocese in the United States, girls serve at the altar—in every diocese except Lincoln, Nebraska. The Lincoln diocese is notoriously conservative, and this is where I live.
I moved to Lincoln for a professorship in 1996. I had spent six years in graduate school at Purdue University where I had been an active member of a parish. I served as a Eucharistic minister and on liturgy and tithing committees. I participated in a social concerns study group and sponsored five adults who joined the Roman Catholic Church. I was even asked to preside at a communion service when the parish priests were on retreat. Arriving in Lincoln, I did not recognize the heart or spirit of the church I knew.
In Lincoln, I am excommunicated. I am excommunicated because I am a member of a lay Roman Catholic organization called Call To Action Nebraska. Call To Action promotes open dialogue on issues that are widely supported by American Catholics, such as a more active role for women in the church and an end to mandatory celibacy for priests. Because members of Call To Action raise questions about church teachings, Bishop Bruskewitz considers members of Call To Action to be anti-Catholic.
In Lincoln, obedience to authority is paramount. A Roman Catholic who does not submit to the authority of the bishop, even if she is following her well-formed conscience, is not considered Catholic. The bishop has the power and the layperson has no voice, no means by which to be heard.
I make this observation because I have lived it and because I have joined with other good and faithful Catholics who have experienced the silencing structure of the Catholic Church in Lincoln. These Catholics were among the first in the United States to experience the institutional church's recent move toward authoritarianism. They were or are members of two organizations, Catholics for Active Liturgical Life (CALL) and Call To Action Nebraska (CTAN), which have sought reform of the Catholic Church in the Lincoln diocese and beyond. The story of these two organizations shines a light on what is defective in the structure of the Catholic Church in its recent drift rightward: the silencing of lay people and the exercise of dictatorial authority. When members of an organization are silenced, that organization suffers.
The people in CALL and CTAN learned firsthand what can happen when only ordained ministers, all of them men, have a voice. Laypeople, and this includes all women, do not hold any decision-making position in the church unless an ordained male grants that right. That right can be taken away. No layperson can compel a bishop to even listen to his or her concerns.
Catholics for Active Liturgical Life formed in response to new liturgical guidelines instituted by Bishop Glennon Flavin in 1981. The new guidelines ended the ministry of "reader" and replaced it with the ministry of "installed lector." This meant that only installed lectors would be allowed to read Scripture at mass. Installed lectors are, by definition, male. The ministry is generally used as a step toward ordination for seminarians. The change in policy was unusual, and many Catholics were upset that what was allowed in every other diocese in the United States was forbidden in Lincoln.
Adding to the insult was the announcement of the policy. The announcement stated that the change was taking place "to emphasize the dignity and seriousness of the role of reading the word of God." Questioned about the policy, Father Robert Vasa (now Bishop Vasa of Santa Rosa, California) said, "It may sound chauvinistic, but men are to be preferred to women… I suspect you'd have to live in Nebraska in order to understand why."
When Catholics for Active Liturgical Life tried to rectify the situation, the structure of the church offered them no voice. The group reached out to Bishop Flavin, diocesan priests, the Archbishop of Omaha, select US bishops, and the Apostolic Delegate to the United States. They even attempted to engage Bishop Flavin in a formal conciliation process through the National Council of Catholic Bishops, but Bishop Flavin refused to participate. Though CALL received encouragement and letters of support from members of the church hierarchy, including some bishops, no one could force Bishop Flavin to change his policy.
For twelve years, CALL used their newsletter to raise questions about the installed lector policy and other issues (e.g., lack of communion for the homebound, religious education for children who did not attend Catholic schools, ministry to the Latino community) that directly impacted their lives and the lives of other Lincoln diocesan Catholics. They supported one another and built lasting friendships.
Members of CALL paid a price for their beliefs. Some members were relieved of their duties teaching religious education to children, their trustee positions in their parishes, and some were forbidden to run for leadership positions in their parishes. It became common knowledge that some members of the hierarchy derisively referred to members of CALL as "call girls."
In 1992, Bishop Flavin retired and Fabian Bruskewitz was named the new Bishop of the Lincoln diocese. Things did not get better. Where Flavin had ignored the media and refused virtually all discourse with dissenters, Bruskewitz was shockingly caustic and even cruel. He refused to meet with members of CALL until they promised to read his selected list of antifeminist books written by far-right Catholic authors. Even though the group complied, Bruskewitz refused the meeting.
In a confidential letter to his priests, he celebrated that banning women lectors had successfully created "the absence of feminization of religious practice." Though he did eventually reverse the policy against women reading Scripture at mass, he worried that, "Changes in our diocesan regulation may be seen by some as appeasement of radical feminists and a concession to undesirable cultural pressures." In addition, he did not want the change in policy to "appear to be a 'reward for disobedience' or imply a giving in to 'political pressure' especially from ugly bishop bashers (e.g., 'CALL')."
In 1996, some members of CALL, which had disbanded after Bruskewitz reversed the decision to ban women from reading Scripture in mass, became involved in a Roman Catholic reform organization called Call To Action, a national Roman Catholic reform organization joined with other Catholics in the Lincoln diocese, as well as the other Nebraska dioceses. Call To Action advocates for social justice inside and outside of the church. For example, they support Catholic positions such as a preferential option for the poor, stewardship of the earth, the rights of workers, and solidarity with racial, ethnic, and economic minorities. While CALL worked within the structure of the church, many members of Call To Action critique the structure of the church. They wish to reform the structure so that more voices are heard and considered.
Call To Action dates to 1973, when the United States bishops organized a dialogue on the subject of justice. This culminated in a Call To Action convention held in Detroit three years later. Conference delegates generated twenty-nine recommendations and advocated ongoing dialogue. The United States bishops responded to these recommendations by emphasizing, in the words of scholar Bradford Hinze, their role as "authentic teachers" and pronounced a number of the topics raised as "illegitimate subjects for further conversation."
Though the US bishops concluded their involvement, lay Catholics did not. They founded Call To Action. Within two years Call To Action had added twenty-five regional affiliates.
Call to Action Nebraska was created in 1996. Bishop Bruskewitz responded with vitriol, writing an insulting letter to the group. "A priest-friend of mine, who had formerly been a Protestant minister, said that the difference between a dissenting Catholic and a Protestant is that the Protestant has integrity." He continued, "Your organization is intrinsically incoherent and fundamentally divisive. It is inimical to the Catholic Faith, subversive of Church order, destructive of the Catholic Church discipline, contradictory to the teaching of the Second Vatican Council, and an impediment to evangelization." At the time Bruskewitz wrote this, the national Call To Action organization included not only a large number of priests and religious sisters but several of Bruskewitz's fellow bishops.
Wasting no time, Bishop Bruskewitz published "Extra-Synodal" legislation on March 22, 1996, placing members of twelve organizations, including Call to Action and Call to Action Nebraska, under interdict. This meant they were to refrain from receiving the Eucharist. If, after a month, these members had not withdrawn their membership, they were to be excommunicated from the Catholic Church. Other targeted organizations included Planned Parenthood, Freemasons, and Rainbow Girls.
Bishop Bruskewitz's legislation was so shocking that it thrust Call To Action Nebraska and the Lincoln diocese into the media spotlight. The blanket excommunication of Catholics was unprecedented in the modern church and many ordained and lay Catholics responded publicly. Three US bishops, including Bishop Raymond Lucker of New Ulm, Minnesota, a member of Call To Action, spoke against the action.
Though Bruskewitz technically was within his rights as bishop, most Call To Action members of the Lincoln diocese refused to bow to the blatant abuse of authority. Catholics believe in the primacy of conscience. That is, they must obey their well-formed conscience above any order from a bishop or pope. Many members of Call To Action refused to accept the excommunication as valid. While many authorities commented on the excommunication, canon lawyer, professor at the Washington Theological Union, and recipient of the 2011 Catholic Theology Society of America's John Courtney Murray award in 2011 James Coriden's words capture how many Call To Action Nebraska members felt. Coriden wrote: "a law so contrary to the spirit and letter of Canon Law, so sweepingly broad and aimless, so unsupported by evidence of necessity, so intemperate and harsh, and so contemptuous of the precious value of ecclesial communion, is invalid on its face, or at best a doubtful law. Doubtful laws do not oblige. They are worse than no law at all, because of the confusion they engender."
Members of Call To Action appealed the decision, starting first with the bishop before moving to local and national leaders, and, finally, to the Vatican. In 2008, having received no response from the Vatican twelve years after the first appeal, members of Call To Action decided to stop the formal appeal process. As CTA member Gordon Peterson wrote: "no hearing was ever held, we were never consulted, no investigation or trial was scheduled, we were not even engaged in conversation with any Vatican official."
It is clear from statements made by Bishop Bruskewitz that he considers his treatment of members of Call To Action to be a type of tough love. That is not how I have experienced them. When Pope Francis says that "The church sometimes has locked itself up in small things, in small-minded rules," he perfectly illustrates my experience with the Lincoln diocese.
Pope Francis continues, "How are we treating the people of God?… The church's ministers must be merciful, take responsibility for the people and accompany them like the good Samaritan who washes, cleans and raises up his neighbor." Pope Francis' words give me hope, but until I see change, I will not fully rejoice.
The diocese of Lincoln, Nebraska, is the canary in the coal mine of the contemporary Catholic Church. Members of CALL and Call To Action Nebraska have raised urgent and relevant questions that shine a light on its silencing structure. Bishops Flavin and Bruskewitz worked to contain the voice of dissent. Current Bishop of Lincoln, James Conley, while exhibiting a kinder tone, has not reversed the excommunication of Call To Action Catholics, claiming the excommunication could have "a medicinal purpose."
The most shocking abuse of authority that has happened in the Catholic Church is the child sexual abuse and subsequent cover-ups by bishops. The same structural problems that led to transferring abusive priests from one post to another are at work in the problems experienced by members of CALL and CTAN: Too many bishops protect the institution of the church instead of the people of the church. Lay people are not to question the authority of the priest or the bishop.
But I will question. As will members of Call To Action Nebraska. The church must be honest about the way its structure has silenced people and perpetuated pain. And then we must all grow together to make a better and stronger church.
A future issue of Prairie Fire will include a review of Rachel Pokora's book, Crisis of Catholic Authority: Faith and Power in the Diocese of Lincoln, Nebraska.