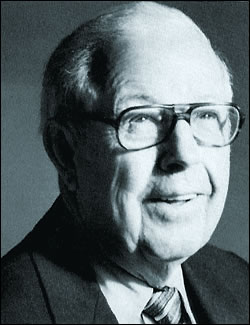 The Polk Progress was a Nebraska treasure that ceased publication in late 1989 after 82 years as a weekly newspaper. From 1955 until its last issue, the editor and publisher was the late Norris Alfred. In its last few months, the Progress had 900 subscribers in 45 states. Alfred was a remarkable Nebraskan with an uncanny eye for connecting the present with the future. Prairie Fire has collaborated with the Alfred family, the University of Nebraska School of Journalism and the Nebraska State Historical Society to locate and archive many of Norris's writings. We are capitalizing on our good fortune to present many of the Norris Alfred writings to our readership. We believe that his observations are as fresh and relevant to today's world as they were when originally written.
Unpublished Journal
April 11, 1992
Yesterday the afternoon temperature peaked at eighty degrees, and every person I met on Main Street appeared happy. Even I had to search diligently to find a growly complaint. Today I am happily complaining. The wind is out of the cold Canada north, and temperature is forty degrees; sky is cloudy, and the outlook drear. There will be things that go "clunk" in the night before April 12 dawns. I feel that in my bones. I discovered there is truth in the sayings of the elderly that they can feel a change in the weather. It is caused by atmospheric pressure.
Low pressure accompanies or may herald a change in weather. The lungs of the elderly lack the capacity of the young, being partially filled with the filtered out debris of a lifetime of breathing. Low pressure means less oxygen reaches the lungs of the elderly. Consequently, there is less oxygen in the blood. A shortage of oxygen can cause aches in the head and joints, and the elderly FEEL the change in weather.
In these days of fast food and super speed living; with time measured in fractions of a second; space measured in trillions of light-years distant; and the national debt in trillions of dollars that are fast (there's that word again) losing value because there is so many of them; I have difficulty retaining any sense of monetary value in the paper money we use as a standard.
The things are few that we need. However, there is a multitude of things we are convinced we must have, although I wonder why we need a conventional stove, be it gas, electric, or coal, or a coal and wood range; also a slow cooker and a microwave to cook food fast.
This afternoon the sky is clearing. I had hopes the gray morning sky would have resulted in a substantial rain (three to four inches, maybe), but now there is as much blue showing as gray. The rain is needed to fill the rainwater basins south, east, and west of Polk. There was a big basin north of Polk, but it has been drained into the bluffs of the Platte Valley and the area planted to—you guessed it—corn. I'd rather see the waterfowl and shorebirds.
While Steve Wilson and I were coming back to Polk, April 8, after a day spent in Lincoln, we left the Interstate highway at the Waco turnoff and zigzagged rural gravel roads to do a bit of birding and check some rainwater basins. Steve is also interested in abandoned farmhouses, barns, and churches.
I saw my first yellowlegs sandpiper for the year while we were driving a mile south to check out an abandoned church building. The bird was searching an almost dry (rain abandoned) field pond.
Steve has plans to make a night photo of the church on a starlit, clear night. Using time exposure, he hopes to show the lighted, curving path of the stars and the church in an angle shot. I may have this procedure confused. However, if this Journal tempts anyone to read it, there are numerous confusions of words, sentences, thoughts, and conclusions.
I just finished a long telephone conversation with Burdette Peterson in Oregon. Burdette is a son of the late Raymond Peterson, who operated a produce station business in Polk. Ray Pete's claim to fame was as a pitcher for the Polk baseball team. Burdette wrote several stories about his young life in Polk, fifty-five to sixty years ago. As a pilot in World War II, he flew B-29s, the big bombers in that war.
Trapped in Our Time (from "Polking Around," May 1991)
We are trapped in our time and caught in a cage of our convictions. We trim our lawns and living with careful consideration; cultivate convenience, corn, and congeniality while declaring the wild prairie coneflower a weed. To live blindly, not seeing the bird in the bush nor admiring the cottonwood tree's sky-filling immensity, is only existing. The heart pumps, we breathe rhythmically, without a catch or gasp, intent on our hopes and ambitions.
Life is not competition but cooperation. The humane life cannot prosper in an overgrazed pasture of greed, nor flower in the careless dust of topsoil blowing in the wind. The music of the natural is in the sweeping roar of prairie gales; crashing claps of a line thunderstorm; and humming of bees and breezes in flowering trees.
A mourning dove announces another spring day in less than one candlepower of morning light. For how many thousand years have ears heard that peaceful sound? It lacks violence or suggestion of cruelty—a conciliatory call. A request, perhaps, that we come together and pursue happiness, which can only be realized in peace. We have wasted too many of our few living years pursuing security—a will-o-the-wisp. Security is within us, not without.
Within us are the warping winds of our wants and worries. They blow hot and cold from the sweep of our personal horizon's directions. A full circle horizon of awareness accompanies our days. An awareness of a past and a future with sidling glances, right and left, at the present.
We have been born into an era of technological violence to man, beast, plant, and planet—destroying instead of preserving. Our time is not the only time, but the planet is the only place. A lone star of living light beyond which all life is conjecture. We know we are. What we don't know is an immensity. What we never will know is another great mystery, lost forever to even those who can read rocks.
Tread the terrain lightly, leaving no treacherous tracks to trap future's trails.