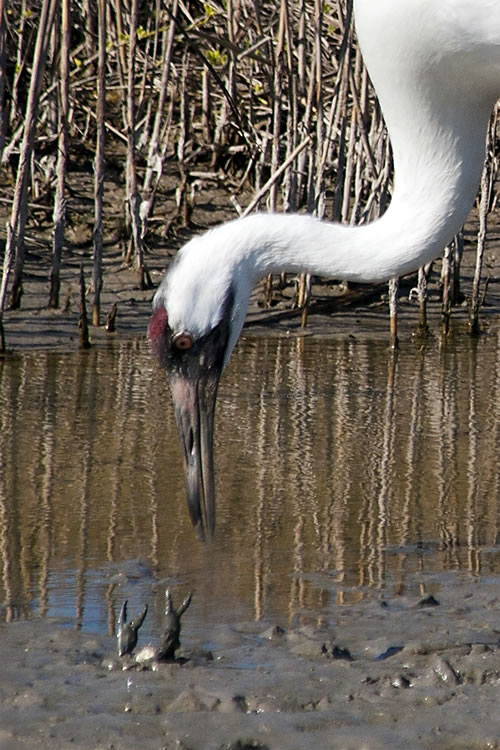 Of only fifteen species of cranes in the world, just two species occur in the western hemisphere: the sandhill crane, which is the most numerous, and the whooping crane, the rarest. Why have the two North American species experienced such different recent fates? We know that the sandhill crane is perhaps the oldest crane species on earth. Their bones have been immortalized in stone for six million years. Secondly, this crane has evolved characteristics beneficial to prairie life and has adapted to farming practices that have replaced the historic native prairies of North America.
However, the whooping crane, who is not even a close relative of the sandhill crane, is decidedly dependent on wetlands, both freshwater and coastal fringe habitats. As conversion of prairie potholes to agricultural lands progressed across the continent, habitat for whooping crane was lost and resulted, along with hunting pressure, in a significant decline for the species. The habitat loss included nesting areas in prairie wetlands of Canada and the northern US, migration stopovers across the continent, and wintering grounds along the Atlantic and Gulf coasts and interior plateaus of Mexico. Although no one is exactly sure how numerous whooping cranes were in precolonial times, estimates range from ten thousand to twenty thousand. By the mid-nineteenth century the species numbered fewer than 1,500. During an era when sustenance hunting was replaced by sport hunting, the rarer whooping crane was a prized bounty. Even scientific practices such as bird and egg collecting took their toll. By 1941 only sixteen birds were known to exist in North America. Their wintering grounds were limited to a remote peninsula just eighteen miles long along a coastal bay in Texas, which was protected by the designation as a federal refuge, now known as the Aransas National Wildlife Refuge.
Just days before I was born in 1955, the nesting grounds of the whooping crane were finally located within Wood Buffalo National Park, Northwest Territories, Canada, but only twenty-eight whooping cranes made the 2,600-mile migration to Aransas NWR, Texas, that fall. I first saw them when their numbers had increased to forty-four in 1965 while on a family boating adventure, and again on a class field trip in 1975 when fifty-seven were documented during the winter. I remember seeing the cranes as distant white specks on a vast coastal marsh. Their arrival and presence in the Aransas area of Texas makes us wonder—why are they only here and what do they do all winter?
I've focused my scholastic and career efforts on understanding the relationship between coastal food webs and the coastal environment. As I've worked along the Texas coast, the landscape I remembered from my childhood was changing; natural habitats were converted to developed coastlines and the catch totals for commercial and recreational fisheries declined. Yet, the whooping crane numbers generally continued to increase; by 2005 it was conceivable that there might be as many as three hundred individuals in the Aransas-Wood Buffalo population very soon. The winter territories that are defended by individual families were increasing and were no longer only within the coastal marsh environments of the Aransas NWR. Concerns grew about not having enough winter habitat protected for the last wild whooping crane population.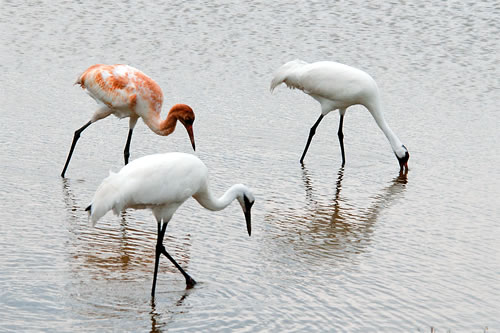 The International Crane Foundation based in Baraboo, Wisconsin, works worldwide to protect the grasslands and wetlands that the fifteen species of cranes require to sustain viable populations. The early work on whooping cranes pioneered by cofounders Drs. George Archibald and Ron Sauey focused on successfully breeding and raising young cranes to be reintroduced into areas where they had flourished over two hundred years ago. Particularly in the late 2000s, whooping crane recovery efforts for the Aransas-Wood Buffalo population were faced with an uncertain future. ICF asked what steps could be taken and how could they participate in implementing the priority actions that would save the wild whooping cranes. I was hired as the full-time whooping crane conservation biologist and given the task of networking with the professionals and naturalists working on crane conservation to synthesize a program of needed conservation actions addressing the challenges whooping cranes face.
Through this planning it has become clear to me that it all still comes down to what do the cranes do in the winter in Texas and what do they need for their population to be successfully recovered? With thanks to a handful of dedicated individuals who have spent their lives studying this magnificent bird, let me share some of what we know about what whooping cranes do and need in the winter. Robert Porter Allen, who was hired by The Audubon Society in late 1940s to study and report everything known about the whooping cranes, moved his family to the Aransas NWR. By observing and tracking the cranes and sampling their food items, he wrote a comprehensive treatise published in 1952 that still has huge value today. He surveyed the cranes throughout the winter and mapped their movements as seasonal high tides carried in blue crabs to the marsh ponds and exposed bay shorelines during low tide, which provides improved foraging for clams and worms. He observed that individual families composed of two adults and one juvenile utilized and defended a territory about three hundred to five hundred acres in size.
In the decades that have followed, several refuge biologists and managers have taken the seat in a low-flying plane week after week, year after year, to do aerial surveys of the cranes. This method of spatial mapping has provided a rich database of crane numbers on arrival at the wintering grounds, size and expansion of family territories, crane movements in relation to drought and wet cycles, and winter mortality of adult and juveniles prior to the spring migration. Because the cranes' breeding grounds are so vast in Canada, monitoring crane abundance on the wintering grounds was the best way to track the population status. Tom Stehn, biologist at Aransas NWR and US whooping crane coordinator, spent twenty-nine years ensuring that these data were collected and the results disseminated to both managing agencies and the public. His frequent reports were a key connection for the public who are inspired by the cranes. His reports and publications have been integral to developing the recovery plans, coordinating efforts at the continental level, and understanding the winter life of cranes.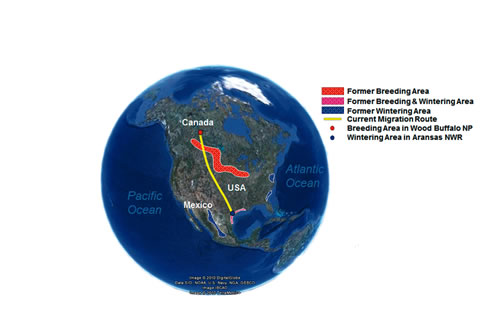 Work important to understanding whooping crane feeding habitats in the winter has primarily been undertaken by graduate students mentored by Dr. Doug Slack at Texas A&M University. One student, Dr. Felipe Chavez-Ramirez, completed a multiyear study at Aransas NWR that provides a wealth of information on the wintering ecology of the whooping crane, including the critical relationship of whooping cranes to their primary food, blue crabs. Many believe that blue crab availability is imperative to whooping crane winter survival. I am working with others on developing the hydrologic connectivity and water quality habitat layer that would assess prey availability in relation to bay salinities and freshwater inflows. Dr. Chavez-Ramirez and I are currently working on developing a conservation priority map to identify sufficient habitat to support having a future population of one thousand whooping cranes, the number defined in the recovery plan as the goal for a downlisting decision.
Decades of research and monitoring have provided a better understanding of what whooping cranes do and need during their time on the wintering grounds of Texas. This understanding underwent serious scrutiny beginning in the winter of 2008–09. A very severe drought raised salinity (salt) levels in the bays and to an even greater extent in shallow coastal marshes. FWS winter survey data results reported a loss of twenty-three whooping cranes during this period, as well as a disintegration of the normal territory defense behaviors and other typical activities. A natural decrease in freshwater inflows from the Guadalupe and San Antonio rivers was exacerbated by continued permitted withdrawals. A lawsuit by a nonprofit organization, The Aransas Project, has ensued against the state agency in Texas responsible for water basin management, and while the federal judge ruled in favor of the nonprofit, an appeal finding is still pending. Water issues are widespread, particularly in drier and drought-prone regions such as Texas; sound science is needed to find viable strategies to balance water needs between people, habitats, and cranes. We are working with university researchers, agencies, and other nonprofit organizations to fill those knowledge gaps so the best information can be used when decisions are made about freshwater inflows to the whooping cranes' estuarine habitat.
Most of the biologists, conservation practitioners, and naturalists that I engage with daily were raised next to the wintering grounds of the whooping crane. We understand the vise-like grip of a blue crab claw and understand why a juvenile whooping crane would appreciate its parent breaking up the crab so it can devour it. We get that crabbers and fisherman know that fish and crabs move in relation to drought and wet cycles, and so must foraging whooping cranes. We recognize that while a coastal system is adaptive to environmental fluctuations, our added influence may be tipping the scales away from a balance needed to maintain natural life—as natural as wintering whooping cranes in our piece of the landscape in North America. We may never know why the last birds of this endangered species only occurred here, but we know it is our responsibility to ensure they can continue to recover here.