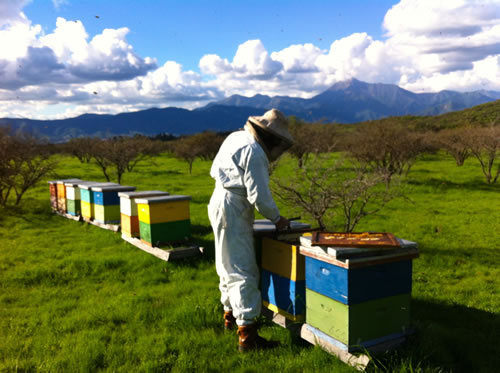 By Kat Shiffler and Chuck Francis
Chile is a fascinating environment in which to study beekeeping. The South American country is often referred to as an "ecological island"— an area of land isolated by natural barriers, which allows for a large amount of "endemism" or development of special plants in each place. As a result, Chilean apicultural (honey) production is characterized by a great variety of specific types that are derived from unique native flora; products that can be found nowhere else on earth.
Yet in just about every small town in Chile, you find nothing but humble plastic containers of generic honey. A kilo sells for about 2,500 pesos, or five dollars USD. This product looks the same everywhere, with cartoonish bees and the word Miel. But it has no date, no location, no information to distinguish it as a special product.
Earlier this year, I (Shiffler) was in Chile with a Fulbright Scholarship to look at opportunities for added-value in honey, with the end goal of improving the livelihoods of thousands of small-scale beekeepers at the bottom of this particular production system. What I came across was a fascinating proposal for a tourism route—La Ruta de la Miel—based on a series of unique honey terroires, or microenvironments. My adviser, Dr. Charles Francis, and I begin to discuss here the implications for a similar food route in rural Nebraska.
Honey Production Today
A little background: Most beekeepers in Chile are small scale—with less than one hundred hives—creating conditions for a true artisanal honey culture. Yet 95 percent of the honey produced in Chile today is exported in bulk without added-value, without identity; homogenized and largely exported to the European Union.1 The major consequence of this practice is a group of more than ten thousand hard-working, small-scale beekeepers whose quality products are essentially combined in one big pot by the middleman, are shipped abroad, and return a minimal profit to those who do the work.
For the Chilean government, the Ministry of Agriculture, and those concerned with honey as an export commodity, there are several pertinent questions. How do you standardize a product that is the result of more than ten thousand individual producers? Specifically, how do you effectively transfer technology and knowledge to help farmers meet export requirements?
In contrast to this large and low-value commodity approach, a small minority of beekeepers are pursuing specialty markets—gourmet, organic, fair trade—creating a new honey terroir, as well as working with universities to develop industrial uses for hive products—a honey-specific bio-prospecting of plant species. This appears to be a viable and profitable alternative, since the real value is found in each honey's individuality.
While neighboring Argentina may be one of the world's top honey producers by volume, Chile is hoping to steer some beekeepers toward specialization with an eye on gourmet and industrial products.
Chilean beekeeper Misael Cuevas says, "I think that in the long term we should build towards a 'de-commodification' of honey … to get there the information we need includes the botanical and geographic origins of the unique plants in each area, and above all the attributes that our honeys have."
It is relevant to mention the example of Chilean wine. Thirty years ago, wine was exported in bulk from Chile as simply wine, without concern for origin or grape variety or family history or management practices. Today there is a wide pantheon of wines that is priced according to quality and their defining characteristics. There is a wine culture and well-established terroir associated with each type. Equally relevant, there is an extremely successful Ruta del Vino operating in Chile—a high-end wine tourism route.
How La Ruta de la Miel Works
La Ruta de la Miel is first and foremost a map. For several months, I traveled the O'Higgins region of Chile—the pilot region for the project—visiting beekeepers, conducting interviews, sampling their honeys, taking pictures, and recording a GPS point. What we have at this stage is a descriptive and user-friendly digital map with over fifty participants.
Along with beekeepers and other stakeholders, I developed a collective brand identity, a label that each participant beekeeper would use to distinguish their honey. On this label is a QR code, essentially a graphic hyperlink connecting consumers to the map via any smartphone device. The honey is the key to the treasure map! Upon scanning this code on the product, you have a map of beekeepers willing to receive visitors and explain their craft to curious consumers.
The map's byline is "To learn more about each product, it's beneficial properties, and the life stories of the beekeepers that dedicate their time to harvest each unique honey, we invite you to explore La Ruta de la Miel!"
The tour route is designed to profile beekeepers and their important occupation, as well as change the image of honey from a commodity export industry to an artisanal craft intrinsically connected to nature. My Chilean colleagues and I are doing this by defining a network and publicizing a map of beekeepers and their products. I have found this vision an appropriate and profitable one for an industry that is made up of thousands of small producers. Its strengths exist in its diversity—both biological and human—so it makes sense to pursue a regional production strategy that places more value on each unique quality product.
Rural Tourism as Added-Value
From a consumer perspective, a closer relationship with producers—visiting the apiary, seeing how honey is extracted—not only personalizes the product, but when done well, this can lead to more sales of quality honey. Rural tourism and learning about farm families can increase the market for high-quality, added-value products. Argentinian tourism scholar Regina Schlüter points out that food routes are complex products that group together both gastronomic and other complementary offerings. As a result of such multiple offerings, food routes are often perceived as a complete product—offering a variety of experiences—and increasing the chances of a positive experience.2The key, therefore, is expanding the honey niche into something that appeals to a wider audience.
In general rural tourism has proven an efficient way to reinvigorate the value placed on rural cultural assets, especially gastronomy and regional foods. When farmers show and explain local traditions to visitors, it can promote a deeper study and a deeper appreciation for them.3 Culinary or gastronomic experiences can be seen as a feature of both natural and social environments and provide a highly interactive and participatory way to become familiar with local culture.4
In the case of La Ruta de la Miel, there are three components that contribute to added value. One, the opportunity to meet the beekeeper, their family, and in some cases spend time in their homes and apiaries learning about producing honey. Two, there is the added value in knowing details about the honey being consumed, its botanical origin, terroir, and beneficial properties. A connection to the natural environment and the cultural characteristics of a place are the third component of added value. One strong support for the tourism portion of La Ruta is the key group that really wants to know where their food comes from. It's a valuable experience for them to go to the source, and this experience is worth time and money.
Tasting the Place
When you are tasting honey, you are literally tasting a place—the essence of terroir. The original French term gout du terroir translates as "taste of place." For me this is especially true with a product that is a complex mix of pollen and nectar from the immediate surroundings. Holly Bishop, author of the book Robbing the Bees, said, "A colony of bees is like a sponge, soaking up the pools of smell and taste from the flavorful landscape and season in which it is immersed."5 Yet, a honey-specific terroir is only in its infancy.
Biodynamic beekeeper Gunther Hauk calls human beings "cocreators" of this place, our natural environment. To Hauk and to a growing movement of holistic beekeepers, the honeybee serves as a barometer of the health of the environment; the pressures of disease a reflection of the pressures on all forms of life that result from human-centric reductionist thinking and actions, and little concern for consequences.6
If we can taste honeys—realizing that there is more than just one generic honey—noting the difference from place to place and plant to plant and experiencing honey as a pure reflection of nature, then perhaps consumers can directly relate to what is at stake through this olfactory experience and become more responsible cocreators of our surroundings. This is the larger application of my research in Chile—and what I bring back to Nebraska as a beginning beekeeper.
A Food Route in Nebraska?
Can this same idea be used in Nebraska to increase profits of farmers who grow specialty crops? There has been a tremendous growth over the last decade in consumer interest in farmers' markets and in community-supported agriculture businesses that deliver food from farmers to consumers. It appears that the time is ripe for additional creative marketing options. A special route organized to take consumers to a series of farms that produce specialty vegetables, meats, and fruits could promote purchase of Nebraska-grown foods and provide farmers with a higher proportion of the food dollar. When more people in the state understand where food comes from and what it takes to produce a quality product, there is more general support for state programs that support farms and rural communities. Informed consumers can also become wise shoppers who value fresh local produce, and who realize that they are contributing to the health of rural Nebraska.
This is a model that we hope has a bright future in Chile and could be used by Nebraska farmers. We should encourage both public and private agencies involved in the food system to pursue creative marketing alternatives.
Endnotes
1. Montenegro, G. and X. Ortega, Innovación y valor agregado en los produtos aícolas diferenciación y nuevos usos industrials (2013).
2. Schluter, R. G., "Anthropological Roots of Rural Development: A Culinary Tourism Case Study in Argentina," Tourismos 6(3): 77–91.
3. Barrera, E. and N. Muratore, Rural Tourism in Latin America Cases and Experiences of Rural Tourism (Rome: Food and Agriculture organization of the United Nations, 2002).
4. Schluter, "Anthropological Roots of Rural Development."
5. Bishop, H., Robbing the Bees (New York: Free Press, 2005).
6. Hauk, G., Toward Saving the Honeybee (Junction City, Ore.: Biodynamic Farming and Gardening Association, 2008).