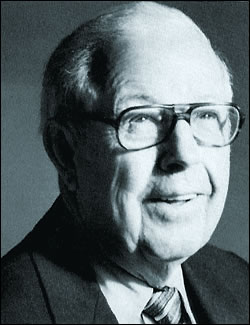 The Polk Progress was a Nebraska treasure that ceased publication in late 1989 after 82 years as a weekly newspaper. From 1955 until its last issue, the editor and publisher was the late Norris Alfred. In its last few months, the Progress had 900 subscribers in 45 states. Alfred was a remarkable Nebraskan with an uncanny eye for connecting the present with the future. Prairie Fire has collaborated with the Alfred family, the University of Nebraska School of Journalism and the Nebraska State Historical Society to locate and archive many of Norris's writings. We are capitalizing on our good fortune to present many of the Norris Alfred writings to our readership. We believe that his observations are as fresh and relevant to today's world as they were when originally written.
Unpublished Journal
March 20, 1992
Yesterday's weather was more wet than dry. Today the sky is clearly blue, and the morning sun has an unimpeded chance to flood the terrain with sunshine. I'm writing this at 9 a.m. and, heeding the Progress Swedish Philospher's admonition, "You never know how a day goes 'til it gets to the end," I refuse to predict an all-day blue clarity overhead. Gloria Eckerson of Aurora called earlier today, and I promised to help her and Wilma Aalborg check bluebird boxes in the Platte valley where she maintains a bluebird box trail.
Steve Wilson called wanting to know if the concentration of sandhill cranes in the Platte valley had reached a peak. I had to tell him I hadn't been west of Grand Island yet, but I suspect the concentration is at its peak. Usually, the third week in March is peak concentration. Steve said he is winding up his stories on the yew tree and the anticancer drug toxin it produces, which will appear in five major national magazines. He plans to be back in Polk by next Wednesday, March 25. The PSP's admonition could apply to plans also. I'll believe Steve is in Polk when he walks in the print shop front door. I don't know where he called from. Could have been most anywhere in the United States.
Wilma's last name of Aalborg always intrigued me. A double a word certainly isn't English or English-American. The name stems from a boatload of Danish immigrants who were due to land at Ellis Island. Most of the immigrants had the family name of Jensen or Hansen, and a majority of them decided to change their family name to indicate where they were from rather than who they are. Aalborg is the name of a place in Denmark. Suddenly it became the name of a family.
Corrine Adelson called wanting to know if I had kept plans for building kites, which I and Larry Killion (Polk's last Union Pacific station agent) had made in an attempt to interest the Polk kids of that time in building their own kites rather than buying the ready-made. I had to tell her I didn't have a kite pattern or plan. Corrine's oldest son, Steve, had asked his mother to call me. That kite-building episode happened during Norris Alfred's Age of Innocence—a fun time. Now I'm well launched into the Age of Built—an adult time of self-condemnation.
3:00 p.m.—Returned from the bird box trail—half the time spent searching for one box and not finding it, and half the other time half-time walking from a cornfield into a bush- and tree-populated pasture and not finding a box that should have been there. I promised Gloria I'd search more on future trips when the going was less muddy. The sky is still clearly blue with a few unsheared sheep clouds floating over from northeast to southwest. Fragments of clouds (wool shearings) also cluttered the blue. Wind was light and almost warm at 60 degrees.
Gloria said she had been reading a book of E. B. White's essays and remarked, "He writes like Norris Alfred." I said thanks for the compliment, adding, "E. B. White has been my favorite writer." She had the compliment in reverse. It's Norris Alfred attempting to write like E. B. White. E. B. White was another of my heroes. The last information I had about him, he was inflicted with Alzheimer's disease or senility, and I cried. That wonderful mind clouded in such a shroud. It shouldn't be.
All this about writing was caused by Wilma Aalborg remarking on her first copy of "The Nation," a weekly magazine I had subscribed for her when she wanted to know what I read: "Much of the writing I don't understand." I replied, "Neither do I. Some of it refers to people and happenings the writers are familiar with and use language I suspect could be put in more common usage terms." Perhaps the words are common kitchen and table talk to them, but I doubt it.
I was told by a local subscriber to Polk Progress and "Polking Around" that "I find myself in agreement with your columns, which is most certainly the main reason I like them." Another letter writer, a stranger to the Polk scene, stated: "I continue to be charmed by your ability to frame important thoughts in plain language."