"Big Jim Exon: A Political Biography"
Authors: Charles M. Pallesen Jr. and Samuel Van Pelt
Publisher: Infusionmedia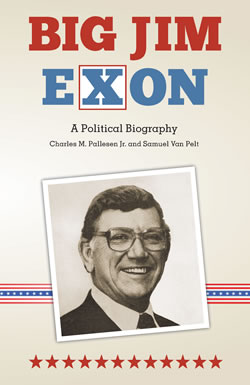 This volume covers the political history of J. J. Exon by concentrating on his long involvement in the public arena, first as an activist in the State Democratic Party and later as a frequent successful candidate for high political office.
The work sets the stage by recounting Exon's birth and childhood in South Dakota, where his forebearers settled after immigrating from England. He moved to Omaha upon graduation from high school in 1939 and attended college until World War II started when he enlisted in the Army. He met Pat Pros in Omaha, and they were married in 1943 while he was on furlough. After his discharge, the couple lived in Omaha where he worked for a financial company, and they raised a family of three children. In 1953 they moved to Lincoln with the same company, and Exon later started an office equipment store on his own, which he ran until he was elected governor in 1970.
Then the book shifts to Exon's entry into Democratic Party activities and his service in leadership positions where he encouraged others to do likewise. He became Frank Morrison's campaign manager in his gubernatorial bid in 1960 as the fortunes of the Democratic Party were rising. Exon spent the time from then until 1970 working to unify the city and rural, union and farm segments of the party into a cohesive force.
Then the authors, using their interviewee responses, have alternating chapters covering Exon's successful gubernatorial campaigns in 1970 and 1974 and his winning U.S. Senate campaigns from 1978–1990 and how he fulfilled his roles in these offices; this is the bulk of the book. There are additional chapters covering incidental but related topics, as well as one dealing with Exon's lifelong fascination with baseball and another summarizing his stands on issues using letters to constituents and his reaction to the policy proposals made by the presidents he served with (Carter, Reagan, Bush, Sr. and Clinton) in their messages and appeals to Congress.
Of primary importance here is what this extensive solicitation of over 100 interviews of colleagues, friends, staffers, campaigners, media reporters, rivals, party leaders, Republicans and lobbyists does to inform the reader. I'll summarize it all by saying that Exon's attributes were grounded in two watchwords: teamwork and loyalty. He preached them, he practiced them and he expected to receive them in return.
Teamwork was an operational absolute, and loyalty was to be given to the Democratic Party—no ifs, ands or buts about it. His early life had exposed him to the inner workings of the Democratic Party through his parents, who were both longtime high party organizational leaders in South Dakota, and his adult experiences must have galvanized this party commitment even more firmly. This feature of his being and manner attracted scores of young volunteers to him when he ran for office, as well as those candidates he recruited and blessed; this atmosphere also provided a reservoir of staffers for the candidates who became public officials. This display of collegiality under the umbrella of the Democratic Party is remarkable given the steady drift nowadays toward candidates for high office who are self-recruited and funded and who rely on private interest groups and large public paid staffs to sustain them in office with resources that assure their reelection for as long as they desire to serve. Lots of candidates, prospective and actual, casually claim public fealty to their party, but with Exon every single corpuscle in his body must have been attuned and programmed, first and foremost, to the interests and goals of his cherished Democratic Party.
Almost all of the interviewees credited Exon with being the catalyst for the improved election performances by Democratic candidates in recent decades. I happened to have found the responses of Wm. Berryman and Jon Oberg to be among the most insightful and provocative in the book. Looking at all the examples recounted in Pallesen and Van Pelt's work, and placing Exon's impact in the modern political history of the state, one could say that Nebraska Democrats have had two unusually prophetic leaders—William Jennings Bryan and J. J. Exon. Bryan was inspirationally important to his party early in the last century, and this fed into the Wilson and FDR victories that reestablished the Democrats as a viable contender in national elections. However, any electoral boost during these years was modest here in Nebraska. Exon, however, concentrated on unifying the Democratic geographic factions and personality rifts he encountered after settling here; he achieved this through skill and persistence and by working for other candidates until he decided he too would seek public office. Election returns show that this "share-the-wealth" strategy of Democrats and their leader, Exon, contributed to a steady, although uneven, improvement of the party, especially in these areas: occasional Democratic wins for major offices, increased numbers of party members who "joined" during the voter registration process and an achievement not mentioned by those lauding Exon in the book—parity with Republicans by the mid-1970s in the number of seats won in the "nonpartisan" Unicameral legislature.
Going beyond Exon's accomplishments in building up the Democratic Party, let us look at his personality and behavioral style, foibles and all. These mannerisms are culled from the interviews of those who knew and worked with him closely. First off, Exon was indefatigable when it came to staff briefings on budgets, programs, periodic data reports, etc.—the taxpayers got their money's worth from these sessions. He also had a boisterous laugh and demeanor; a bone-crushing handshake; a pipe-smoking addiction that was unsightly, smelly and often a fire hazard. He had a gregarious personality; a fondness for "baiting" the legislature and individual senators; an imposing physical stature; a robust delight when vetoing enacted laws. He (and wife, Pat) had a disdain for the D.C. social and media scene; a penchant for owning gas-guzzling cars; a rocky and combative rapport with the local media, especially the print reporters and editorialists; driving skills that were sorely lacking; and he waged a perpetual frugality crusade. Were these traits warts or beauty marks? Interviewees were pretty much agreed that the reaction to many of his personality traits varied based on whether you experienced them directly or you observed them from a distance.
There were at least a few instances detailed in the book when party leaders deviated from Exon's velvet glove approach when dealing with internal party squabbles, often disagreements about candidates seeking party leadership posts or nominations for public offices. In 1976 Ed Zorinsky, mayor of Omaha and a longtime Republican, claimed that the party's "hierarchy" or "bosses" shunned him when he expressed interest in running for a vacant Senate seat; he took offense and shifted his affiliation to Democrat and was elected over the Republican, Congressman John McCollister. Similarly, in Lincoln a group of County Democratic leaders "warned" Democratic County Commissioner Mike Johanns in 1986, he would not get their endorsement in the upcoming nonpartisan city mayoral election, which he was gearing up for, unless he made "changes" in his campaign organization, which included some prominent Republicans. He too balked at this boldness, shifted his affiliation, won the race and later was twice elected governor and twice elected to the U.S. Senate.
Another such thorny case involved Exon and severely tested his oft-repeated commitment to unity and teamwork. It occurred in 1970 and is described in the book by Bill Berryman, Exon's campaign manager. Exon had decided to run for governor, and he encouraged Wallace Peterson, an economics professor at the University of Nebraska who came for advice on a possible U.S. Senate bid. Peterson filed and began campaigning. At the very last moment Frank Morrison unexpectedly filed, much to Peterson's chagrin. Morrison, a former governor and a frequent candidate, had been "drafted" by Berryman and Jack McCoy, a prominent Omaha labor leader. McCoy, the instigator of the plot, persuaded Berryman that Peterson's presence on the ticket as an "anti-war" candidate would jeopardize the party's chances for victory. They were concerned that Nebraska would be a rerun of the 1968 Democratic debacle when LBJ, Eugene McCarthy, Robert Kennedy and Hubert Humphrey were unable to unify the party after that tumultuous nominating campaign. Berryman and McCoy "floated" the concern by the "party's leaders," starting with Exon, and were not dissuaded, so they decided on Morrison given his proven appeal and convinced him to run. Morrison prevailed over Peterson in the primary but lost in November. Exon also won in the primary and then upset the incumbent governor, Norbert "Nobby" Tiemann, in the general election. Berryman said Exon was upset when they first broached the strategy with him, but he reluctantly justified their plan by saying there was a need for "party unity." Politics can be a pretty sordid business at times, eh? There are other political "shenanigans" revealed in the book, but this particular one stands out to me because it was not typical of Exon's customary operating style. Some caution may be needed here because we get only one version of these clashes, so these apparent indiscretions may never be definitively "put to bed."
One other matter: Considering all the accolades Exon receives in this book, remember that in his first bid for public office he prevailed, but with a very narrow margin, in his own party's primary after years of effective party service. In my mind this nomination should have been awarded by acclamation because it was merited and he used it wisely and helped his party by logging three decades of valuable service in our state and national governments.
Overall, I believe political party officials need to communicate more clearly and instructively with their rank-and-file members to assure their most qualified nominees advance to the general election. I also believe our century-old state laws regulating political party nominating procedures should be reviewed and updated. In the meantime, this book is a good read and satisfies a number of needs; most importantly, it provides a thorough account of a crucial era in Nebraska civic affairs, with a focus on one of its most dedicated and successful politicians—Jim Exon.
To learn more about "Big Jim Exon" and to purchase a copy, visit www.jimexon.com.