"Yellowstone Wildlife: Ecology and Natural History of the Greater Yellowstone Ecosystem"
Author: Paul A. Johnsgard
Photographer: Thomas D. Mangelsen
Publisher: University Press of Colorado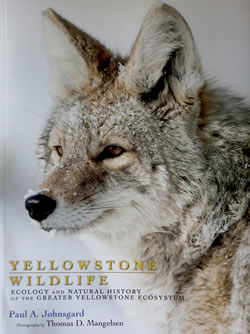 Yellowstone National Park is a place of superlatives. It was the first national park in the United States, some claim first in the world, when it was established on March 1, 1872. The "supervolcano" lying beneath it is not only the largest in North America, but it also powers the regions iconic geysers, like Old Faithful, known worldwide, and Steamboat Geyser, the world's largest still in action. Beyond its geological wonders, Yellowstone sits within one of the largest and most intact natural areas remaining in the continental United States. Few other places contain such a diversity of big mammals especially, like grizzly and black bears, elk, moose, bighorn sheep, mountain goats, pronghorn and wolves. The country's largest and oldest public herd of bison live here as well. That the place and its wildlife persist at all is remarkable, even miraculous, after almost 200 years of development and environmental degradation elsewhere in the Northern Rockies.
Writer Paul Johnsgard and photographer Tom Mangelsen understand how superlative Yellowstone is for nature. In their new book, "Yellowstone Wildlife: Ecology and Natural History of the Greater Yellowstone Ecosystem," they've teamed up after 30 years of friendship to provide complementary windows, one in words, the other in pictures, for getting to know the place and many of its wild inhabitants. What they produced is neither a picture book for the coffee table nor a natural history tome for the library shelf, but a wonderful mix of both.
Mangelsen's gorgeous photos grab your attention and give form to the wildlife characters in the Yellowstone drama, helped in this by the book's large format and beautiful image reproduction. Johnsgard's flowing and comfortable prose, rich with detail, tells their stories in a way that brings them to life, adding his own drawings to supplement the photos (I like his bird drawings the best). The high ratio of photos and drawings to text invites browsing as well as digging in when an image sparks your interest. As very seasoned and accomplished professionals in their fields, it's no surprise that they do so well with the task of giving the reader "some sense of the beauty and complexity of their intertwined lives" when referring to the region's wildlife.
Johnsgard first experienced Yellowstone on a family vacation in the 1940s and returned there in the 1970s as an ecologist early in his career. He planned to study the breeding of sandhill cranes but couldn't help broadening his focus when encountering all the other wonderful species, like calliope hummingbirds and pine martens, new to someone who grew up on the plains of the Dakotas. The essays he wrote during this experience, and first published in 1982 as "Teton Wildlife: Observations by a Naturalist," form the foundation for this book—the 57th he's published! After a 40-year hiatus, Johnsgard revisited the region recently and added material on more "current" events, like the memorable wildfires of the 1980s and modern management battles over wolves and bison.
Mangelsen has lived in Jackson Hole, within the heart of the Greater Yellowstone ecosystem, for much of his very distinguished and productive career as a nature photographer. His images excel at telling the viewer something important about the lives of the wildlife he photographs; they provide not just illustration but insight. "American Photo" magazine recognizes Mangelsen as one of the "100 Most Important People in Photography," and his work will be familiar to many from the eight "Images of Nature" galleries across the United States featuring his photos, including Omaha's.
The book's scope encompasses the Greater Yellowstone Ecosystem, an 18-million-acre complex spanning mostly federally owned lands in the three states of Wyoming, Montana and Idaho. However, Yellowstone and Grand Teton national parks anchor the ecosystem and form the primary focus for the book.
Yellowstone's fascinating geology is covered in the first chapter—rightly so, in my opinion, for geology is the foundation upon which natural systems are built. This geologic background also lends temporal depth to the wildlife and places described, reminding us of their great age relative to our much more recent appearance on the scene.
Johnsgard then spends the next 13 chapters exploring the region's wildlife. He organizes these chapters around representative places (e.g., Lamar Valley, Gros Ventre Valley) or typical habitats one encounters on a trip to the region (e.g., sagebrush, spruce forests, an oxbow bend in the Snake River). Two simple maps, one each of Yellowstone and Grand Teton national park, show the general location of each chapter.
The book finishes up with a very useful appendix on where and when to observe much of the wildlife covered in the chapters, plus several detailed species lists for vertebrates, butterflies, dragonflies and damselflies. The additional information provided for birds is especially complete and helpful in providing good bets to find certain species. I wish more comprehensive maps had been provided, though, because you will need them to take advantage of all the great detail provided for actually observing nature in Yellowstone.
If you're a reader like me, your first inclination when presented with a book like "Yellowstone Wildlife" will be to leaf through rather quickly, taking in the photos and drawings, pausing a bit longer on some that are really arresting, like the nesting sandhill cranes in a rainstorm, the pine marten staring fiercely from its tree den and the raven flock swirling around a lone coyote in a snowstorm. Johnsgard's drawing of a hibernating western jumping mouse similarly stopped my page flipping, as if I were being let in on a little secret of Yellowstone's winter. Another one was Mangelsen's double-page close-up of a raven that shows the hidden beauty of this otherwise funereal bird, with its carefully layered feathers in shades of eggplant purple, not black as one commonly sees it from a distance.
The images alone are reason enough to own "Yellowstone Wildlife," but the chapter text is what really brought the wildlife alive for me and left the more lasting impression. Natural history writing can be tricky, either being too scientific and fact-laden for general audiences or too general and bland for more experienced naturalists. Johnsgard deftly runs the line between these two pitfalls by describing a place through brief views of its inhabitants' lives and their connections to each other.
Chapter 11's "The Spruce Forest" exemplifies this approach well. In only five pages we encounter in sequence the following species: ruffed grouse, northern goshawk, pine marten, trumpeter swan, beaver, moose and finally calliope hummingbird. We don't learn complete life histories for any of these species. Instead we get just enough interesting detail to form a sense of character before bumping into one of the neighbors that shares its place and its story—the goshawk eats the displaying grouse, the trumpeter swans live on the pond made by the beaver's dam. The sequence, together with photos and drawings, paints a vivid picture of the wildlife community inhabiting a Yellowstone spruce forest. Not all chapters use this winning formula, but enough do to keep the text lively and on pace with the flow of images.
I'll wager that more experienced naturalists and those familiar with Yellowstone will still learn some new things, as I did, deepening one's appreciation for the place and species living there. For example, gray jays store nuts for the winter in gobs of hardened mucus stuck to branches, great blue herons "kiss" with their beaks when courting and swan parents create turbulence with their feet so as to bring tiny water creatures to the surface for their little cygnets to eat. For those wanting even more, Johnsgard helpfully supplies at the end of the book copious bibliographic notes and references for further study.
Johnsgard's newer material focusing on management challenges with wolves and bison takes a sharper tone, sharp enough, in fact, that you won't find this book on sale at the Yellowstone Park gift shop this year. I must have missed it because his perspective didn't seem too incendiary to me, and I'm a professional wildlife biologist. Instead I found the following wisdom in the closing chapter:
The life of the Greater Yellowstone region is thus a continuing challenge to the intellect. Since we cannot "control" the elk without inadvertently affecting the wolves, ravens, coyotes, and aspens, so we cannot affect coyotes or aspens without also affecting mice and tree swallows. And we cannot affect tree swallows in the Yellowstone without affecting them in their wintering areas in Central America. In this way, the world is drawn ever closer together, and the shock waves of how we act here and now will emanate in time and space as the ripples of the present spread out to touch and disturb the shorelines of the future.
May the Yellowstone that Johnsgard and Mangelsen so lovingly describe in this book persist to "challenge our intellects" for generations to come.