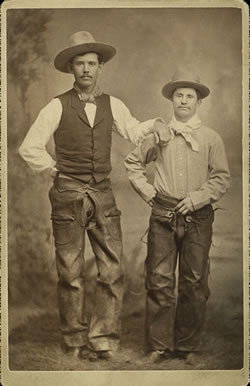 Cowboys are the stuff of myth, legend, pulp fiction, Hollywood and history! This American icon is widely recognized around the world, and Nebraskans' part in this story is revealed through historic gear, photographs, music and more at the "Nebraska Cowboys: Lives, Legends, and Legacies" exhibit at the Nebraska History Museum in Lincoln, Neb. Some of Nebraska's best cowboy artifacts, borrowed from museums across the state, have been rounded up for the display.
"Nebraska Cowboys: Lives, Legends, and Legacies" will tell multiple stories: the Vaquero origins of American cowboys; brands and branding; cowboy gear and food; cowboy guns; and Nebraska saddle makers. Visitors can learn about cowboys unintentionally immortalized in penitentiary mug shots or by wooden markers that once stood over their lonely graves; see a rare plastic saddle manufactured in the 1940s by a company based in Lusk, Wyo., and Scottsbluff and be awed by an elaborate prize saddle won by PRCA rodeo champion Scott "Ote" Berry of Gordon.
But behind the unique artifacts and romantic cowboy image are the stories of daily lives filled with hard work. A relative handful of mostly anonymous laborers on horseback, early Nebraska cowboys trailed longhorns north from Texas and worked the open ranges of the Great Plains during the last half of the 19th century. Little is known about most of them because the period in which they flourished was so brief. The era of open-range ranching came and went in the American West in the space of a single lifetime.
Nebraska had its share of "old-time" cowboys, some white, some black and some Hispanic. They drove cattle to Nebraska railheads and Indian agencies, careered over the grasslands during spring roundups, occasionally shot up towns such as Ogallala (or each other) and discovered that the Sandhills was a cattle paradise. Most were young, single and footloose. Some found early graves in small-town Boot Hills or on the trackless prairie. Others simply faded into history's mists. A few went on to become law officers, politicians, businessmen and ranch owners
By the early 20th century, as privately owned ranches replaced the open range, Nebraska cowboys had become ranch hands, as likely to build fences, tend windmills and put up hay as they were to rope calves and turn back stampedes. But these Nebraska cowboys continue to play an important role in our state's beef-producing economy.
Lives
Among the early cowboys featured in the exhibit are
✦ James H. Cook , born in Michigan, went to Kansas, where a cattleman told him "the best way to see the West was to get work with some cow outfit and go to Texas." He worked several cattle drives from Texas to Kansas, then hired on with an 1876 drive to a Dakota Territory Indian reservation. Cook subsequently ended up in Nebraska as a cowboy for Hunter and Evans before buying the 04 Ranch at Agate Springs in 1887. Cook owned the Agate Springs Ranch south of Harrison, Neb., the site of today's Agate Fossil Beds National Monument. His autobiography, "Fifty Years on the Old Frontier" (1923), is a respected account of cowboy and ranch life.
✦ Pedro Dominicus, a Mexican cowboy who worked on Isom P. "Print" Olive's Custer County, Neb. ranch. Many Mexicans practiced the cowboy's trade. Dominicus is said to have made the horsehair bridle that is part of the exhibit while in jail awaiting trial for his part in the 1878 killing of homesteaders Mitchell and Ketchum. He was later released.
✦ James Kelly, an African-American cowboy said to have come to Nebraska with the Olive herds from Texas. He remained in Nebraska, often working as a cowboy, the rest of his life.
✦ Louis J. F. "Billy the Bear" Iaeger. He was caught in a blizzard near Rock Creek, Wyoming Territory, in January 1883 and his frozen lower legs and fingers were amputated. In 1885 he settled in Chadron, and served as justice of the peace, city clerk and clerk of the county court before his death in 1930. Information on Iaeger is courtesy of the Dawes County Historical Society, Chadron, Neb.
Legends
Nebraskans who helped create the cowboy legend include
✦ George Johnson, the son of Swedish immigrants, who was raised on a farm outside of Holdrege, Neb., and grew up in the saddle. In 1890 George was working as a cowboy in Wyoming when he heard Buffalo Bill was at his ranch in North Platte hiring for his Wild West show. Johnson went to Nebraska and tried out. Cody was impressed with Johnson's riding and personable demeanor. By 1893 Johnson was part of the dazzling Rough Rider crew that entranced audiences around the world. He left the show after eight years and went back to the cowboy life in Montana. His neck was broken in 1899 when his horse stepped in a gopher hole and fell on him. He was buried back in Phelps County, Neb.
Twentieth century media spread the legend further.
✦ "Ridin' Wild" (1922) was among scores of low-budget cowboy movies featuring Edmund "Hoot" Gibson. Born in Tekamah, Neb., in 1892, Gibson moved with his family to California when he was seven. Before becoming an actor, Gibson worked as a stuntman and competed in rodeos, winning the "All-Around Cowboy" title at the 1912 Pendleton (Oregon) Roundup. Beginning as a silent film actor, Gibson made a successful transition to the "talkies" introduced in 1929. He was among Hollywood's most popular cowboy stars during the 1920s and 1930s and continued to act until 1960. Gibson died in 1962.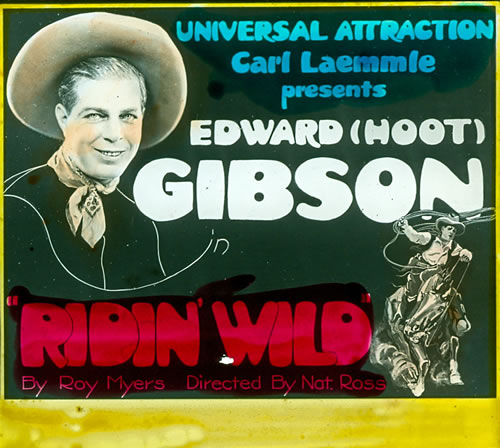 ✦ Pierce Lyden of Hildreth performed as a villain or stuntman in more than 400 movies, serials and TV programs in a 30-year Hollywood career.
✦ Filley native Robert Taylor (born Spangler Arlington Brugh) acted from the 1930s to the 1950s, but spent the last part of his career almost exclusively in westerns such as "Ride, Vaquero!" (1953) and "Cattle King."
✦ The legendary Grand Island-born Henry Fonda wrangled laughs in the 1970 release "The Cheyenne Social Club."
✦ On the radio, Texas Mary (Mary Marsich) played guitar, sang and yodeled for KFAB Radio station in Omaha for 46 years. Mary and her backup band, the Radio Rangers, also performed at state and county fairs through the mid-1950s. She spent her early career in KFAB's Lincoln studio, performing live, singing commercials accompanied by the Radio Rangers. In 1949 Mary moved to KFAB's Omaha studio, where she worked as a singer until 1956.
✦ Trick Roper Joan Wells of Lincoln has performed on television, at fairs, horse shows, rodeos, conventions and over 50 times on the "Will Rogers Follies" musical. She was featured in reenactments of the Buffalo Bill and Pawnee Wild West show, at the Nebraska and Kansas State Fairs. Today she offers presentations through the Humanities Nebraska speaker's bureau.
Legacies
Cowboy heritage is reflected in the lives and work of men and women in the cattle industry across the state. Twenty-first-century cowboys' tools of the trade, including an ATV and typical work clothing of Nebraska cattlemen of both genders, give a glimpse of cowboy life today.
Print and online resources tell more of the cowboy story. "A Peculiar Set of Men: Nebraska Cowboys on the Open Range," by exhibit researcher and historian Jim Potter is available in the Fall 2013 issue of "Nebraska History Magazine," available at the Nebraska History Museum's Landmark Stores. Potter's illustrated lecture, "Cowboy Life in Reality and Imagination" is posted on the Nebraska Historical Society channel on YouTube.
"Nebraska Cowboys" is free and open to the public at the Nebraska History Museum. For more information or to book a group tour, call 402-471-4782 or visit www.nebraskahistory.org. The exhibit continues through Jan. 5, 2015. A Free Family Workshop from 2–4 p.m. on Oct. 12 will include cowboys and cowgirls from the UNL Rodeo Club, exhibit tours and cowboy crafts to take home. Western duds are welcome, supplies are provided and no registration is required. Additional public programs on the cowboy theme will be offered in 2014.