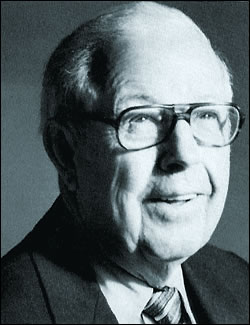 The Polk Progress was a Nebraska treasure that ceased publication in late 1989 after 82 years as a weekly newspaper. From 1955 until its last issue, the editor and publisher was the late Norris Alfred. In its last few months, the Progress had 900 subscribers in 45 states. Alfred was a remarkable Nebraskan with an uncanny eye for connecting the present with the future. Prairie Fire has collaborated with the Alfred family, the University of Nebraska School of Journalism and the Nebraska State Historical Society to locate and archive many of Norris's writings. We are capitalizing on our good fortune to present many of the Norris Alfred writings to our readership. We believe that his observations are as fresh and relevant to today's world as they were when originally written.
Oct. 14, 2013 is Norris Alfred's 100th birthday, definitely something worth celebrating.
Two of the Prairie Fire crew visited Brian Tyler in Polk to walk the birding trail that Norris walked. Brian has painstakingly re-created the trail by poring over Norris's writings, and other community members have contributed, including one generous soul who donated an original Norris Alfred bluebird box placed near the commemorative sign. (images credit: Nancy Hamer)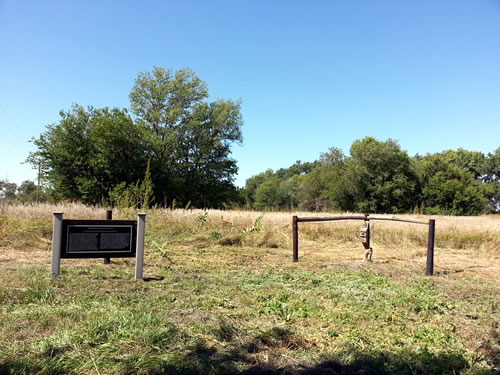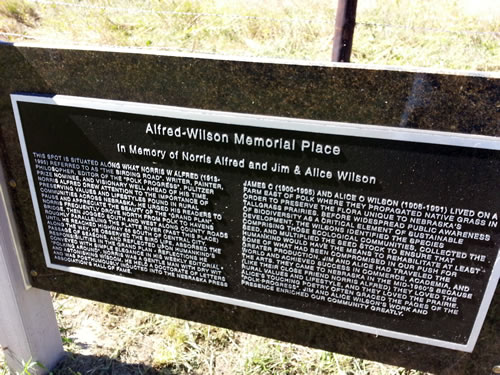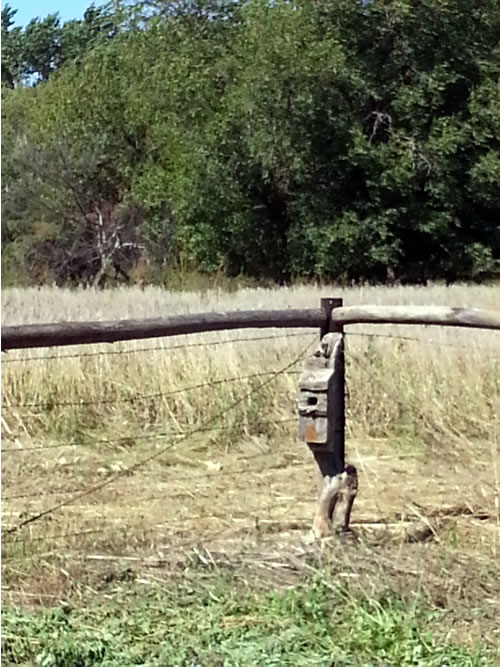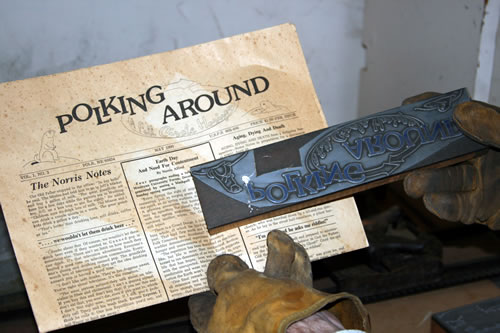 Unpublished Journal
Aug. 9-18, 1992
I left Sunday afternoon, Aug. 9, and drove to Walthill, Neb. (approximately 150 miles into northeastern Nebraska); stayed that night with Marty and Annette Strange and their year-old son Ben. The next morning sometime between 5 and 6 o'clock Marty and I left on the long drive to Elk Lake in Michigan.
We made it to Holland, Mich., before quitting for the day. The driving included two lengthy gridlocks on Interstate 80, in the area around Chicago and Gary, Ind., which cost an hour. I could visualize the day when the entire USA will be jammed with cars on all the Interstate highways and everyone will have to abandon their cars and walk. By that time I'll be long dead and forgotten, but somebody may come across this bit of writing while searching for something new that hasn't been written, printed, published, broadcast on radio and television and whatever new means of communication may have been discovered in the next century; and discover these wise words of the late 20th century and do research on the time when Interstate highways were the main source of communication and confrontation.
Marty and I made it to Elk Lake and the summer home I'm due to inherit, if the will ever makes its way through the courts, before noon Aug. 11. The home and woods are stranger-friendly, and Marty thought it luxurious. I have always insisted that to live in Polk, Neb., is luxurious in a world of ever-increasing population and no increase in space. The luxury in the woods around Elk Lake is in the trees and the water and a sense of timelessness that guarantees there will always be a future.
The woods have their own ecosystem, and that includes plants unique to the area. I'm not a biologist nor do I want to be, but seeing unrecognizable flowers, while somewhat frustrating, was also an indication of the tremendous variety of plant life that is visible when I look. I don't need to know the names to enjoy what I see.
The place comes equipped with a Boston Whaler fishing boat and a 40 hp outboard motor. That speed is necessary to chase the fast fish of Elk Lake. Elk Lake fish are noted for their fast-food quality. The summer home is also equipped with all the comforts of a year-round home, except insulation for winter living. Fireplace, electric heat, propane cooking stove furnish all the comforts of Polk living without the gossip. A state that plans on an income from tourism does not cultivate xenophobia. Michigan residents treat tourists kindly.
There may be a few grouches in Michigan. I suspect most of them are in the Detroit area where the cars are made that cause gridlock on the highways and byways. Mobile life is a contest between the manufacturers of cars and contractors pouring six-lane highways. The car manufacturers are working at full speed to fill the highways with cars before the contractors can pour the ribbons of concrete. And I haven't even mentioned the trucks, each one of which takes up the highway space of three or more cars.
Man-made lakes, of which Nebraska has many, are not an improvement over the natural lakes of Michigan. The only similarity—both contain water.
Marty's wife, Annette, and Ben flew to Detroit to visit her parents, farming north of Detroit in the Romeo, Mich. area. She convinced a married sister, Mary Jo, who has four sons involved in county fair projects, to go with her and Ben to Elk Lake, driving their parents' Cadillac—all farmers in Michigan drive Cadillacs—and they arrived in time to help Marty and I survive the final 24 hours of our stay at Elk Lake.
Since I wasn't in Polk for eight days, I can't detail the weather. There are signs of hail damage to crops in the area. Polk didn't change while I was gone. A neighbor remarked, when I told him I'd had an enjoyable week in Michigan: "Oh! I didn't know you were away." My decline in Polk prominence since the end of the Polk Progress cannot be more definitely described.