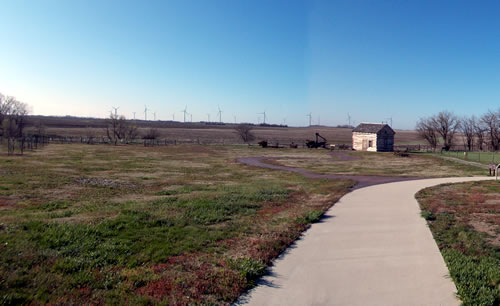 This article is part of Prairie Fire's ongoing discussion of wind energy. We have published over eight articles either directly related to wind energy or examining wind energy in the larger context of "green" or "clean" energy since 2008.
Excitedly, Daniel Lopez anticipates his class field trip to Homestead National Monument of America. His fourth-grade class at Crete Elementary School has been studying Nebraska history especially the Homestead Act, and now it's time to leave the classroom and see a real place associated with those events. Only recently arrived in Nebraska, Daniel's family moved from Mexico to be with their father, who works at a nearby food plant. Along the highway on the bus ride Daniel settles into his seat, tries to ignore his squirming seatmate, and imagines what the pioneers saw arriving here to settle the land. It is such a different one than he remembers of Chihuahua. At Homestead National Monument, his whole class fidgets expectantly as they noisily stream off the bus and head toward Homestead's Heritage Center. Some of the class stays inside to look at the displays, but Daniel and a small group with their class para-professional head out the patio door and make a beeline for the log cabin sitting just a short distance away, punctuating the end of a hedgerow.
Wh-o-o-a! He pauses, taken back; from behind the cabin, actually looming over it, rise spinning wind turbines.
Seated on the bus going home that afternoon Daniel wonders out loud about those gigantic wind turbines. Were these here when Daniel Freeman homesteaded nearby? "No," the teacher had said, "they are a recent addition. But weren't they just like the windmill and farm equipment artifacts kept at Homestead?" Daniel nodded slowly, but he wasn't so sure; they seemed bigger and stood out more.
Annie Leahy liked that she had the same first name as an Oregon Trail game character. In fact, she and her friends from Lakeside Middle School in Millville, N.J. spent what her parents thought was too much time playing an online version of Oregon Trail on Facebook. Yet she had convinced her parents to include Oregon Trail stops during their upcoming summer trip to her aunt and uncle's house in Portland, Ore. on their own 21st-century Oregon Trail trip. They made plans to head west on I-70 then jog north at Manhattan, Kan., following the Blue River and Oregon Trail into Nebraska. Annie was miffed that they missed the Independence, Mo. trailhead, but now as they swung into the parking lot at Rock Creek Station State Historical Park, near Fairbury, Neb., she was really ready to see a place that preserved the Oregon Trail.
Wait! Just a few steps from where the family parked, she spotted a Conestoga wagon and jumped from their barely stopped station wagon. A long slope rolled out below her like a worn carpet, sporting ruts still visible from settlers' wagons. Wagons that had edged their way across Rock Creek, upward out of the Blue River Valley, and at this exact spot onto the open prairie 170 years earlier! She gazed farther down the slope and then came up with a start. On the southeast horizon stood several wind turbines slowly spinning. Annie was used to seeing industrial lands in New Jersey and in and around Philadelphia. Somehow what she saw fit in and seemed to go with the city. Here on the Oregon Trail, though, it was an incongruous and unexpected eyesore.
A day later Annie and her family left I-80 at Ogallala, Neb., and ventured northwest through Ash Hollow and into the North Platte Valley, the first place Oregon Trail users saw large rock formations—landmarks dubbed Court House, Jail House and Chimney. Her view found the setting sun bathing the clear air of the valley and falling on cobwebs of power lines servicing rows of wind turbines on 240-foot towers atop the 300-foot ridge of the Wildcat Hills. They even dwarfed the 325-foot chimney-like spire. "Humph!" she complained loudly to her father; he simply said, "You can't stop progress, Annie, and these wind energy farms don't cause pollution." Annie mused to herself, "Well, they already polluted my view of the Oregon Trail, twice!"
Charlie Atterly is nervous about tonight's ceremony. Would it come off all right? Charlie, an Eagle Scout and leader in the Order of the Arrow from Troop 50, has switched out of his role as a summer councilor at Camp Cornhusker, in Richardson County, Neb., near the Kansas border and into his role as planner for the "call-out" of new Order of the Arrow members. He knows that it will go OK, but his nervousness stems mostly from the looming towers of wind turbines adjacent to the camp. Tonight's nearly full moon and the darkness should give a sense of mystery as the initiates cross a small lake in canoes just like in his own call-out experience five years earlier. There is one very big difference now; as if the low hum of the wind turbines pervading the entire site weren't bad enough, the scene would be punctuated by the staccato blinking of red aircraft warning lights on the turbine hub, as mandated by the FAA.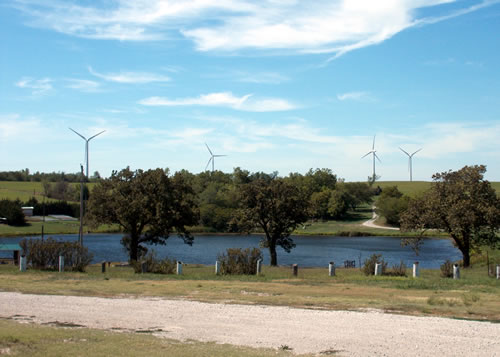 This will be Charlie's last summer at Camp Cornhusker, and while a bit nostalgic about it, he's not sure that he really wants to spend another one surrounded by wind turbines. The council had originally protested turbine placement, but they still sprouted on adjacent private land. After all, as one of the owners said, "Don't we landowners deserve to get as much cash as we can from our rocky pasture lands? Besides, the wind turbines don't bother anything." Charlie shook his head. He disagreed; he felt bothered.
Chinese scholar (not the movie star) Mei Ting knew Willa Cather's "Prairie Novels" inside and out but had never met what some called their main character, the landscape of Webster County, Neb. She planned to study that character with a grant from the Asia Foundation to fund her doctorate in American studies at Beijing Foreign Studies University. Getting from Beijing to Nebraska was not easy, but after arriving and checking in at the Green Acres Motel, Mei toured Red Cloud, Neb. The next day she explored the Cather rural tour route to introduce herself to the landscape that inspired Cather. As Mei's rental car climbed north out of the Republican River Valley toward what Cather dubbed the "Divide," a long flat ridge separating the Republican and Big Blue rivers, Mei saw a landscape changed from prairie to one with center pivots, farm ponds and farmstead windbreaks reclining peacefully on the land; it all rather looked like the giant gardens rubbing shoulders that Cather had described. Actual prairie clung to a few rough draws, but nothing leaped out at her until massive wind turbines emerged in four or five rows on the horizon. As she approached her destination, the site of Antonia Pavelka's farmstead, Mei became completely surrounded by the wind turbines and felt consumed by their visceral, nearly subsonic, whoosh whoosh. Eight towers loomed within a half-mile, and other more distant towers marched toward the town of Bladen, Neb.
Mei knows enough American literature and history to understand the impact of the constant wind on Plains inhabitants (she's read Rolvaag as well as Cather), but the wind turbine blades seem to amplify the eeriness. She has a feeling that this seemingly quiet, isolated place is evolving into just another machine-dominated setting like she has seen transforming the Chinese countryside. The spate of turbines moves this place well beyond Cather's cycles of history leveraged on the wasteland of present. Ultimately, Mei feels disappointed and cheated, as the panoramic background, Cather's character, now full of wind turbines, seems to rush into the intimate space of what was once Antonia's farmyard. Diminished, the scale of the whole "Divide" landscape has collapsed.
The preceding scenarios never happened, yet they are plausible fiction. Yet thoughtless placement of wind turbine farms into Nebraska's scenery represents one obvious, nonfictional thread. Another subtler one is the aesthetic damage inflicted on all the viewers. "Scenery? Aesthetics?" you say. "That's just unimportant stuff, and anyway they're just opinions in the eye of the beholder!" However, aesthetics connects us in a primary and sensory way to the physical world. Devalue that world and you degrade and disconnect its inhabitants. On the other hand, scenery composes generality; it connects some place with every place; it mediates sky, earth, water and people.
While elected state officials in Nebraska palaver with wind farmer-entrepreneurs over tax subsides and power-line service, Nebraska anticipates the coming of wind power with baited breath. County planning and zoning boards (where they exist) represent the sole siting and regulatory body anywhere in the process. These appointed boards are usually wont to deny neighbors the dollars gleaned from wind farm leases. Nowhere in the structure of Nebraska's Power Review Board, its public power districts' transmission responsibility, its departments of natural resources and environmental quality bureaucracy or its tourism or game and parks commission's management lies authority to stop or mitigate wind turbine development. No legislation about impacts of future tower additions or increases in tower size to approved wind farms has been discussed, let alone envisioned. Wind developers bear no burden of proof as to what they wrought will look like. We never see key observation points or visual simulations and rarely view shed maps at any public hearing. Wind turbine threats to migrating and resident birds or bats are real, and identified in the recently published Programmatic Environmental Impact Statement (PEIS) for the Upper Great Plains, but it remains to be seen whether the impacts to the scenic, historic or simple quality of day-to-day rural life (fictionalized above but plausible nonetheless) will be talked about before another wind farm looms on the horizon.
It seems much easier and more logical to talk about threats to the open Nebraska landscape before wind farms appear. One wonders what citizens might think if they did see visual simulations of proposed turbine placement at key observation points (like from where Daniel, Annie, Charlie and Mei looked) before such power generators are built. We might think twice about the thousands of miles of expensive, highly visible and weather-vulnerable transmission lines needed to service wind farms poised soon to cover the Sandhills. So a conversation needs to happen and happen soon that begins to answer the following tough questions.
What in our vision of the Nebraska landscape is worth saving? What views, vistas and settings do we cherish and wish to leave unfettered for our children, grandchildren or visitors? What local landscapes speak about the thread of our contexts for daily living? Which ones help forge a link to the past and thus promote democratic and national identity of our common future in this multicultural nation of immigrants?