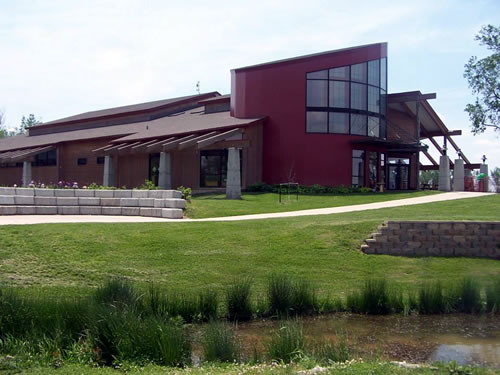 Located along the banks of the Missouri River in historic St. Joseph, Mo., the Remington Nature Center is quickly becoming one of northwest Missouri's most popular family-oriented educational facilities. Having opened in the fall of 2008, the RNC houses creative displays that teach important lessons about history and nature.
Boasting everything from a 7,000-gallon aquarium full of Missouri River fish to woolly mammoth bones unearthed in northwest Missouri, the Remington Nature Center (RNC) offers educational experiences for all ages. Unique features include an animal footprints display, journey-through-time cave exhibit, hologram theater and a replica woolly mammoth and calf. The newest display, "Water's Journey," opened in May 2013 and shows how water travels from a source to the tap. The display was sponsored by Missouri American Water and the Department of Natural Resources. Many displays at the RNC are touchable, interactive or feature audio components so history and nature come alive in a hands-on manner. The facility is also ADA compliant and wheelchair accessible.
The 13,000-square-foot building is a municipal facility and was built with community involvement in mind. The facility works closely with the Missouri Department of Conservation. Artifacts and taxidermy animals are long-term loans or private donations from individuals and businesses. Features of the building were designed to be environmentally friendly, such as a well-pump heating and cooling system and automatic lighting in restrooms.
Many people utilize the 2,000-square-foot conference room for business meetings and other informal small events, such as showers and graduation parties. Children also have birthday parties at the RNC and take advantage of the three different birthday party package options available, two of which include a visit from Remi the Woolly Mammoth mascot.
Education is a key element of the RNC. School groups travel great distances to visit during field trips and usually take advantage of the classroom-style programs that are offered. Matching the elements of the facility itself, the programs are also hands-on: children make a snake to take home in "Creepy, Crawly Creatures" or bird treats during "It's for the Birds." Other programs, such as "Native Americans of Northwest Missouri," show authentic Native American artifacts that were found in the Midwest. The Mock Archaeological Dig allows small groups to find and take home authentic artifacts.
If you're in the area, stop by and see us. Maybe you'll find something interesting at our dig site!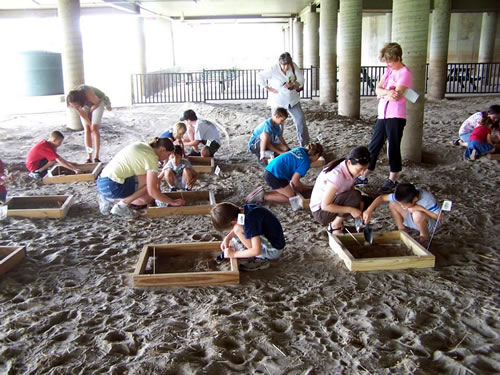 The Remington Nature Center, 1502 MacArthur Drive, St. Joseph, Mo., off of I-229 at Exit 7. The facility is open year-round, seven days a week, excluding a few major holidays. For more information, visit www.facebook.com/RemingtonNatureCenter, www.stjoenaturecenter.info or call 816-271-5499.