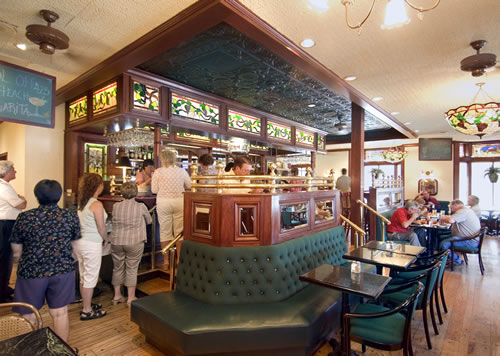 Culinary tourism is an emerging niche that combines agriculture, specialty food and tourism. It focuses specifically on the search for, and enjoyment of, unique and exciting food and drink while travelling. Yet it's not just for tourists. From global travelers to locals, culinary experiences play a major role in helping us share and learn more about our surroundings.
Experiencing culture through food is the heart of culinary tourism, and communities throughout the country are discovering and rediscovering their heritage with the focus on food and drink. A great example of this is the Wilber Czech Festival in Wilber, Neb. The 52-year-old summer festival celebrates Nebraska's rich Czech heritage with parades, music, cultural dancing, historical demonstrations and, of course, food. The festival offers many opportunities to enjoy authentic Czech cooking, including polish sausage dinners served with dumplings, sauerkraut, rye bread, wood-fired pork, jaternice, liver dumpling soup and kolaches. The festival attracts approximately 20,000 visitors over three days.
The Farm-to-Table Movement
Farm to table or farm to fork refers to a movement concerned with producing food locally and delivering that food to local consumers. Linked to the local food movement, the movement is promoted by some in the agriculture, food service and restaurant communities. It may also be associated with organic farming initiatives, sustainable agriculture and community-supported agriculture.
Local farmers' markets and roadside food stands have been a great way for individuals to purchase and use locally grown and raised products for many years. Nebraska offers over 80 farmers' markets state-wide. One of the largest farmers' markets is held in the Historic Haymarket in Lincoln. During its peak season of mid-June to mid-August, the market includes almost 200 vendors. The market runs from 8 a.m. till noon every Saturday morning from early May to mid-October. Standard market fair includes locally grown produce, meats, cheeses and more. Some vendors even sell finished regional favorites like kolaches, pies, baklava, homemade root beer, kettle corn, jams and more.
True foodies will want to experience this concept by dining out at Omaha's The Grey Plume. TGP's chef-owner Clayton Chapman was recently named a 2013 James Beard Foundation Semifinalist for Best Chef-Midwest. The Grey Plume is devoted to creating innovative cuisine on the forefront of modern culinary art, while also maintaining traditional culinary roots in showcasing the food source and practicing a no-waste attitude in every aspect of the restaurant's operation. The restaurant takes great pride in sourcing almost all of their food from Nebraska and Iowa farmers.
The chef even gives credit to the local producers by spotlighting them on his menu and the restaurant's website. One popular menu item is called TD Niche Farm's Heritage Pork. Accompanying the pork dish is Swiss chard, kohlrabi and raspberry. TD Niche Pork is located 75 miles south of Omaha in Johnson County, Neb., near Elk Creek. Travis Dunekacke began his niche pork business in 2007 specifically to produce consistently delicious pork for both restaurants and individuals. This is accomplished by using breeds of pork with outstanding meat quality. The product is further enhanced by raising hogs in an outdoor, fresh-air environment, giving them ample room to exercise, root and socialize.
The hogs are fed locally produced grains supplemented with the appropriate vitamins and minerals for their age and weight. Providing a clean growing environment has made antibiotics unnecessary on Dunekacke's farm. A lifelong "farm kid," Travis is happy to be raising hogs on southeast Nebraska land that has been in his family for 60 years. Travis raises a variety of Heritage breeds including Berkshire, Duroc Gloucestershire Old Spot, Hereford, Large Black, Mulefoot, Red Wattle or Tamworth.
For a slightly more casual farm-to-table dining experience, check out Kahill's Steak, Fish and Chophouse in South Sioux City, Neb., at the Marina Inn Hotel and Conference Center. The restaurant's Farm to Table Burger was recently named Best Burger in America by "Restaurant Hospitality Magazine." The burger is topped with sarsaparilla-braised pork belly, a farm-fresh egg and is served on a homemade brioche bun. It's paired with matchstick fries in a pool of veal demiglaze. Not only is Kahill's home to an award-winning burger, but it has also made the news for their high usage of local ingredients.
Agritourism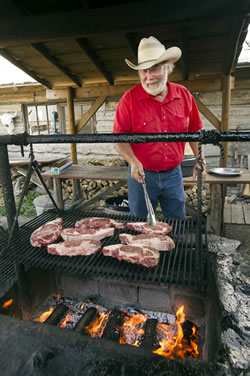 In a state where agriculture is such a dominant industry, agritourism is a trend that seems to be a natural fit for Nebraska. Agritourism is defined as rural tourism—the act of visiting a working farm or any agricultural, horticultural or agribusiness operations for the purpose of education, enjoyment or involvement in the activities on the farm. Vineyard tours and wine tastings are great examples of agritourism. The Nebraska Wine industry has seen tremendous growth over the last few decades. Nebraska currently has 35 wineries. The grapes grown in Nebraska are primarily French-American hybrids. They are cold-hardy cultivars that are derived by crossing European Vitis vinifera and American wild grapes.
Individuals can take a day trip to visit local wineries and sample their varieties, or package trips can be found that allow tourists to blend a love for food, wine and culture into one trip. One specially designed winery excursion allows tourists to enjoy a unique culinary experience while getting a taste of the Old West. The Old West Experience begins at the Prairie Vine Vineyard & Winery in Mitchell, Neb. Relax in the tasting room while sipping the fine wines designed to represent western Nebraska and the prairies. Try the nine varieties and purchase your favorites to take home or give as gifts. While there, be sure to tour the 2,100-square-foot winery. If you're lucky, you might even meet winemaker Allen Gall.
Your adventure continues 30 miles south near Bayard at the Oregon Trail Wagon Train, where you can be a pioneer for an evening. Climb aboard a prairie schooner, listen to Old West tales and take a ride along the historic Oregon Trail near the base of Chimney Rock. After working up an appetite, sit down and have a hearty meal fit for any cowboy or cowgirl, including a 16-ounce rib-eye steak marinated with special seasoning, a baked potato, relishes, creamed green beans, sourdough bread and homemade ice cream. Then mosey over to the campfire and enjoy a rousing sing-along while listening for the coyotes' howls.
To complete the experience, head for the barn—the Barn Anew Bed & Breakfast near Scottsbluff. This quaint B&B is a 100-year-old barn that has been renovated to house you in comfort.
A stone's throw away is Scotts Bluff National Monument, a resting place for pioneers before they began the challenging trail up the Rocky Mountains. Choose your room from any of the four–each with private bath. In the morning savor a hot breakfast prepared by your host.
Another great agritourism option available is the North Platte Beef and Wine Tour. On this tour your group will explore the University of Nebraska Extension Center, where the latest agricultural research on beef nutrition, weed ecology, wind drift, irrigation and water recourses is being done. Following the University of Nebraska Extension Center, Feather River Vineyard will put on a culinary show that people are sure to enjoy. Their chef will teach your group how to sizzle, sear and grill Nebraska's finest beef, while a wine expert coaches you on how to explore your wine palate and pair it with food.
Nebraska has a culinary scene for adventurous appetites. To find your foodie fun and to learn more, go to www.VisitNebraska.com.
Why Culinary Tourism Is Important
Nearly 100 percent of tourists dine out when traveling.
Dining is consistently one of the top three favorite tourist activities.
There is a high correlation between tourists who are interested in wine and cuisine as well as in museums, shows, shopping, music and festivals.
The interest in culinary tourism spans across all age groups.
Culinary attractions can be available year-round.
Culinary tourism has the potential to be the number one motivating factor in choosing a travel destination.