Even for someone who does not belong to "America's Greatest Generation," the past leans close and makes itself felt in the gallery of the Red Cloud Opera House, where "Our Lives, Our Stories" is on display for the first time in Nebraska. As visitors file through, there are exclamations: "Grandma had these glasses!" "Oh my gosh, I worked at a soda fountain just like this!" The exhibit is a monument to the shared experiences of an entire generation, born just before the Great Depression.
War images loom large in the gallery—7-foot high enlargements of explosions, munitions factories, induction physicals—but the exhibit brochure claims that the war did not define them. "Greatest generation? I'm inclined to say it was history that was great, and that drew us into it and maybe elevated us somehow while we were involved in it," wrote Samuel L. Hynes, a Marine Corps pilot during World War II. "But then we went back to being ordinary people. It was a hell of a big war… [b]ut ordinary people fought it."
This juxtaposition of ordinary and historic, military and domestic, poor and wealthy may, in fact, be the point of "Our Lives, Our Stories." In one display case, painted tin toys, marbles and jacks are side by side. Bending to examine them more closely, the toys foreground a large photograph of the bombing of Pearl Harbor, leaving a person to wonder about the nature of nostalgia. How does a generation define itself—by its accomplishments? by its hardships? by its shared experiences?
And all of these are represented in "Our Lives, Our Stories." Beginning with the Depression era, the exhibit traces the arc of these lives through historical events, including Pearl Harbor and World War II, and concluding with the early civil rights movement struggles. In between, however, are the smaller objects, momentous in their own right: ration cards, TV dinners—and, indeed, the television itself!—Tupperware, lodge hats, a three-stool soda fountain and Roy Rogers toys. This generation had something that later generations will never have, and that is a lifetime of shared culture.
After the hardships of the Great Depression, the exhibit tells us, adolescents and children of the '20s and '30s experienced a rise of popular culture—magazines and pulp novels, movies and newsreels, radio—and they shared all of it. Today's kids, with YouTube and the Internet, millions of books and movies online and in stores, satellite and Internet radio, will never have the shared cultural context that the "Greatest Generation" did. We look at our divisive American society today, the arguments over guns and choice and financial policy, and we wonder, "Where is our galvanizing moment? What do we share?"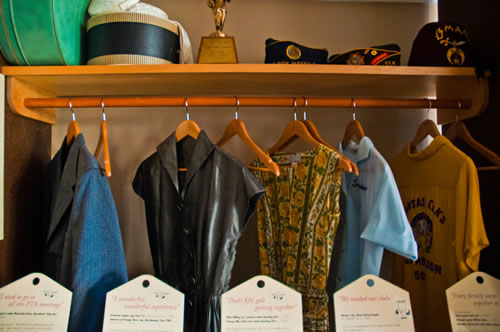 Nostalgia is a tricky word. Generally used, it connotes pleasant memories and associations of times past. Recent studies, though, indicate that nostalgia is sometimes a defensive mechanism, something used to avoid historical fact, to embrace a romanticized past. Perhaps it is nostalgia that brings people to exhibits like "Our Lives, Our Stories," but the exhibit, originally developed by the Minnesota Historical Society and adapted by the National Endowment for the Humanities On the Road, does attempt to show the ways in which women and minorities lacked opportunities, and additional books and DVDs on loan supplement the exhibit in these areas.
Adding to the atmosphere is the Red Cloud Opera House itself. Built in 1885 and restored in 2003, the opera house is where acclaimed novelist Willa Cather watched shows and gave speeches, where she visited when she wrote about the World War I relief efforts, where she heard political speeches. The Willa Cather Foundation, which operates the Opera House, brings exhibits like this one to rural Nebraska in an effort to recreate the kind of shared cultural experiences that Willa Cather enjoyed, that "Our Lives, Our Stories" commemorates. The exhibit will be up through Aug. 11, with the support of Mid-America Arts Alliance and NEH on the Road, Humanities Nebraska, the Nebraska Arts Council and the Nebraska Cultural Endowment.