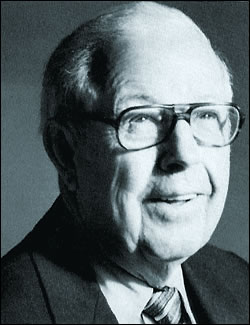 The Polk Progress was a Nebraska treasure that ceased publication in late 1989 after 82 years as a weekly newspaper. From 1955 until its last issue, the editor and publisher was the late Norris Alfred. In its last few months, the Progress had 900 subscribers in 45 states. Alfred was a remarkable Nebraskan with an uncanny eye for connecting the present with the future. Prairie Fire has collaborated with the Alfred family, the University of Nebraska School of Journalism and the Nebraska State Historical Society to locate and archive many of Norris's writings. We are capitalizing on our good fortune to present many of the Norris Alfred writings to our readership. We believe that his observations are as fresh and relevant to today's world as they were when originally written.
Unpublished Journal
Oct 24, 1992
Norris wrote this piece while in Hamilton, N.Y., visiting Jonathan and Pat Kistler.
During the night, wet weather sneaked in with some thunder. When I heard the thunder, I wondered what the noise was. It didn't sound the same as Nebraska thunder. It was a rattling rumble, out of context with treeless plains. A noise that echoed off the hills and filled the valleys. A thunder that bounced instead of rolling unopposed from horizon to horizon.
This is my last full day here. Tomorrow morning I leave for home. Yesterday Jonathan and I cleared the lawn of leaves. I hadn't worked that hard, physically, since I became victim to a spell of ill health almost two years ago. I discovered I could rise, erect, from a prone position, without the help of pulling arms. Strength is returning to my legs. I still have aches of age, but the freedom of returning strength is a joy—a release from shackles of weakness.
As a reward I was given a Roger Holt painting I had always admired. It is a painting that first inspired the thought:
"I can do that!" Of course, I couldn't, but it was the first mental push that developed into an all-consuming urge to try.
That revelation occurred more than 50 years ago, and the urge has nagged me ever since. I brought colors with me on this trip but have spent much of each day at this typewriter because, viewed from a distance, my Polk experience has a different appearance than when I'm in intimate contact with it.
The same reaction is true of paintings. Close up, the composition is seen in individual brush strokes, which only come together in a coherent whole when viewed from a distance. Ha! Many of my compositions appeared their best when the viewer was so distant all that could be detected was a blur.
This Roger Holt painting has lost some flecks of paint from some inconspicuous areas that can be touched up without harming the composition, which looks as freshly spontaneous as though the painting had been finished last week.
Yesterday morning a heavy frost must have weighted the leaves. They were raining down off a tall maple tree near the back porch. I watched for a minute and wondered if I could see a leaf let go its hold on the tree. Every leaf I watched clung to the tree, while other leaves continued to fall. I have never seen an individual leaf lost its grip on the tree.
I watched my mother lose her grip on living during the final years of her 95-year life lived in a retirement home. It was a gradual loosening, and I missed the final release, which came during the night. I had visited her in the home earlier that final day and had told the attendant to call. I knew the end was near and planned to return in the morning. I missed the time of the final heartbeat. I thought of her death, watching those leaves fall from that maple tree.
I know she didn't resist death at 95 years of age. She was the daughter of a Swedish Methodist minister who preached the Gospel in Swedish. I'm sure Grandpa Lindeberg thought Swedish was the language of heaven. During the last year of her life, she often complained: "Why doesn't the Lord take me?" I would answer: "Don't be in a hurry. When you're dead, you'll be dead for a long time."
She was through with living, and her religious faith was a consolation as the end approached. Mom Alfred was ready to go and becoming impatient with the long wait.
I think of the many times I was impatient. One day before Christmas, when I was a little tyke, I tried to sleep the day away, or at least the afternoon. The December 24 must have been unusually warm because I stretched out on the porch swing and closed my eyes, trying to will sleep. I didn't sleep, and the hours slowly ticked away, every second sounded by the Seth Thomas wind-up clock.
Anticipation causes impatience. Many times what was anticipated lacked satisfaction when realized. I have no memory of that anticipated Christmas morning. The only other memory I have from my childhood Christmases was the one when I didn't receive any toys—only clothes. That was more intense than disappointment. It was a shock.
The day has a grim-gray look. When I mentioned to Pat: "I leave tomorrow," she said, "No, you don't. You leave the next day, Monday." She was right, when I got out my ticket for verification. Why the confusion? I don't know, except to blame it on too many years of
breathing.