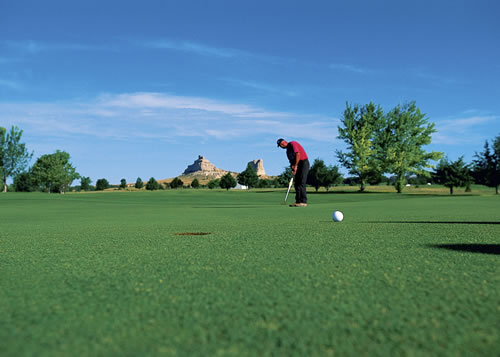 Nebraska is a sanctuary for golfers, and our golf paradise is ranked one of the country's top 10 golf states by "Golf Digest." Courses across the state have received national recognition and accolades for their design, scenery and value.
Golfers make their pilgrimage to Nebraska courses for the wide-open spaces, commanding vistas, sprawling natural terrain and diverse playing conditions. The 200 public and semiprivate golf courses span over the differing terrain in the state—whistling, windswept prairies; gently sloping sandhills; lush river valleys; plus a few canyons and national monuments thrown in for good measure.
Links-style courses aren't reserved just for the birthplace of golf. Nebraska has a few award-winning and famous courses that are so well designed they could be placed next to Ballybunion, St. Andrews or any course on the British Isles and not a soul would say the Nebraska courses were out of place. Usually, links-style courses are placed near bodies of water for the geography of the dunes and the costal winds. Although Nebraska is not located near any costal region of the United States, there's plenty of wind flying around, and the Sandhills have the perfect dunes to create a great links experience.
Wild Horse Golf Club near Gothenburg, which has received accolades from "Golf Digest" and "Golf Week Magazine," most recently made the "Golf Magazine" list of the Top 100 Courses You Can Play 2010. The magazine also ranked it as the second-best value among those courses. With five sets of tees, Wild Horse is a challenging links-style prairie course that follows the natural contours of the land but remains playable to a variety of skill levels.
The Prairie Club near Valentine lies along the Snake River Canyon. The semiprivate club, named by "Golf Magazine" as one of the Best New Courses You Can Play 2010, quickly captured the imagination of the golf world. The area's dual geography inspired two vastly different but equally scenic and challenging layouts. These two courses are a playground for the serious golfer. The aptly named Dunes Course meanders through the Sandhills, where the natural contours of the land were barely disturbed by designer Tom Lehman. The Pines Course combines links-style holes with the towering ponderosa pines that shelter this Graham Marsh design from the prairie winds. The pines lurk along the fairways and greens-devouring errant shots. The Prairie Club offers stay-and-play packages for golfers who want to experience one of the top golf destinations in the nation.
Another stay-and-play option that is catching the eye of the golf world is Awarii Dunes Golf Club near Kearney and Axtell. Noted Architect Jim Engh designed this links-style course with Ireland in mind. Engh is known for his challenging but fun approach to building greens. Look for the frustrating multiple tiers, multiple mounds and multiple pin placements. Awarii Dunes is definitely a must-play course for golfers looking for a matchless experience.
The Dismal River Golf Club near Mullen, which opened in 2006 with a Jack Nicklaus-designed course, plans to unveil its much-anticipated Tom Doak course this year. Both courses weave their way through the native grasses of the Sandhills, promising a rough experience for golfers. Dismal River is a private club that allows limited public play.
Although the links-style courses may be the traditional favorites, Nebraska still has more award-winning courses to please any golfer. Design elements like an old rock quarry or Arnold Palmer Signature design keep golfers on their toes.
Quarry Oaks near Ashland offers a hilly and often challenging day of play. Cut from the woods surrounding an abandoned rock quarry, this steep course includes several holes with a view of the nearby Platte River. It's not unusual to see wildlife like deer or wild turkeys emerge from trees along the fairways. This highly respected course between Omaha and Lincoln features spectacular elevation changes that require players to take a strategic and thoughtful approach. Quarry Oaks' signature 17th hole with a semi-island green was a "Golf Digest" pick for honorable mention among America's Best 18 Holes in 2000. The magazine also ranked Quarry Oaks No. 1 on its list of America's Best New Affordable Public Courses in 1997.
Iron Horse Golf Club could be Quarry Oaks' younger brother. One of the top 10 courses named by "Golf Digest" as America's Best New Affordable Public Courses in 2002, Iron Horse also features an old rock quarry with difficult elevation changes and a water feature that has exceptional views. Lake Iron Horse is hard to miss because it comes into play in a variety of ways on several holes. Iron Horse is located just a few miles from Quarry Oaks, so it's possible to play these two top-ranked courses in the same day.
An Arnold Palmer Signature design, ArborLinks is now a resort course available to guests of the Lied Lodge & Conference Center. In 2003 this course made the "Golf Digest" elite list of America's Best New Affordable Public Courses too. Hosting a number of state and regional tournaments—such as U.S. Amateur qualifiers in 2010 and 2011, U.S. Open qualifier in 2009 and a PGA Tour Q-School prequalifier in 2011—ArborLinks in Nebraska City has quickly gained a reputation as one of the state's top locations for championship golf.
While the previous courses stand out because of their mention in widely read golf publications and awards garnered, dozens more of Nebraska's courses offer outstanding public and semiprivate golfing that host PGA tournaments and events. These local favorite courses are sure to please any golfer.
In Omaha, Tiburon offers 27 holes of championship golf, and Johnny Goodman Golf Course is a favorite among players at the city's municipal courses. Don't miss out on Omaha Country Club, the site of this year's United States Senior Open, which has had an extensive renovation in the last decade. The Senior Open is July 8–14.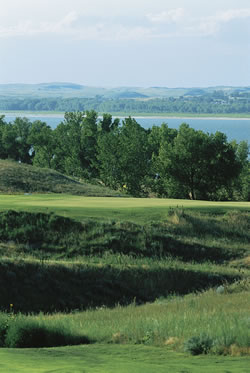 Wilderness Ridge Golf Club in Lincoln has hosted a U.S. Open qualifying tournament as well as a number of prestigious regional competitions. Lincoln also boasts four excellent championship municipal courses, and nearby Woodland Hills provides a scenic test of golf for all levels of players.
Out west there's a boundless frontier for golf. There are rough-and-tough playing conditions on these courses—just like the cowboys—that test many golfers.
After a brand-new renovation, Heritage Hills near McCook offers challenging changes in elevation and even more challenging rough. Beware the ball-eating rough known as gorse—a thick, brushy type of vegetation usually found on British courses. Despite the difference between the heat of western Nebraska and the cool rainy climate in Great Britain, gorse thrives.
Ogallala was a well-known station for cowboys moving herds from Texas to the Union Pacific Railroad back in the days of cattle drives. These days, golfers make their way to where the cattle used to graze, a few miles west of town, to Bayside Golf Club alongside Lake McConaughy. Molded from rugged land that looks much like it did 150 years ago, Bayside can be described as a classic "beauty and the beast."
From links-style courses reminiscent of Ireland to tough rough in the west, Nebraska courses have something to draw any golfer to this golf haven. But these courses offer more than a great golf experience, they show-off Nebraska's distinctive landscapes and environments. Are you itching to grab your clubs and go hit some golf balls? What are you waiting for? Start planning your Nebraska golf getaway today. For more information, visit www.GolfNE.org or find vacation packages, potential itineraries and a full list of courses at www.VisitNebraska.gov/golf.