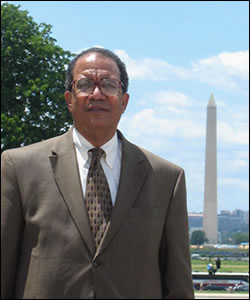 "Sonny's Corner" is a regular column in Prairie Fire, featuring commentary on civil rights and justice issues. Our friend and Omaha colleague, Joseph P. "Sonny" Foster, died suddenly at age 54 in August 2005. He left an uncompleted agenda, as did many of our civil rights and justice mentors and heroes. We shall attempt to move forward on that unfinished agenda through this column.
Some years ago at one of his openings at the Burkholder Project, my husband, Howard, included a watercolor of the then newly finished sculpture "Torn Notebook," with some figures in front of it to provide human interest. They were holding signs lettered "Down with Up" and "This is That" and such. My friend Margaret, strolling through the gallery, paused for a moment. "What protest is that? … Was I there?" That's how it is when you're a progressive in a midsized conservative city. You go to all the protests, and you automatically check to see if you were there.
At the March 13, 2013 hearing of the Judiciary Committee on Ernie Chambers' latest proposed bill to abolish the death penalty, LB 543, the venerable senator from Omaha asked Jim Cunningham, testifying for the Nebraska Catholic Bishops, how long they had been meeting like this. "Oh, about 18 years." I remember some of those 18 years, and further back, too. I was not there in 1979, when the Unicameral voted to abolish the death penalty and Gov. Charlie Thone vetoed the bill, but I must have started coming shortly after that, certainly before my son was born in 1986. I remember the years the bill did not even get out of the committee. The tone has changed since then, and abolition is closer. I remember when senators found it shocking and surprising to be told that capital punishment is not a deterrent to murder. (If it were, it shouldn't have to be used more than once.) A senator who had seemed to doze through a hearing was shocked awake by the news that the murder rate in Canada had actually dropped after the death penalty was abolished. Senators scoffed at the idea that it was more expensive to execute someone than to keep him in prison for life—and voted against a study that would determine the actual costs of capital punishment in Nebraska. This year Richard Dieter, head of the Death Penalty Information Center in Washington, D.C., testified on studies from other states. As with all costs, a lot depends on how you count. Dieter pointed out that because the death penalty is uniquely irreversible, it has to be more carefully processed at every stage, and at state expense. Both prosecutors and defense lawyers need time and money to prepare their cases fully. Nebraska requires a three-stage trial and sentencing procedure, with a jury to determine guilt and then separately to determine whether aggravating and mitigating factors exist; finally, a three-judge panel considers a sentence of death or life in prison. Defendants may then appeal on several grounds, and a frighteningly high proportion of death sentences have been reversed. Each appeal costs money. Death rows are more expensive to administer than incarceration in the general population, even of a maximum security prison. Dieter says that other states that have studied the cost of a capital prosecution come up with a figure in the vicinity of $3 million dollars for each death penalty case—as opposed to $1.1 million for life in prison. But—most death penalty cases don't actually result in executions. In Nebraska, since the death penalty was reinstated in 1976 (the U.S. Supreme Court had thrown out death penalty statutes in 1972), there have been 35 death sentences costing somewhere around $100 million. But there have been only three executions, so at least at this point, it has cost between $30 million and $35 million to execute each person, a truly staggering figure, but similar to that found in other jurisdictions. In fact, each execution has cost about the same as it would have cost to fund life in prison for everyone sentenced to death since 1976. But Dieter was not finished. In a dialogue with Sen. Ashford, once a death penalty proponent but now a co-sponsor of LB 543, he explained that the intangible costs were also high. Despite all the safeguards, humans cannot avoid all error. Eventually, any polity that employs capital punishment will kill an innocent person. Nebraska has some 200 inmates convicted of first degree murder who have never been on death row—there is certainly unfairness and the appearance of unfairness in a system that is so arbitrary in the difference between punishments for the same crime. And what about the costs of forgoing more police on the street, more services for victims, more investigation of cold cases for the sake of spending $30 million dollars for an execution?
Alan Peterson, another longtime death penalty opponent and sometime attorney for appeals from death row, presented a mordant piece in the style of Mark Twain's "Letter to the Earth," an application from the State of Nebraska for a license to kill. His appearance brought questions from some of the newer senators on the committee who wondered if life sentences might not result in the same spate of expensive appeals as the ones he had filed for his clients on death row. Everyone had the right to appeal a sentence, Alan replied, but in practice life sentences had fewer claims that could be appealed and were in general less likely to be litigated. They were not irrevocable. An actual finding of innocence, as with the Beatrice Six, is not an appeal, and anyone found factually innocent should certainly be released as soon as possible. Actually, as Joe Kelley, the Lancaster County attorney who testified in favor of maintaining the death penalty pointed out, a sentence of life without parole as well as a simple life sentence would actually give rise to more appeals, since it would be hard in all cases to justify the distinction. Given that the state Pardons Board does not commute life sentences to make individuals eligible for parole, a simple life sentence would be sufficient, would cut the costs of the original trial, narrow the grounds for appeals and be as immutable as life without parole. No other western democracy retains the death penalty for ordinary crimes, and most give maximum sentences of 25 years or less, except in the cases of a few persons deemed dangerous offenders. Twenty-five years in prison is a pretty hefty punishment, quite sufficient for a deterrent, and those European, Canadian or other murderers who are released are not likely to reoffend. True life sentences mean that prisons will be required to provide expensive and rapidly growing geriatric wings for people virtually incapable of reoffending, a questionable state expense at best.
This ends what might be called the "practical considerations" part of this look at the death penalty. Part two of this article will examine the personal stories of the unjustly convicted and of the survivors of murder victims. Part three looks at broader social forces coming into play against the death penalty.