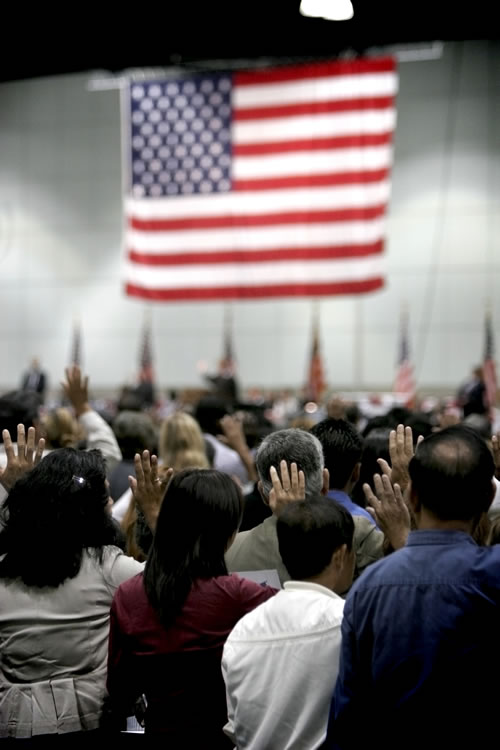 Americans today would like to see stronger economic growth. But they are at a loss as to where that growth might come from. One answer is unexpected: immigrants. Indeed, the hidden advantage of immigrants is that they contribute mightily to the U.S. economy.
Immigrants remind us of the promise of economic advancement. It is hard to leave one's native land and make out for a new country with a foreign culture. But the allure of growth has led immigrants to flock to America's shores. Immigrants cling to the belief that in America opportunities exist that will allow them to improve the lives of their families.
Sometimes immigrants sustain a vision for America that transcends even that of native-born citizens. Four of the first six secretaries of the U.S. Treasury were immigrants, as the late Thomas McCraw illuminates in his book "The Founders and Finance." Alexander Hamilton, born in the Caribbean country of St. Croix, saw that international capital markets could alleviate America's debt troubles, a possibility that did not occur to the other, more provincial, landed founders. The work of Hamilton and other early immigrant financiers laid the institutional foundation upon which our modern government and financial systems rest.
Fast-forward some 200 years from the days of Hamilton, and immigrants continue to make their mark on the American economy.
Immigrants and the Labor Force
Immigrants serve as catalysts for growth in a number of ways. First, they work. Data from the U.S. Census Bureau show that in 2011 immigrants accounted for 13 percent of the total U.S. population, but for almost 16 percent of the U.S. civilian labor force. Over 60 percent of immigrants over the age of 16 were employed in 2011, compared to 56 percent of their native-born counterparts.
A major explanation for this difference in the propensity to work is that immigrants come to the U.S. at an age when they can work. The aging of America's native-born population poses a significant challenge to economic growth. A growing economy requires a growing labor force, but the native-born portion of America's labor force is rapidly aging. In 2012 data show that approximately 80 percent of immigrants were between the traditional working ages of 18 and 64, compared to only 60 percent of native-born Americans. With the "baby boomers" reaching retirement age, immigrants help replenish the workforce with young and capable workers, allowing the country's labor force to continue to grow. Over the last decade (2003 to 2012), the U.S. civilian labor force increased by approximately 8.5 million workers, with immigrants accounting for more than half of the number of new workers. It is clear that immigrants are more crucial than ever to supplying the labor that growing economies require.
Innovation and Entrepreneurship
Of course, over the long term, an economy grows by adding workers and increasing productivity—that is, getting more output from each input. A principal way an economy can improve its productivity is through innovation. Innovation refers to doing things in new ways, or doing entirely new things altogether.
Immigrants have proven to be remarkably innovative. Research by Vivek Wadhwa shows that immigrants were responsible for nearly one-quarter of all international patent applications filed by U.S. residents in 2006. Furthermore, an analysis by the economist Jennifer Hunt reveals that immigrants are more likely than natives to commercialize a patent and to publish articles for scholarly publications. These patents and publications represent the new ideas that drive innovation in our economy.
Entrepreneurship is another crucial factor that allows an economy to expand. Indeed, immigrants have a proven track record of starting new businesses. A report by the Fiscal Policy Institute indicates that in 2010 immigrants accounted for 18 percent of all small business owners despite representing 13 percent of the total U.S. population in that year. In the two decades from 1990 to 2010, immigrants were responsible for just under 30 percent of the total growth in the number of people who own a small business.
But immigrant entrepreneurship is not limited to just small businesses. In fact, immigrants are involved in America's most promising new industries. Wadhwa has found that among all major technology and engineering firms founded in Silicon Valley between 1995 and 2005, more than half were founded by an immigrant. Nationally, over a quarter of all major technology and engineering firms founded over this period were started by an immigrant. Collectively, these immigrant-founded firms generated more than $52 billion in sales in 2005 and employed just fewer than 450,000 people worldwide.
Every year "Fortune" magazine's "Fortune 500" list identifies America's biggest and most important companies. It is useful to know who is responsible for starting these firms. A report by the Partnership for a New American Economy attempts to do just this, examining the ethnic backgrounds of the founders of all the companies listed in the 2010 edition of the Fortune 500. The results are striking, showing that 41 percent of all Fortune 500 companies in 2010 were founded by either an immigrant or the child of an immigrant. These include major companies recognizable to any American household, such as AT&T, Kraft, Google, Yahoo! and eBay.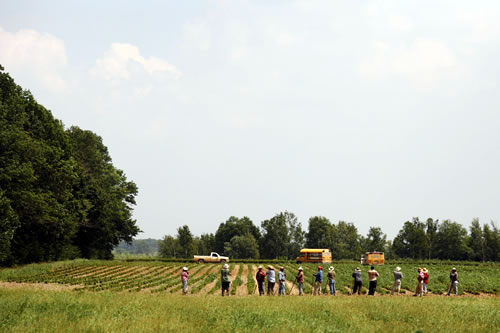 Immigrants and the Nebraska Economy
Nebraska, like many other states, has historically had only a small immigrant population. But that is beginning to change somewhat. In the year 1990 Nebraska was home to just over 28,000 immigrants, a number equivalent to less than 2 percent of the state's total population. However, over the next two decades, immigration increased rather dramatically. By 2011 Nebraska was home to some 116,000 immigrants, or 6.3 percent of the state's population.
Although Nebraska is still less immigrant-intensive than the nation as a whole, immigrants are proving increasingly important to the state's economy. In 2011 Nebraska's civilian labor force counted just fewer than one million employed workers. Approximately 68,500, or 7.3 percent of them, were immigrants. While this may not seem like an overly large portion, it is more significant when one recalls that immigrants represent only 6.3 percent of Nebraska's total population. Furthermore, it is important to keep in mind that, like the national economy, Nebraska's immigrants provide relief to the state's aging work force. In 2012 almost 83 percent of immigrants in Nebraska were between the working ages of 18 and 64, compared to only 60 percent of native-born Americans.
Nowhere is the importance of immigrants more apparent than in their contribution to the growth of the state's labor force. Over the past decade (2000 to 2011), the number of employed Nebraskans increased by approximately 67,600 workers. Immigrants were responsible for almost 45 percent of the increase. That is a remarkable statistic. It demonstrates that while only around one in every 16 Nebraskans is an immigrant, almost one out of every two new workers over the past decade has been an immigrant. Clearly, attracting more immigrants is crucial to the long-term success of Nebraska's state economy.
Reform for Faster Growth
But immigrants could do even more. Americans today are wondering how current immigration laws should be restructured to achieve faster growth in the future.
It is important to consider the barriers that U.S. immigration laws represent. America's current immigration policies discriminate against workers, instead giving preference for green
cards to immigrants who come to the U.S. for family reunification. Data from the OECD indicate that only 7 percent of U.S. green cards distributed in 2010 went to workers, while 73 percent of green cards went for family reunification. This is in stark contrast to other developed countries, which seem to better understand that attracting the world's most talented immigrants is crucial to boosting their economic growth. In 2010 South Korea and Switzerland both allocated more than 80 percent of their green cards to work-based immigrants. The U.S. faces global competition for immigrants, and it would be wise to remove some of the barriers that encourage immigrants to go elsewhere.
If America's immigration laws were different, our growth would come faster. In a manuscript published recently by the Bush Institute, the economist Richard Vedder estimates that if the U.S. had adopted a pro-growth immigration policy framework in the 1960s, real GDP growth would have averaged approximately 3.1 percent in the years 1970 to 2011, a rate substantially higher than the actual average growth rate of 2.8 percent during those years. This means that U.S. GDP would have been approximately $2 trillion greater in 2011 than was actually the case.
The Immigration and Nationality Act of 1965 represents one of the last major U.S. immigration policy overhauls. In a speech delivered in front of the Statue of Liberty prior to signing the Act, President Lyndon B. Johnson famously recalled the contributions of immigrants, saying that America "…flourished because it was fed from so many sources—because it was nourished by so many cultures and traditions and peoples." Although many of the immigration policies of Johnson's era require updating, Johnson's quote captures perfectly why immigrant reform is so important today.
More than ever, America needs to renew its commitment to welcoming those people from around the world who embark upon the entrepreneurial act of immigrating to our shores. Communicating the positive economic contributions of immigrants is the first step to helping Americans recognize the hidden advantages of immigration.
To access more of the institute's immigration research and commentary, visit www.bushcenter.org/4-growth-project/immigration.