By Jenn Simons, Chuck Francis and Pam Edwards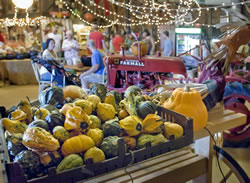 The growing disconnect between most people and where their food is produced is an increasing concern in our culture. Urban dwellers are not only distant from where most food originates, they are unfamiliar with who grows that food, under what conditions and who benefits from the business. Individual purchases and institutional sourcing products locally from nearby farmers is one way to bring consumers closer to the origins of their food. Yet it will take education and greater promotion to fully remedy the missing connection between consumers and what they eat.
Purchasing local food instead of products from longer distances provides a number of beneficial outcomes: support for local business, reduced transportation costs and knowing your farmer. Yet without awareness and education campaigns, little will be done to get otherwise uninterested consumers convinced about why they should care about the source of their food and the ripple effects of their choices. Changing the mindset and behavior of the population about local foods is crucial to increasing value of purchasing decisions to encourage sustainability of local systems.
"Good. Fresh. Local." (GFL), the local food program connected with University Dining Service/University Housing of the University of Nebraska-Lincoln, was implemented in September 2005. Since then the program has expanded and presently consists of two separate monthly meals at the Cather/Pound /Neihardt and East Campus Union dining centers. These meals focus on products sourced locally, with those items making up the bulk of the lunch or dinner menus. In addition to these monthly meals, each dining center has increasing amounts of local foods present every day—including jellies, granola, oats, pecans and some produce.
As promoted on the GFL homepage (http://housing.unl.edu/dining/gfl.shtml), the mission of the program is to "serve traditional menu items that promote the value of local food, educate students about sustainable agriculture and the positive impact it has on the environment, local economy and communities, and provide a new distribution opportunity for local farmers and producers in the world of university food service." The program reaps the various benefits of simply using local products while seeking to educate the university community about the importance of local foods.
To search out the validity of this claim, 500 students in UNL's five dining centers were surveyed in October 2012, and 400 responded. The majority of students were freshman undergraduates spread across the seven on-campus housing options. Students were asked a range of questions, from looking at their definition of "local" to what motivates them to purchase local foods and what changes they would like to see in the GFL program. Results come from an undergraduate thesis that was supported with Undergraduate Creative Activities and Research Experiences Program (UCARE) funding.
To acquire a feel for the education level of the population base, students were asked about their background knowledge concerning the definition of "local," the frequency of local food consumption, their motivations for choosing local and whether or not they see the importance of knowing where their food is produced and who the farmer is.
The term "local" has many interpretations when it concerns food. Miles, kilometers, blocks, farms within sight are several measurements that are used when thinking about a specific distance to what might qualify as local food. Some people consider counties, towns, states or regional areas when defining boundaries for local products. Another approach is the minutes, days or hours of travel needed as the appropriate determinant of whether or not something is local. Then again, maybe the thing we should really consider is the type of food in determining whether or not something is local, i.e., corn, beef or fresh, nutritional vegetables and fruits, or traditional foods in each culture.
A variety of answers within these categories, along with generalized responses such as "local," "close" or "nearby," were found in survey responses. Of the five different categories, factors related to political and regional values were used to define "local" in 34 percent of responses, the highest percentage found. Around 40 percent of students responded that they never ate what they defined as local now that they were in college, as compared to 48 percent responding that they ate local food once a week prior to college. The number who reported eating local food once a week while in college was reduced to 21 percent.
For those students who reported that they consumed local foods, the major motivation was not related to the environmental services or health benefits they may reap by consuming closer-produced and less-processed products. Rather, students were attracted to the local option as a result of attributes of the food such as taste, quality or whether or not it seemed fresh. Perhaps unsurprisingly, this trend mirrored that of the perceived values of local food. Over half of the respondents saw value in the economic gains and attributes of the product. Health (6 percent) and environmental factors (5 percent) ranked lowest.
Regardless of the motivation for choosing the values associated with local food, around 50 percent of the students who responded agreed that it is important to know who produces our food and where it is being produced. A similar percentage of the population agreed that they would be willing to pay extra for locally sourced food.
So how did this representative student population respond to questions about the GFL program? Were they even aware that this is available at UNL?
As a whole, 70 percent of those surveyed were aware of the GFL program. Within each dining center, Harper/ Schramm/Smith (HSS), East Campus Union (ECU), Abel /Sandoz (AS), Cather/Pound/ Neihardt (CPN) and Selleck Hall, the proportion of students who were aware of the program varied. However, it was only in AS that the percentage of those unaware of the program was greater. The GFL program is only promoted in CPN and ECU dining centers, an essential variable to be considered in interpreting these results. Flexibility to choose which dining center a student attends for meals, along with online advertising and word of mouth, are among the likely contributors to the awareness of GFL for students outside of the CPN and ECU dining
centers.
To a majority of the students, expectations of the GFL program related to the quality of the products as opposed to where they were actually sourced, values held by those producing the food and the frequency of their availability. To 61 percent of the population, these expectations of quality, healthy, delicious or "good" food were met.
Regardless of how long a local food program has existed, a "final destination" is never fully reached. Instead, successful programs operate in an infinite and complex process of shifting and readjusting to best serve an ever-fluctuating population.
Changes students would like to see to the GFL program are grouped in three areas: frequency of the food, quality of the food and awareness of the program. Students want fresh, healthy products more often with greater visibility, as well as a greater opportunity for the program to spread across all of the campus dining centers. Such desires were more prominent in request than demands in regards to where the food is produced or by whom.
To compare UNL to other educational venues in Lincoln, interviews were conducted with dining managers at Nebraska Wesleyan University (NWU) and at Union College (UC). Each of these has unique student demography as well as special contracts with suppliers of their food. At NWU there are only undergraduates, perhaps defining different student demands for food, and a long-term contract in place with a major food supplier. A small number of local produce options are available throughout the year. At Union College, the religious homogeneity and subsequent vegetarian practices result in an array of options, yet minimal local variability. Present procedures are unlikely to change unless there is an increase in student demand.
In this research on local foods sourced from farmers in the area surrounding Lincoln, UNL students reported that they were well aware of the program, whether they lived in a dorm that served a monthly local food meal or not. Students generally are pleased with the concept of local food and encourage the institution to expand this activity. Concerns of food quality such as taste, freshness and appearance are more important to these students than distance the food traveled and who may have produced the food. It appears that there is a large potential to expand this program to other food service areas at UNL, and that despite institutional variances such a program could serve as a model for other educational institutions in the Lincoln area and beyond.