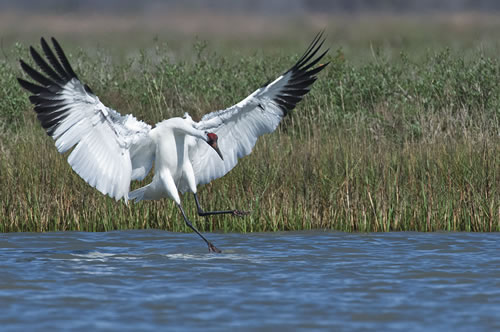 The sandhill crane migration is upon us in full force in central Nebraska, which means the endangered whooping cranes are soon to follow. Each spring, whooping cranes typically migrate through Nebraska in late March and April on their 2,500-mile journey from wintering grounds along the Gulf Coast of Texas to their breeding grounds in northern Canada. Given this year's mild winter and spring, however, they may arrive earlier than normal, so it's not too soon for people to be on the watch for whoopers in Nebraska.
This migration is a demanding trip that requires the whooping crane, which typically travels in small family groups, to make stopovers along the way to rest and feed, sometimes only for a day or two, along rivers and wetlands. Despite being bright white and the tallest bird in North America (nearly 5 feet tall), whooping cranes are often elusive and difficult to spot. With less than 300 birds in this last, migratory flock, they often go unnoticed or unreported by observers. As a result, we still have much to learn about the types and locations of habitats that whooping cranes are using during their migration.
To help record locations of whooping crane sightings so that resource managers can better understand their habitat requirements, the Crane Trust maintains a Whooper Watch program to enlist the public's help in monitoring the endangered cranes as they migrate through Nebraska—once as they migrate north to breed and a second time as they return south to their wintering grounds.
The Whooper Watch program uses a toll-free number for people to call when a whooping crane has been sighted (1-888-399-2824). Information is gathered on the call, and scientists confirm the sighting and later document specific features of the stopover location. The program is strictly for spotting and recording locations of whooping cranes and is used to augment other observational rec- ords maintained by conservation organizations. 
The whooping crane is protected under the Endangered Species Act. All sightings and locations are confidential and are not released to the public, so as not to risk disturbing the birds. It is vital that watchers NOT influence the birds in any way so they remain undisturbed in pursuing the resources and protection they need to complete their migration safely.
If a whooping crane is spotted, the Crane Trust stresses these important cautions: 
Never approach a whooping crane.
Stay in the vehicle or established viewing area while observing any and all whooping cranes.
Observe from a distance of at least 2,000 feet (approximately 0.4 miles).
Avoid flushing the birds or causing them to alter their normal behavior.
If you have the opportunity to observe whooping cranes from a safe distance, please note the following information and take a photograph if possible:
The exact location of the whooping crane(s)
The time and date you observed the whooping crane(s)
The number of the whooping crane(s) observed
What the whooping crane(s) was doing (feeding, resting, flying, etc.)
Whether the whooping crane(s) was marked with color bands or radio transmitters, and if so, the colors of bands
As soon as possible, report the sighting to Whooper Watch by calling 1-888-3wwatch (1-888-399-2824). This number is for reporting sightings only and not for requesting information. To learn more about the Whooper Watch program and how you can participate, please go to Nebraska Nature.org or call the Crane Trust Nature & Visitor Center at (308) 382-1820. 
The Crane Trust is a nonprofit organization dedicated to the protection and maintenance of critical habitat for whooping cranes, sandhill cranes and other migratory birds along the Platte River through science, habitat management, community outreach, and education.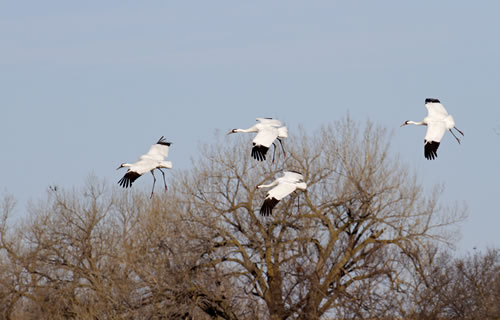 For more information on the Crane Trust and its activities, visit www.cranetrust.org and www.nebraskanature.org. Additional information on the Whooping Crane Tracking Partnership can be found at www.savingcranes.org and www.whoopingcrane.com.