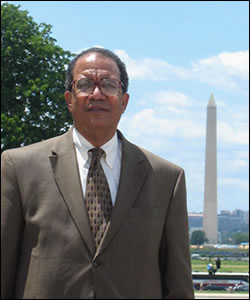 "Sonny's Corner" is a regular column in Prairie Fire, featuring commentary on civil rights and justice issues. Our friend and Omaha colleague, Joseph P. "Sonny" Foster, died suddenly at age 54 in August 2005. He left an uncompleted agenda, as did many of our civil rights and justice mentors and heroes. We shall attempt to move forward on that unfinished agenda through this column.
I suspect our situation is typical: we love these 60 acres we live on and fear what will happen to them after we are … uuuuuh … you know … like … gone. I bought this 60-acre scrap of land in 1974 under 3 feet of snow … a brilliant way to buy land, and every day of thaw in the spring of '75 I was happier as my prize was revealed. The uplands were naked sand, the river bottom marsh, slough and jungly tangle. Just what I wanted.
We have replanted the uplands to native grass, planted tens of thousands of trees, reestablished plants like white cedar, calamus, sand cherries, leadplant and Osage orange. We know the deer, turkeys, raccoons, possums and crows by name. We love our river, the Middle Loup. Our house is old and drafty, but it is full of memories and stories. The cabin down by the river is a treasure, originally built by a Civil War veteran out of oak and walnut he cut himself just west of Lincoln, Neb.
We are not crazy about inherited wealth to begin with—not that our "estate" comes even close to deserving a word like "wealth," but our children are grown and off on their own to far-flung and exotic lands like France, Minneapolis and Lincoln. They too love this place, but they are not rural people and are not likely to make their homes here in "the middle of nowhere." So, what is to become of all this?
We agonized at the thought of someone with too much money buying this place in our estate sale and building a grotesque, ugly "starter castle" on what we had come to consider sacred ground. What to do? What next?
The problem solved itself when we found a simple idea, one that has worked so well for us that it just might be a good course for others too. We have also found, however, that the course we took is so out of the ordinary that it has rarely, if ever, been thought of before: we gave our home and land to the Indians. Not only do we have no regrets about what we have done, the decision has turned out to be the best thing we have done in our lives other than finding each other.
It's a long story, but I'll try to make it short and simple. A friend of mine told me that if you asked her parents for the time, her mother would say, "Quarter after two," and her father would start with instructions on how to build a clock. I won't do that to you here, however, even though that tends to be my usual style too.
I have been involved with Native American issues for 55 years, most of my life. I have Native American friends and family. I have been an advocate for Indian concerns. So Linda and I started with the idea of leaving our home and land to the Pawnee as a cultural center. This is Pawnee land. When a handful of Danish pioneers crossed the river right here in April 1871, they found a camp of 300 Pawnee. Right here. In the trees I can see from my office window as I write this. I had worked with the Pawnee, had Pawnee friends… So leaving it to them after our deaths seemed a natural solution.
But then our lives took a dramatic turn. Not a public one, or loud one, or even one noticed by any one but Linda and me and a half-dozen Pawnee visitors, but for all of us, there were moments that changed all our lives. Pawnee political and spiritual leaders were in our home 20 years ago to consider this land as a potential site for reburials of ancestral remains repatriated from museum shelves. We drove and walked the land to give them an idea of the geography. And then we reached the banks of the river that runs about a quarter mile along the southern edge of our land.
The Loup is named for the Pawnee. Loup is French for "wolf," as is "Pawnee." This was the river of their ancestors. Linda and I love the river … it is beautiful and clean … but at the moment we stood on the bank with these new friends, we realized that for some, it means far more. The dignified, well-dressed gentlemen began to cry. They walked to the river—their river—this sacred river—and waded in. They drank from the running current. They pulled the water over their hair. They talked to this river, a river of their legends and myths. They prayed to it.
As Linda and I talked later that evening after our visitors had left, we realized that we had independently come to exactly the same conclusion: they were not the visitors, we were. This was their land, not ours. It was not as if we had made a thoughtful decision as much as we had recognized in a moment of revelation an undeniable truth: whatever the legalities of deeds, abstracts and records had to say about that piece of ground, the immutable truth was that this land and river had never been anything but Pawnee.
It was a few years later that everything was sorted out, but the end story is that we signed the deed that gave the Pawnee the first land they had owned in their ancestral Nebraska homeland since 1873. Bunky EchoHawk, tribal lawyer, believes this is the first return of privately held land to tribal ownership in the history of this nation; since the arrival of Columbus, the transfer of wealth has always been in one direction. Until now. As Bunky put it, "Rog, you are really throwing a huge monkey wrench into the machinery of history."
But the process was not done. Since that return of the land six years ago (we prefer "return" to "donation" or "gift" because it was simply a matter of returning the land to the rightful owners), we have been contacted by three other Nebraskans who learned about the return of our land and have worked with us to return three more properties… another parcel of rural ground, a magnificent suburban residence and the commercial building that is now the Pawnee Arts Center in Dannebrog, Neb., the most visible presence of the Pawnee Nation's return.
Our concern about how our small Danish community and friends and family in other Nebraska tribes would receive the return of the Pawnee after an absence of 140 years was brushed aside as the welcome mat was rolled out, literally and figuratively. In each of the other three cases of land returns, the people making the return have found that for them, as with us, it has been a moving and even life-changing event.
I have received more inquiries about pathways to returning land to tribal ownership, putting land or other property in trust, the legal considerations, living wills, estate planning, etc., not only for Pawnee but also for other Nebraska tribes and even tribes in other states. While Linda and I can help with transfers in Nebraska because we are well acquainted with tribal territories and governments and the processes involved, we recommend that anyone considering such returns contact the relevant tribe or tribes in their own area through the state Indian agencies, which can be found by asking any Web search engine for "State Committees and Commissions on Indian Affairs," by emailing state-tribal-info[at]ncsl[dot]org or by writing Indian Land Tenure Foundation, 151 East County Rd. B-2, Little Canada, MN 55117-1523. Linda and I can be contacted at Plains Heritage, POB 187, Dannebrog, NE 68831.
If you love your land, home or other property, if you believe in justice, if you enjoy good people and good friends, if you would like to do the right thing, please consider this course of action: returning the land to the rightful owners.