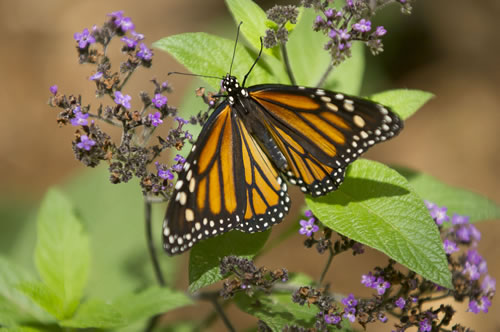 Native plants give us a sense of where we are. —Lady Bird Johnson
In his book "Going Local," Michael Shuman says of supporting locally owned businesses: "Control moves from the boardrooms of distant corporations and back into the community where it belongs." In a related way, using native plants in our gardens and landscapes restores control and community.
Native plants belong here; they are suited to the climate, the soil and the environment. The drought we are currently experiencing in Nebraska is likely to last several years. In contrast to many of the landscape plants we are used to seeing in Lincoln, Neb., native plants that are properly chosen for our yards will need little water. Benjamin Vogt, who transformed 2,000 square feet of his lot in south Lincoln into a native garden five years ago, only watered three times last summer, the driest and third warmest summer on record. Yet in September, his garden was green and had a wealth of blooming flowers.
Planting native flowers, shrubs and trees helps reconstitute an ecological community that has been lost through development and use of pesticides and herbicides. Birds, butterflies, bees, dragonflies and other wildlife flourish in native plantings. In his first year of gardening Vogt planted swamp milkweed, one of the preferred host plants for monarch butterflies, and was rewarded by 30 monarch caterpillars on two swamp milkweed plants. In our yard, which also has many native plants, we have seen monarchs, tiger swallowtails, painted ladies, silver-spotted skippers, red admirals, checkered skippers, question marks, mourning cloaks, white-lined sphinx moths, milkweed tussock moths and other butterflies and moths.
Bees also flourish in native plantings and are important to the pollination of many crops and foods we rely on, such as squash, cucumber, tomato, eggplant, nuts, seeds and hay. Research shows that bees are responsible for one out of every three bites of food that humans eat. Yet bees are declining at an alarming rate. According to www.keepinghoneybees.com, "In the last fifty years, the honey bee population has decreased by 50%. In the early 70's we noticed a decline in the number of feral (wild) colonies. Now, according to the USDA they are almost completely absent." Even a city or suburban lot of native plants can provide nectar and pollen for the bees that then provide food and flowers for us.
Besides saving water and providing habitat for birds, butterflies, bees and other pollinators, native plants protect the soil; lead to less mowing and therefore savings on equipment, as well as less noise and air pollution; require less maintenance and protect water quality by controlling soil erosion. In addition, they are beautiful and give us a respite from an increasingly concrete, noisy, technological world.
Presentation on Gardening with Native Wildflowers
At 10 a.m. on March 23 at Finke Gardens and Nursery in Lincoln, Benjamin Vogt will speak on "Gardening with Native Wildflowers." Vogt's 2,000-square-foot prairie garden was named a best of 2012 outdoor space by Apartment Therapy; the garden has also been featured online at Fine Gardening and in local newspapers and will be on the Garden Club of Lincoln's tour in June. He runs Monarch Gardens, a native plant garden coaching service, and is the author of "Sleep, Creep, Leap: The First Three Years of a Nebraska Garden." This presentation, sponsored by Friends of Wilderness Park, a nonprofit group dedicated to the preservation of Wilderness Park as a unique and sensitive biological community, is free and open to all. Information will also be available on the annual Native Plant Sale sponsored by Friends of Wilderness Park; all proceeds from the sale go to benefit Wilderness Park.