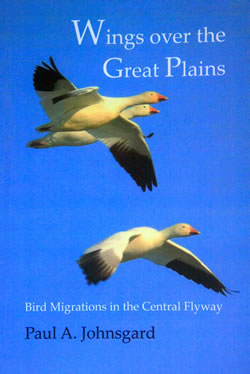 "Wings over the Great Plains: Bird Migrations in the Central Flyway"
Paul A. Johnsgards
Publisher: Zea Books
"Nebraska's Wetlands: Their Wildlife and Ecology"
Paul A. Johnsgard
Publisher: Conservation and Survey Division, School of Natural Resources, Institute of Agriculture and Natural Resources, University of Nebraska-Lincoln
Paul Johnsgard—Foundation Professor of Biological Sciences Emeritus, University of Nebraska-Lincoln—produces books so prolifically you wonder if it's time for his elves to unionize and demand shorter workweeks and vacations. Two new books were published late in 2012. They are especially good companions for birders whose interests lean toward wetland species. But those with more diverse tastes will not be left unsatisfied.
"Wings over the Great Plains: Bird Migrations in the Central Flyway" has essentially two parts, the first being the best places to find birds up and down the Central Flyway, state by state from Texas north into Canada. Within each state are detailed descriptions of the best birding destinations. Most are national wildlife refuges, but other public lands are included. For each site Johnsgard provides area size, directions to it from the nearest town, topography and predominant vegetation, expected migrants and breeders, number of species reported from the site and contact information. And, there is a wealth of other information appropriate to specific sites. For the birder looking for a weekend trip or a more ambitious birder wanting to run the full north-south extent of the Great Plains, this section alone is worth the cover price.
The longest section of the book is devoted to species expected to be encountered and when—as year-round residents, breeders, migrants or wintering. The author notes that nearly 400 species of 50 avian families regularly use the Central Flyway during their migration. If you think the book is mostly about waterbirds, which would not be an unrealistic assumption given Johnsgard's principal interest throughout his career has been waterbirds, you would be wrong. Readers will find detailed information on all sorts of birds from ash-throated flycatchers to turkey vultures. A valuable part of these species accounts is extensive referencing for those wanting more detailed reading. Where appropriate there is information of the species' status and migration travels.
Johnsgard's summary of how the flyway concept came to be and its shortcomings is interesting. An extensive literature cited and selective bibliography is included. The book is illustrated with the author's pen-and-ink drawings.
The book is 246 pages, paperback, 6 × 9 inches. Electronic editions are available for free online and print editions ($20 plus shipping) can be ordered from www.lulu.com/spotlight/unllib.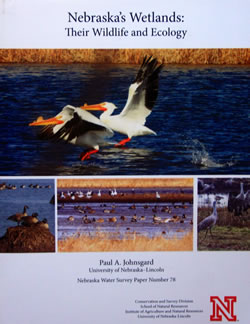 I admit to a bias about Johnsgard's other book as I've always thought the only birds worthy of attention were waterbirds, or a bird living close to water wanting to be a waterbird but not yet that highly evolved. If you are of similar ilk, or even not quite so extreme, you will like "Nebraska's Wetlands: Their Wildlife and Ecology." Assembled between covers is a systematic and thorough account- ing of all the diverse types of wetlands in Nebraska and the plants and animals that live there, right down to aquatic vascular plants and invertebrates. Yes, roundleaf monkey-flower and ram's horn snails.
After an overview of the state's wetlands, including the agents of their destruction, Johnsgard elaborates on the diversity of wetland plants and animals, types of wetlands and other information, providing readers with a base knowledge upon which to build. Following is the bulk of the book's content. Seven broad wetland regions/types are treated individually—the Missouri River Valley, the Niobrara Valley, the Platte Valley, other river valley wetlands, Sandhills wetlands, playa wetlands and eastern saline wetlands. Some of those broad categories are further divided as playa wetlands are divided into the eastern and western Rainwater Basin in the state's south-central counties and similar types of wetlands found in eastern and western Nebraska.
Each chapter begins with a concise summary of the most interesting or pertinent aspect of the region. For larger rivers, like the Missouri and Platte, for example, Johnsgard provides a concise but thorough history from the time of the region's settlement to the present day, including modifications that led to the destruction of wetlands. Included is a county-by-county listing of public lands within each region, how to locate them and contact information. Past fauna and flora survey work is included when available. Illustration is used generously, as the sorting of plant and animal communities of a river valley in cross-section, species to be expected and maps and charts. Johnsgard includes a sampling of species of each wetland type and a description of their natural history.
Following that section of the book is an extensive appendix covering, well, just about everything from birds of eastern saline wetlands to toads to freshwater mussels to spotted touch-me-nots and damselflies. The simple truth is there is too much wide-ranging information in the book to briefly summarize. One of Johnsgard's strengths as a writer has been his ability to compile and organize all available information, including scientific works, and assemble it in a form useful to the serious amateur naturalist and beginner. As expected, the reference list at the back of the book is thorough and conveniently sorted by wetland types matching the chapters.
The book is generously illustrated with Johnsgard's pen-and-ink drawing; yes, mostly birds, but if you have always been curious about what fairy shrimp looks like, you find that as well. The book is 202 pages, paperback and slightly larger than 8 × 10 inches. It was published by the Conservation and Survey Division, School of Natural Resources, Institute of Agriculture and Natural Resources, University of Nebraska-Lincoln as "Nebraska Water Survey Paper" Number 78. The cover price is $23. It is available from Maps and More Store, 101 Hardin Hall, University of Nebraska-Lincoln 69505-0961, (402) 472-3471, or from http://nebraskamaps.unl.edu.
More about "NEBRASKAland" magazine is available at www.outdoornebraska.ne.gov.