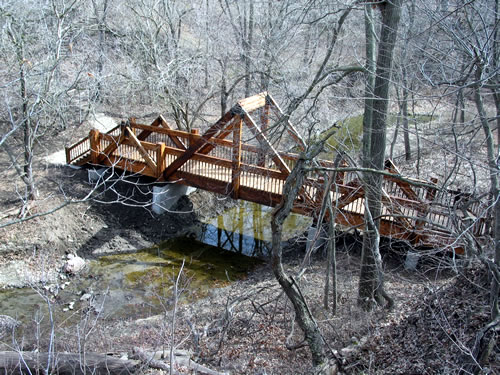 By Laurence L. Falk, Ph.D., and Susan P. Quinn
Nebraska City is located beside the Missouri River in Otoe County along the Missouri River flyway. Its rolling hills and abundant trees provide a mixed habitat for resident and migratory birds. In 1804 Wm. Clark comments about this site: "This prospect was So Sudden & entertaining that I forgot the object of my prosute and turned my attention to the Variety which presented themselves to my view" (Clark's spelling). The creeks observed by Clark (North and South Table creeks) continue to flow, and now there are more trees along the creeks and river. The area surrounding Nebraska City was altered by recent weather extremes with constant summer flooding of the Missouri River in 2011 and drought in 2012. The flooding affected wetland areas in both Otoe County and Fremont County in Iowa lying opposite Nebraska City on the east side of the Missouri River. The wildlife effects of dike moving and repair are yet to be fully determined.
There are numerous birding opportunities within Nebraska City. As a Tree City, it includes extensive park areas with paved walkways and trails. In northeast Nebraska City, Arbor Lodge State Historical Park (home of J. Sterling and Carrie Morton) and Arbor Day Farm are adjacent, divided only by Centennial Avenue. The state park maintains numerous tree species and in recent years expanded the park area with additional tree and shrub plantings. In recent years numbers of turkey vultures (sometimes several dozen) prefer roosting in the tops of pine trees near the lodge.
Arbor Day Farm, owned and operated by the National Arbor Day Foundation, includes both free and gated trails winding through wooded areas and across South Table Creek. The farm has made special efforts to provide appropriate wildlife habitat. A bird checklist is usually available at the registration desk of the Lied Lodge and Conference Center located on Arbor Day Farm. The checklist includes 180 species. The woods provide abundant opportunity for cavity-nesting birds such as owls, woodpeckers and great crested flycatchers. During this past year, a barred owl and two immature great horned owls were regularly seen. Turkeys nested on the farm in the past several years. Also, Arbor Links golf course is adjacent to Arbor Day Farm and provides a pond and nesting areas for species such as kingbirds, meadowlarks and sparrows. Besides golfing, the course was created to foster natural awareness.
A pond created on Arbor Day Farm attracts waterfowl and some shore birds depending on water level. In late spring of 2005 a female hooded merganser, thought to be a late migrant, was observed on this pond. The next day the female was trailed by eight young obviously hatched in a nearby wood duck box. This was the first recorded free nesting of a hooded merganser in Nebraska since 1918. Unfortunately, this pond is subject to the vagaries of weather and at times is totally dry.
Wildwood Park, including a Victorian house and art gallery, are located across the street from the Lied Center. These properties are owned and maintained by Nebraska City and provide additional wildlife habitat. Since these state, city and private properties are proximate, they provide an extended bird habitat readily accessible on foot. All these properties contain bluebird nesting boxes that yield annual broods of eastern bluebirds. It is unusual not to observe bluebirds in this vicinity even during winter. Of course, other species use these boxes, such as house wrens, tree swallows and black-capped chickadees. House sparrows are usually not permitted.
Riverview State Recreation Area along the Missouri River consists of a boat ramp and wooded park area. This is state property maintained by the Arbor Lodge State Historical Park management. Unfortunately, it was completely flooded during the summer of 2011 but was made serviceable again during 2012. This is an interesting place to observe bird activity simply by sitting in a vehicle in the parking area. During winter, common mergansers and common goldeneyes may fly along the river or swim in it, dodging ice patties. Bald eagles, hawks, ducks, geese and other woodland species also utilize this area. The treed ridge above Riverview State Recreation Area is the Nebraska City-managed Riverview Nature Park. It is highly sloped but easily accessible on foot or by car in nonwinter months. Here one may see raptors, warblers, vireos, jays, woodpeckers, thrushes and other woodland birds in appropriate seasons.
Traveling east, just prior to reaching the Nebraska/Iowa Bridge on Highway 2, a Lewis and Clark statue signals the approach to the Lewis and Clark Interpretive Center. A winding drive leads to the top of a bluff and an imposing museum interpreting the flora and fauna of the Lewis and Clark Expedition. Information about birds observed by Lewis and Clark is available inside the museum. The land surrounding the museum provides varied habitat including wooded area, open prairie, a small pond and a view of the Missouri River. One may follow a specified birding trail or wander over the hill and through the woods using a gravel road. Successfully used bluebird boxes are distributed on the grounds. The raised location provides migrating birds with temporary respite. Scarlet and summer tanagers were resident here in recent years.
The U.S. Army Corps of Engineers in fall 2012 announced completion of its work in the Hamburg Bend Wildlife Management Area. The area consists of 1,500 acres in Otoe County and an additional component in Iowa. Its aim, among other things, is to provide shallow water habitat for wildlife. In the past herons, egrets, pelicans, ducks, shore birds, cormorants and other marsh species were found here in appropriate seasons. During the summer of 2011, the area was flooded, requiring extensive access work. To many people its location is somewhat unknown. To access the area, take Highway 75 south of Nebraska City about one mile and turn left on the paved OPPD road. Follow this road for several miles. After crossing the RR, turn right on a gravel road that curves around the OPPD plant. Continue across another gravel road at the stop sign. You will be traveling parallel to an OPPD protective fence. In about a mile the road ends in a parking area and is blocked by a gate. Circumventing the gate on foot, the area on the other side of the gate is Hamburg Bend WMA. A trail takes one through woods leading to the Missouri River. Another option to access the Hamburg Bend area is to turn right on the gravel road at the stop sign and at the next mile turn left down another road that also stops at a gate. The area between these two roads, before coming to the gated area, is marshland when rainfall is sufficient. Egrets, pelicans, herons, ducks and other marsh birds are in this area, sometimes in large numbers. A black-necked stilt was once seen at this location.
The Steamboat Trace Trail (STT) also is located in this general vicinity. The original trailhead was located by the RR where you made the right turn prior to OPPD entrance. However, another parking area is reached by continuing along the gravel road. Several grain bins mark the location of a former village traditionally called Minersville. A small parking lot is on the left prior to reaching the bins. A sign indicates the location of the STT that extends to Peru and Brownville. At this point, the trail is heavily wooded with a bluff to the right and marshland, in appropriate weather, to the left. The marshland and farmland was flooded in 2011 and dry in 2012. Depending on the season, vireos, warblers, thrushes, hawks, finches, sparrows and other species may be found along the trail. It is closed to all persons during deer hunting season.
Nebraska City provides an opportunity to study birds in still life. This is the River Country Nature Center located at 114 South 6th Street in Nebraska City. The intent of the displays on two floors is to interpret Nebraska wildlife. This is the taxidermy collection of Joe Voges who mounted wildlife species for about 70 years. Panoramas of Nebraska's major natural habitats display ecosystems that include many birds. People of all ages visit this large collection and are able to view birds in close proximity and hear calls of some select species. Scouts, school children, artists, and tour groups visit this museum.
Varied birding experiences are to be had in and around Nebraska City. Nebraska City also contains other museums than those previously indicated, including Old Freighters, Nelson House, Fire Fighters, Civil War, Mayhew Cabin and Kregel Windmill. So, Nebraska City provides much more than one day's activities including enjoying apples and wine. For more information, check the Chamber of Commerce website at www.nebraskacity.com.