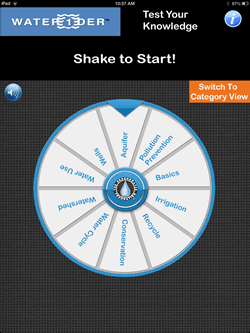 Water is wonderful! Sit back and think about it—water is everywhere. It's hard to do anything without water being involved in some way—from the food that is on our table to the coffee that we stop and grab at the drive-through; when we need to get our clothes clean and when we need to wash our dishes after a great home-cooked meal. But what do we know about water? Do you ever wonder about it?
At the Groundwater Foundation we have come out with an educational app called Water1der (think Water Wonder), and it's for everyone! We worked with the Lincoln, Neb. company SectorNow and its CleanEarthApps division over a period of months to develop this interactive and educational app. It's not just for kids, middle school students, high school students or college students. Nor is it just for farmers, city dwellers, business people or teachers—it's an app all of us can use to learn what we can do to help conserve and protect this amazing natural resource.
How is it done? The first item that appears on your screen is a spinning wheel. When I work in communities or travel to a conference, I bring along a spinning wheel, divided into different categories, each with a series of questions. But while I engaged people at these events, at the end of the day I'm gone and headed back to Lincoln. But now that spinning can continue to take place in communities across Nebraska, across the United States and, as our downloads show, across the world.
The questions are posed in a variety of formats: multiple choice, missing letters, matching, true/false, drag and drop, moving, scrolling, clicking and more. The types of questions are varied as well. Some of the questions you might think are easy. Some you might think are hard. But with each question comes a hint. As you work through each section, you will see your test score—it's as easy as that! And be sure to come back often as additional questions will be added over time.
Water1der is an app that can be played on your Apple device. It can be played at the library, the coffee shop or at your home. And obviously it can be used in educational settings. It can be used in many different ways.
Say a teacher has a bunch of iPads in her classroom. The teacher would tell the students to go to a certain category, perhaps Conservation. Everyone in the class can work through the category together. You could have individual competitions, small group competitions or large group competitions. You could even do classroom against classroom, projecting the app up on a screen. The uses and the educational opportunities are endless.
And that's exactly why we have developed Water1der—so that each of us can continue learning about groundwater, a resource that plays such an important role in sustaining life. So, let's keep learning about it!
Water1der is available for free on iTunes for iPhone and iPad. More information is available at www.water1der.com. Special thanks to Nebraska Environmental Trust, Nebraska Department of Environmental Quality, Water Research Foundation and Rain Bird.