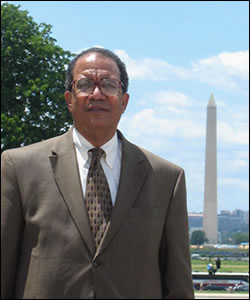 "Sonny's Corner" is a regular column in Prairie Fire, featuring commentary on civil rights and justice issues. Our friend and Omaha colleague, Joseph P. "Sonny" Foster, died suddenly at age 54 in August 2005. He left an uncompleted agenda, as did many of our civil rights and justice mentors and heroes. We shall attempt to move forward on that unfinished agenda through this column.
While the deal ending this latest round of high-stakes fiscal drama made some progress toward tax fairness, retirees and workers need to remain vigilant against long-standing threats to seniors' health care and economic security.
Social Security, Medicare and Medicaid—landmark national efforts to help retirees pay their bills and stay healthy—continue to be unfairly targeted as a way of keeping the wealthiest Americans and big corporations from paying their fair share of taxes.
Despite what was heard daily in Washington and in the media, Social Security has not added one penny to the deficit. The Nebraska Alliance for Retired Americans remain deeply troubled by a recurring policy proposal, coldly named the "chained-CPI," which would base future Social Security Cost-of-Living-Adjustments off a lower, badly flawed measure of inflation, one that significantly underestimates seniors' day-to-day financial needs.
As long as too many in Washington want those with the least to sacrifice the most, we must continue to educate and mobilize retirees and Americans of all ages.  In the 2012 elections, in public opinion surveys, and in recent grassroots actions, it has been crystal clear that Americans are opposed to cuts in these vital lifelines for millions of seniors. When will Washington truly listen?
We are pleased that the New Year's legislation spared seniors from worrying that their physicians would no longer treat Medicare patients because of cuts in reimbursement rates.  No older American should have to worry that their health care is being held hostage to Washington gamesmanship.
This week's agreement is a brief pause in the long-running threats to Social Security, Medicare and Medicaid, programs that help millions of Americans every day.  But until there is a long-term and equitable resolution to these fiscal debates, retirees and workers everywhere will need to remain educated and mobilized.