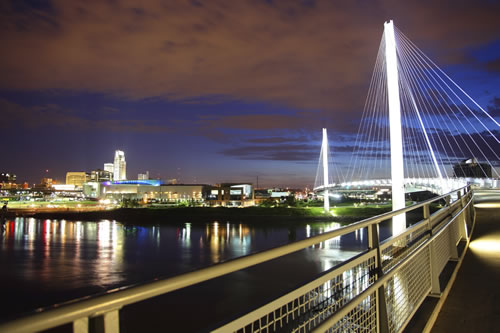 Having arrived in Omaha just six months ago, the city and I are still engaged in what I like to call the honeymoon phase. As so happens when getting to know a potential life partner, I have already begun to appreciate some traits more than others.
When interviewing for the position that ultimately brought me to the "Big O," one of the first places I was introduced to was the Old Market. I can't imagine a better place to showcase Omaha's budding urban vitality.
The Old Market is one of the few locales in Omaha where you can experience a true urban vibe, brought to life by the right mix of density and diversity. In urban planning speak, the secret to the Old Market's success is mixed-use development, where residential and commercial spaces are interspersed; in some cases, residents live directly above retail stores and offices. This lively mix—a blend of coffee shops, restaurants, small offices, apartments, condos, art exhibits, etc.—give people a reason to inhabit the Old Market at all times of the day.
The renowned urban activist Jane Jacobs championed density and diversity as the keys to urban success. As Jacobs poignantly expressed in "The Death and Life of Great American Cities," "No neighborhood or district, no matter how well established, prestigious or well heeled, and no matter how intensely populated for one purpose, can flout the necessity of spreading people through time of day without frustrating its potential for generating diversity."
And while the Old Market is no Manhattan or Chicago Loop, that's perfectly all right—the area has a style and charm that is uniquely Omaha. My only qualm is in regard to size; the Old Market's eight blocks leaves most visitors wanting more.
Unfortunately, as one ventures beyond the Old Market, Omaha's downtown begins to exhibit crippling homogeneity with a decidedly 20th-century flavor. I like to ask longtime residents when they last set foot in downtown Omaha for purposes other than to visit the Old Market, work or attend an event at the CenturyLink Center. I usually get a puzzled look followed by "Um…"
The skyscrapers that adorn the Omaha skyline are impressive and certainly serve a vital economic function, but when single-use office buildings dominate the urban landscape, people have only one reason to show up: work (and, possibly, eat lunch). As a result, Omaha's downtown is awash with white-collar professionals during choice hours of the workweek and largely abandoned in the evenings and on weekends.
What can be done to energize Omaha's downtown? The key, of course, is for downtown to become more like the Old Market with additional residential units and a more diverse mix of retail and office space. Thankfully, there appear to be plenty of opportunities to do just this. I've noted several empty or underutilized parcels scattered throughout downtown, particularly north of Douglas Street.
Another disappointing component of Omaha's urban core is the Riverfront. Don't get me wrong; I love the new pedestrian bridge (it's by far the nicest I've seen), and the nearby residential developments are encouraging. Similar to downtown, what seems to be missing from Omaha's Riverfront is a steady stream of people.
Beyond the pedestrian bridge, there is little reason to visit the river so vital to Omaha's existence. A single restaurant surrounded by an uninspired concrete landing has had, as one might expect, little success in drawing people to the river's edge. On one lovely Saturday afternoon in October I was disheartened to count a mere three pedestrians spread along the Riverfront's lonely expanse.
There's no reason why the Riverfront can't become a well-integrated, lively place for both residents and guests. A mix of residential, retail and entertainment venues, in combination with the natural ambiance of the riverscape, would infuse the area with a unique and compelling magnetism. No doubt the often vacant Heartland of America Park would also benefit from additional Riverfront traffic.
While I generally view development along the Riverfront in a positive light, I caution against the construction of additional high-rises such those adjacent to the pedestrian bridge. Although these upscale residential towers may provide the foundation for a functioning riverfront community, their height imposes both a physical and visual barrier to the very aesthetic amenity to which they owe their existence: the Missouri River. Much the same can be said of the sprawling corporate campuses that provide excellent tax revenue but further separate city residents from their riverfront.
Among the most attractive and encouraging features of the city's urban landscape outside the Old Market are the remains of once independent municipalities, such as Dundee and Benson. I settled in Dundee because it had the feeling and layout of a traditional urban community with well-connected streets and an easily accessible —albeit small—commercial center. It felt like a real place with a real history, not just another cookie-cutter subdivision.
Living in Dundee, I have access to a dozen restaurants, several bars, two coffee shops, a bakery and a wide variety of other destinations, all within a 10-minute walk. The best part of living in a diverse, mixed-use community is the ability to leave the car at home and experience the sights, sounds and pulse of the city, unencumbered by two tons of metal and plastic.
In other parts of the city, new mixed-use developments, such as Midtown Crossing, North Downtown Omaha and Aksarben Village, are expanding to accommodate renewed interest in pedestrian-oriented communities. While they may lack the historic charm of the Old Market or the small-town feeling of Benson or Dundee, "neo-traditional" neighborhoods such as these function in much the same way and offer their residents many of the same benefits. Nearly embedded within UNO's Pacific Street Campus, Aksarben is particularly well situated to serve both local residents and a growing student population, many of which already transverse the area on foot.
One discouraging trend among many neo-traditional developments like Midtown Crossing, however, is the tendency to exclude mid-to-low income residents. The average two-bedroom apartment in Omaha rents for $850, while units in Midtown Crossing average $1,500. While the density and mix of uses are commendable, it remains difficult to cultivate a truly vibrant community without attracting a diverse mix of people.
Geographically inclined readers have probably noticed that not one of the aforementioned locations is west of 72nd Street. Having grown up on the outskirts of St. Louis, I am fully aware that Omaha's western suburbs are by no means unique. The vacuous and imposing streetscapes, pervasive strip malls and isolated low-density residential enclaves are the hallmarks of a landscape built for cars, not for people. Olathe (Kansas City), O'Fallon (St. Louis), Schaumberg (Chicago), West Omaha: if blindfolded and hoisted into the heart of any one of these suburban maelstroms, I'd be hard pressed to tell you exactly within which I had been placed.
I'll admit, however, that Omaha's western suburbs, with ample open space, new schools and a seemingly endless supply of affordable housing, will remain attractive for many—especially young families. And even the most archetypical suburbs can become more diverse and less auto-dependent over time.
One strategy for enriching our suburbs involves relaxing the zoning code to permit the integration of residential and compatible commercial uses such as corner grocery stores, diners, neighborhood bakeries and cafes. Even a more dynamic mix of multi- and single-family housing would be a step in the right direction. Building cohesive neighborhoods and communities, rather than disjointed subdivisions and strip malls, seems to me both a very reasonable and achievable goal.
So, will Omaha and I make a good pair? I think so. As someone who lives to learn and share knowledge with others, I feel very fortunate to do what I love. Omaha and the UNO community make this possible. Over the coming years, I look forward to seeing Omaha evolve into an ever more livable and dynamic community. There are signs all around us that Omaha's best days lie ahead.
Image Credit: Omaha skyline along the banks of the Missouri River. (DenisTangneyJr/iStockPhoto)