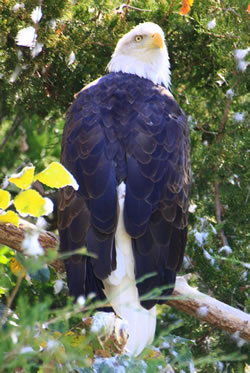 Nebraska is blessed in having substantial populations of both species of North American eagles, the bald eagle and golden eagle. The bald eagle, our national symbol, has become sufficiently common during the last four decades that it not unheard of to see them perching or fishing within the city limits of Lincoln. In the summer of 2012 a pair even nested along Salt Creek, at the northern edge of the city. Yet, from 1962, when I first arrived in Lincoln, until the late 1970s, a sighting of bald eagles almost anywhere in the state would be memorable.
Only after the outlawing nationally of the use of DDT and other chlorinated hydrocarbons to control insect pests did the bald eagle to begin to recover from a population slide. The decline had resulted from DDT's physiological effects on the bird's reproduction system, upsetting its calcium metabolism and causing it to lay weakened, almost calcium-free eggs. The female's resulting eggshells were so thin that they were often crushed by the weight of the incubating bird or the embryo was unable to extract enough calcium from the shell during development to allow them bones strong enough for the chick to survive. The presence of DDT had devastating effects on reproduction in many species of birds, especially fish-eating species such as ospreys and other predators at the top of food chains, such as peregrine falcons.
By the early 1970s the only state population in the U.S. apparently unaffected by DDT was Alaska's, which was still relatively pesticide-free. In 1978 all other populations of bald eagles in the coterminous United States were placed on the list of nationally threatened (Michigan, Minnesota, Oregon, Washington and Wisconsin) or endangered (all other states) species. By the late 1970s the U.S. population appeared to be on the increase, and as of the early 1980s there were an estimated 80,000 birds present in North America, with about 48,000 in Alaska and Canada and about 22,000 everywhere else.
The bald eagle was recently removed for the federal threatened and endangered list and has since been thriving. Considering continent-wide estimates derived from the North American Breeding Bird Survey, the average annual rate of significant population increase of the species between 1966 and 2010 was 5.3 percent, placing it among the 11 most rapidly increasing bird populations of North America.
Nebraska's breeding and wintering bald eagle populations have correspondingly increased, but few statewide surveys of winter populations have been attempted. Statewide mid-winter counts made by the Nebraska Game and Parks Commission and the National Wildlife Federation between 1980 and 1998 averaged 743 birds, with a maximum of 1,340 seen in 1999.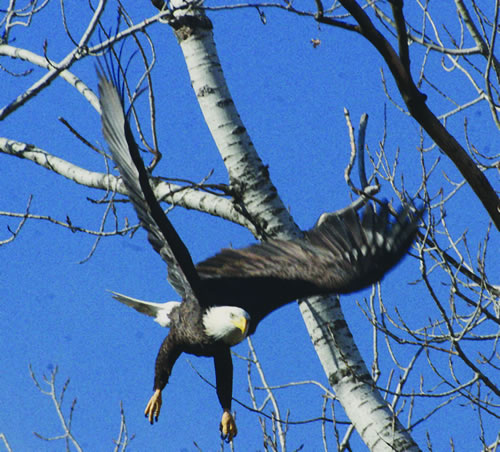 Although bald eagles concentrate on many of Nebraska's reservoirs during winter, the largest numbers are to be found around Kingsley Dam, about eight miles north of Ogallala, and its 35,700-acre-capacity Lake McConaughy reservoir and small (640-acre) outflow pool. There is now an eagle observation building overlooking Lake Ogallala, constructed by the Central Nebraska Public Power and Irrigation District. It is open from Jan. 7 through late February from 8 a.m. to 4 p.m. MST. The largest eagle numbers are typically present in January and February, but daily numbers vary greatly, and up to nearly 400 have been recorded in a single day. Information on eagle numbers, and related birding information, can be obtained from the Kingsley Dam office at (308) 284-2332.
The Missouri River valley and other larger state reservoirs, such as Calamus and Harlan County, also attract substantial numbers of migrating or wintering eagles, as well as occasional nesting birds. During the three most recent years of Christmas Bird Counts, the Lake McConaughy count total has ranged from 52 to 73 bald eagles, as compared with overall state totals that varied from 209 to 267 individuals. Missouri River corridor counts, represented by those from Omaha and the DeSoto and Boyer Chute national wildlife refuges, have had numbers mostly only somewhat lower than recent counts from Lake McConaughy.
Bald eagles had vanished as a breeding species in Nebraska and over much of the Great Plains by about 1900, and it was not until 1973 that the first instance of attempted but unsuccessful in-state nesting was recorded in Cedar County. A few other records of unsuccessful nesting efforts were obtained during the 1980s in Garden, Lincoln and Saunders counties, but it was not until 1991 that the first known successful nesting occurred, in Douglas County. After that the number of active nests in Nebraska rose to 10 by 1996, 20 by 2000 and 55 by 2007.
Since then nesting numbers have fluctuated but have been recorded almost statewide. By 2009 nestings had been noted in 62 of Nebraska's 93 counties, according to a report by Joel Jorgensen and others. Most breedings been reported along riparian corridors in the northern and eastern parts of the state. Between 1973 and 2009 85 percent of 221 nest were situated along rivers, especially the Platte (42), the Missouri (37) and the Elkhorn (15). Of 440 active nests observed between 1991 and 2009, an average of 1.48 eaglets fledged per nest, with nest losses caused by strong winds being a significant factor in breeding failures. This nest success incidence is considerably higher than the rate of 1.03 young fledged per active nest reported from four increasing populations in the Greater Yellowstone region of Wyoming.
The situation of the golden eagle in Nebraska is quite different. Unlike bald eagles, golden eagles are much more common in the water-scarce and relatively treeless parts of the state, and especially in the bluff-and-canyon country of the northwestern Panhandle. There, their most favored prey, prairie dogs and jackrabbits, are most likely to be found. Nesting records prior to 1960 are mostly confined to Sioux, Scotts Bluff, Dawes and Garden counties, plus two isolated records for Keith and Douglas counties. Post-1960 records exist for nearly every Panhandle county, as well as for Keith, Lincoln, Chase and Hayes counties. During the first Nebraska Breeding Bird Atlas studies of the middle to late 1980s, all of the possible to confirmed nests were confined to the Panhandle, and the only two confirmed nestings were in Banner and Cheyenne counties.
Nationwide, golden eagle populations appear to be stable or slowly declining. Breeding Bird Surveys from 1966 to 2009 indicated a statistically nonsignificant population trend. However, in the Intermountain West where golden eagles are most abundant, clearing of sagebrush and conversion of native grasslands to irrigated farmlands have probably caused widespread population losses. The continuing uncontrolled poisoning and persistent slaughter of prairie dogs, often by government agencies charged with protecting our natural resources, has additionally had serious secondary effects on golden eagles, swift foxes, ferruginous hawks, prairie falcons, black-footed ferrets and other predators that depend upon them.
Where to See Eagles in Nebraska's Nearby States
South Dakota. All of the larger Missouri River reservoirs (Lake Francis Case, Lewis & Clark Lake, Lake Sharpe and Lake Oahe) attract eagles during colder months. Karl Mundt National Wildlife Refuge, located just below Fort Randall Dam, is an important bald eagle wintering site, and there is an eagle-watching platform at the dam. Golden eagles breed widely but locally in western South Dakota, especially in the rimrock-edged canyons of the Black Hills and Badlands. They move into lower grassland areas during winter, where jackrabbits are most common.
Iowa. Bald eagles nest locally but increasingly commonly in Iowa, mainly near larger rivers, such as the Missouri and Mississippi, including the Upper Mississippi National Wildlife and Fish Refuge, headquartered at McGregor. There they are very common in late fall, especially just before ice up. In western Iowa they migrate along the Missouri River, wintering wherever open water allows, with large numbers visiting DeSoto National Wildlife Refuge near Missouri Valley when goose populations are at their peak. Golden eagles are rare winter visitors in Iowa, most often being seen in northeastern Iowa (Allamakee and Scott counties) along the Mississippi River, in company with bald eagles.
Missouri. Up to several hundred bald eagles congregate at Squaw Creek National Wildlife Refuge, near Mound City, in late fall (typically peaking in early December), and there is usually a nesting pair or two on the refuge. Elsewhere in the state they now breed regularly and widely, following restoration projects begun in Wayne and Vernon counties, and they winter commonly along rivers, larger wetlands and lakes, such as at Swan Lake National Wildlife Refuge, near Sumner, and Mingo National Wildlife Refuge, near Puxico. Golden eagles are very rare in Missouri.
Kansas. Bald eagles nest locally in eastern Kansas, west to Hodgeman County, usually near lakes or reservoirs. During winter large numbers occur on the reservoirs and rivers of northeastern Kansas, such as Tuttle Creek, as well as along the Arkansas River and at Cheyenne Bottoms Wildlife Area and Quivira National Wildlife Refuge, both near Great Bend. Golden eagles are very rare summer residents in the west, and are uncommon migrants and winter residents in western grasslands, especially near prairie dog towns.
Colorado. In Colorado bald eagles are common during winter in western valleys, mountain parks and wetlands. During migration many concentrate at the eastern reservoirs along the South Platte River, such as Jumbo Lake, near Crook, and Prewitt Reservoir, near Sterling. Historically most breeding occurred in northwestern and southwestern Colorado, but is much more widespread now. Nesting by golden eagles is mostly limited to northwestern Colorado, and this region also attracts the most golden eagles in winter.
Wyoming. There is also a probably expanding nesting population of bald eagles in Wyoming, largely distributed along western rivers, but with records extending to the state's eastern borders. Bald eagles often have formed substantial winter concentrations in river canyons, such as the North Platte River, including Jackson Canyon near Casper and Boxelder Canyon near Glenrock. Wyoming perhaps has the largest breeding golden eagle population of any state south of Alaska; in 1973 the state's population was estimated at 10,000 birds, and breeding records exist for every county.
References
Johnsgard Paul A. "Hawks, Eagles and Falcons of North America: Biology and Natural History." Washington, D.C.: Smithsonian Institution Press, 1990.
Jorgensen, J. G., S. K. Wilson, J. J. Dinan, S. R. Rehme, S. E. Steckler and M. J. Panella. "A Review of Modern Bald Eagle (Haliaeetus leucocephalus) Nesting Records and Breeding Status in Nebraska." Nebraska Bird Review 78:121125 (2010).
Image Credits: Paul A. Johnsgard