I have a particular, or some might say peculiar, occupational hazard. As others travel the country, they look dutifully right and left at intersections. Now I promise I do that, too, but in addition, I scan ahead and left and right when crossing streams and rivers. What's the estimated river discharge? Is the flow high or low? Invasive species? Algal blooms? But most significantly for me, is there a streamgage? Typically these gages are identified by small shelters at either end of a bridge that contain instrumentation continually measuring the stream or river water level. This instrumentation transmits that data in near real time for posting on the Internet for almost immediate access to water-resources decision makers and the public.
This publication has hosted many discussions of the importance of water in all aspects. The value of water to life, economic health and recreation is universal and equally relevant whether there is too little or too much water. It begs the question, "How do they know how much water is in the streams?"
At this time the states of Nebraska, Kansas and Iowa are solidly locked into drought conditions. Only a year ago, much of the same region was recovering from flooding. Mark Svoboda, National Drought Mitigation Center climatologist, called the current drought a "flash drought," which is analogous to a flash flood because of how quickly conditions turned. Streamgages play a key role in assessing the strength of these hydrologic conditions and how often they are likely to repeat.
They provide something akin to a patient's medical history, checking the vital signs through the years and documenting the story of stress or health in the state's stream network.
While much of the stream level and flow data is collected automatically, trained technicians and hydrologists periodically make a physical measurement of streamflow, called discharge, to relate it to a given water level, also known as stage. Over time, this stage/discharge relationship is developed to the point that accurate discharge can be computed by knowing only the stage. Within a few seconds of being collected and transmitted, that stream stage is transformed into stream discharge given in cubic feet per second and can be displayed on your computer.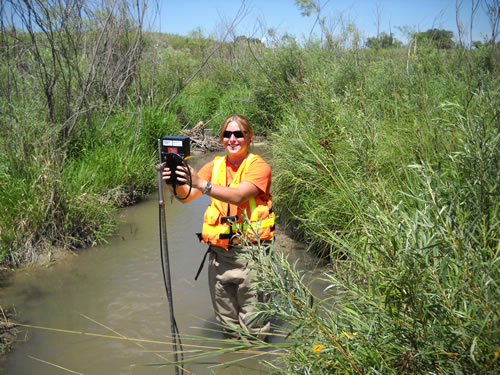 This data-collection technology has evolved from daily observations of water stage by individuals, to stilling wells with simple mechanical graphic records and finally to pressure transducers and radar gages with electronic data loggers with remote telemetry access. We've seen a progression from human once-daily observations to satellite radios that transmit stream levels hourly in near real time.
The U.S. Geological Survey (USGS) operates about 7,500 of these gages across the country and in U.S. territories. In Nebraska there are more than 200 streamgages operated by the USGS and the Nebraska Department of Natural Resources. They produce a continuous stream (pun intended) of hydrologic information for use by the public and agencies such as the Nebraska Department of Agriculture, Nebraska Department of Natural Resources, the Nebraska Natural Resources Districts, the National Weather Service, the National Drought Mitigation Center, the U.S. Army Corps of Engineers, the National Drought Information System, utilities and irrigation districts.
Recently the USGS Nebraska Water Science Center, Nebraska Game and Parks Commission, Nebraska Department of Natural Resources, the U.S. Army Corps of Engineers, the village of Duncan and representatives of Sen. Ben Nelson, Sen. Mike Johanns and Congressman Adrian Smith celebrated an event that only a handful of the streamgages in Nebraska have attained: the gage at Platte River near Duncan was established in 1895. Despite a couple of short periods when operation was suspended, it still boasts more than 100 years of record. This achievement represents the compilation of generations of work and a celebration of the effort of Congress, the unicameral, state and local agencies and the public for supporting these structures.
Only four other gages in Nebraska have reached the century mark, and it is right that we celebrate the occasion and the efforts of the men and women who collect the data. At times of flooding the information has been collected at great risk to these dedicated professionals. Each gage also represents a significant investment, because the true value of the streamgage is reflected in the length of the record. The USGS doesn't begin to assign long-term statistics to a streamgage until it has collected 30 years of record. Yes, streamgages yield many other benefits before 30 years, but a long-term gage can help begin to answer the much bigger questions about climate change and interstate water issues.
This is a largely unsung and unrecognized effort that occurs quietly every day across the state and nation. The USGS has called streamgages the "silent superheroes" (gallery.usgs.gov/videos/170#.UEEeKY6LTOs). In these times of automation and other laborsaving devices, having the wealth of information available from a streamgage at our fingertips means we sometimes take this information for granted. Sure, the data from them protects lives and property during floods, but they are also used every day by utilities, such as the Lincoln Water System, Central Nebraska Public Power and Irrigation District and Nebraska Public Power District to determine streamflows required for their operations. The Nebraska Department of Natural Resources uses the data daily in addressing water-rights issues, flood plain delineation and integrated water-management planning.
Streamgages supply a solid foundation of historical record to provide assurance that bridges and dams are constructed safely and that towns and property owners have some warning of most floods. They also provide vital information for determining streamflows that are necessary to support and protect the state's aquatic and waterfowl wildlife. Streamgages stand across the state and nation as silent sentinels providing all of these services every day of the year.
You can access USGS streamgage information for Nebraska at waterdata.usgs.gov/ne/nwis/rt. If you are planning a fishing or canoeing trip in another state, this website also works for any other state by simply replacing the two-letter state abbreviation in the Web link.
Image Credit: Robert Swanson