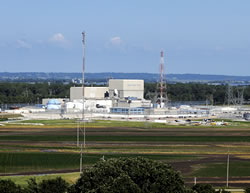 Nebraska Public Power District's Cooper Nuclear Station at Brownville, completed in 1974, is an important piece of the utility's fleet. With an output of 810 megawatts (MW), Nebraska Public Power District (NPPD) relies on Cooper for about 20 percent of the electricity it generates.
In December the NPPD board will consider a proposal to invest in an Extended Power Uprate at Cooper Nuclear Station. The main turbine in the facility is due for replacement, and by replacing it with a larger turbine, NPPD could increase the amount of electricity the plant can produce by about 146 MW. That represents about an 18 percent increase in the power plant's output capacity.
The proposal highlights the need to take a comprehensive look at the future of NPPD and Nebraska's other public power utilities and how they meet our state's demand for electricity.
The Cooper uprate is one of several alternatives available to NPPD to meet the energy needs of Nebraskans, and those alternatives have very different consequences for air pollution, local jobs, monthly customer bills and the health of our rural communities.
The uprate project would take about four years to design, build and install the new turbine and to make the other upgrades needed at Cooper to take advantage of the higher capacity. NPPD estimates that the project would require an investment of $250 to $450 million for design, equipment and federal and state permits.
At $250 to $450 million, the investment required would be $1,700 to $3,080 per kilowatt (kW) of capacity.
NPPD staff say the upgrade will not produce additional radioactive waste. The same number of enriched uranium fuel rods will be required, although the fuel may need to be enriched to a higher level before being used. As a result, once installed, the project should require only a small increase in operating costs.
Considering the installation and operating costs, the Cooper uprate should be cheaper than building a new power plant that would burn coal or natural gas. It could be competitive with the projected cost of retrofitting NPPD's older coal-fired power plants, Sheldon Station at Hallam and Gerald Gentleman at Sutherland, to meet new federal environmental rules designed to protect public health by reducing air pollution from older power plants.
At that price, however, the Cooper uprate appears to be far more costly than investing in energy efficiency and load shifting to obtain the same 146 MW. Yet NPPD is largely ignoring these opportunities for managing demand for electricity.
A 2007 report done for NPPD by Summit Blue, a consulting firm, examined energy-efficiency programs and opportunities at 10 electric utilities in the region and found that the median cost of demand management programs was about $595 per kW—less than half of the low-side estimate for the Cooper uprate. The report identified 1,240 MW of cost-effective energy efficiency and load shifting on the NPPD system at an estimated cost of $595 million, or 480 per kW—about one-third the estimated low-side cost for Cooper.
In a 2005 report for NPPD, the Rocky Mountain Institute—internationally recognized experts in energy efficiency and renewable energy—identified large amounts of cost-effective energy efficiency measures that NPPD could put in place at a cost of one to two cents per kilowatt hour (kWh).
NPPD's 2010 annual report on its own EnergyWise program estimates that the $2.5 million invested by NPPD through its energy-efficiency program that year saved electricity at a cost of about one cent per kWh and provided 4,881 kW of capacity benefits at a cost of about $668 per kW—again, less than half the capital cost of the proposed uprate at Cooper.
An analysis done by Lincoln Electric System, programs put into place at CPS Energy in San Antonio, studies done for other utilities and nationwide studies by the American Council for an Energy Efficient Economy have all identified huge opportunities for investments in managing demand, typically at a cost of less than $1,000 per kW.
With the relentless focus on low cost by utilities like Nebraska Public Power District, you would imagine that NPPD would be investing heavily in energy-efficiency programs to avoid the need to build expensive new power plants and to allow it to retire aging power plants when they reach the end of their useful life.
You would be wrong.
When NPPD approved its 2013 budget of nearly $1.1 billion, it included just $2.5 million for its EnergyWise program to help customers save energy and buy high-efficiency heat pumps. Despite the huge potential and low cost, NPPD has refused to significantly increase its commitment to investments in energy efficiency and load shifting.
That decision has serious implications. It means more money leaves our state every year to purchase coal and natural gas from other states, taking jobs and economic opportunity along with it. It means more pollution from the coal-fired power plants that now provide nearly two-thirds of Nebraska's electricity. It means more asthma, more heart disease and more mercury, arsenic and heavy metals in our air and water.
It also means higher monthly electric bills for NPPD customers who could be heating, cooling and lighting their homes and businesses using much less energy.
Future Planning
For the past year, NPPD has been examining its future direction. It is carrying out a Generation Options Analysis to assess the need for electricity in the future and the various options for meeting that need. The results of that analysis will be folded into a new Integrated Resources Plan, essentially a road map for NPPD decision-making in the future.
A collection of conservation and farm groups raised a number of concerns about the initial analysis and some of the assumptions used, which appeared slanted toward continued heavy use of coal. The final results of the analysis of options and the new Integrated Resources Plan will not be finished until sometime in 2013.
The investment in the uprate at Cooper might make sense as part of a comprehensive, long-term plan to move NPPD from its current heavy reliance on coal to a clean energy future with substantial demand management, wind and solar. If, for example, the uprate at Cooper is part of a plan to phase out the use of coal at the old Sheldon Station power plant near Hallam, it might be a good trade.
Sheldon is a 225 MW power plant that provides about 157 MW of electricity to NPPD and the rest to Lincoln Electric System. The 146 MW uprate at Cooper could offset the power now provided to NPPD by Sheldon. It could also avoid the need for NPPD to invest hundreds of millions of dollars to retrofit Sheldon Station to meet new federal environmental standards designed to protect our health and our environment. But the math works best if NPPD will also make the investments in energy efficiency and load management needed to flatten the growth in electricity usage among its customers—investments that would avoid the need to build expensive new power plants.
Ideally, the decision on the Cooper uprate would come after the Integrated Resources Plan for the future is complete. The NPPD board agreed in May to move forward with preliminary design of the bigger turbine, knowing it had about six months to change that decision without a large cost. The decision was made based in part on the preliminary results of the Generation Options Analysis, which indicate that the uprate at Cooper nuclear station would be a good investment for NPPD and its customers.
For NPPD, it is time to fish or cut bait. Delaying the final decision on the uprate would be extremely expensive.
Moving ahead with the Cooper uprate as a freestanding project carries its own risks. The Nebraska Power Review Board must first approve the addition of new generating capacity. A key hurdle is whether the project meets a "least cost" test, and with hundreds of MW of energy efficiency and load shifting available to NPPD at a lower cost, the Cooper uprate could well fail that test.
One way for NPPD board and management to move forward would be to recognize the financial and other benefits of a major new demand-side management initiative and to make a substantial commitment to design and fund such an initiative alongside the Cooper uprate. Another would be for NPPD board and management to clearly tie the Cooper uprate to the phaseout of burning coal at Sheldon Station.
NPPD customers need to know that their utility is moving toward reliable, affordable, clean energy solutions. All Nebraskans would benefit from the money kept in the community, local jobs and reduced air and water pollution that would result from a long-term commitment to energy efficiency, wind, solar and other clean-energy solutions.
Image courtesy of Nebraska Public Power District.